Military veterans get to work: The Heroes MAKE America program & FTCC help transition military members into the civilian workforce
By Faith Hatton, posted Aug 12, 2022 on BizFayetteville.com
---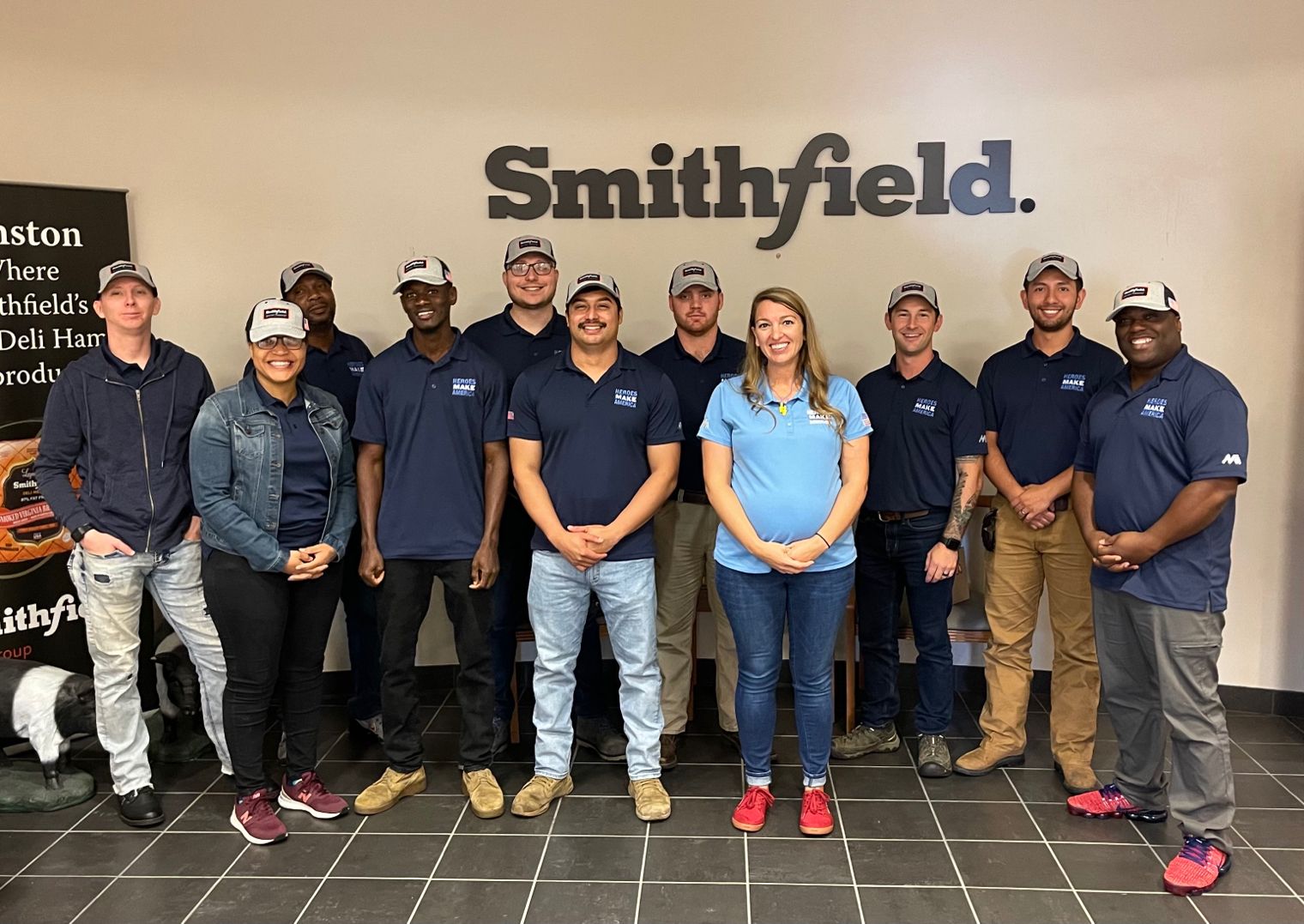 Every year, men and women prepare to leave their life of military service and transition to civilian life – 200,000 in fact, according to the U.S. Department of Labor.

For those service men and women, finding work in the private sector can be tricky as many navigate life outside of military schedules, assignments and work culture and choose whether or not to reenter the workforce.

According to the Department of Defense, 98,507 Army retirees and their family members reside at Fort Bragg alone. For those retirees looking to jump from the armed forces to the workforce can start at Fayetteville Technical Community College through their Transition Tech Department.

"We currently have ten different programs that transitioning service members or veterans can enroll in to help secure employment outside of the military," said Pendy Eldridge Transition Tech Recruiter with FTCC. "The majority of our students coming out of the military are specialists and they're 11B's which is
Infantry and they don't have a lot of job skills to help them find employment. And that's where we step in."

One of their recently added programs is bringing transitioning veterans into the world of manufacturing. "Heroes MAKE America'" organized through nonprofit organization The Manufacturing Institute,was added to the FTCC Transition Tech programs in April of 2019.

The Heroes MAKE America program works to support veterans as they leave the military and ease in their transitional phase into the private sector.
The program also partners with manufacturers looking to increase their workforce with former service members within their organizations.

According to Heroes MAKE America Fort Bragg Program Manager Lauren Bloomer, the program is associated with 14,000 manufacturers and Fort Bragg is one of six training programs available across the country. The program collaborated with those partners to figure out what needs they needed to fill as they developed their training programs.

"Here at Fort Bragg, we have the Certified Production Technician. All of our training, all of our material is accredited through MSSC (Manufacturing Skill Standards Council). In addition to the CPT, that is giving them a basic overview of manufacturing itself," said Bloomer. "The CPT focuses on four areas: production, maintenance, quality and safety. So in addition to the safety module they're also getting their OSHA 10 certification and their Forklift certification."

The program also teaches other workforce essentials by bringing in those with military affiliation who have already transitioned into working in manufacturing. Topics such as salary negotiation, professional networking, resume development and interview skills are covered by both veterans and by representatives from partner manufacturers.

On top of gaining skills in the classroom, students are also introduced to manufacturing through tours of facilities every Friday to see first hand the kind of work they may be doing after completing the program.

"A service member could have a role in their mind. So, let's say they're wanting to do quality assurance, and they think, 'Okay, I really want to do quality assurance.' They might get into a shop floor – let's say it's in Smithfield in the pork processing industry and they think, 'Okay, maybe this isn't what I want to do,'" Bloomer said. "It really opens their minds to the possibilities, all the broad possibilities within manufacturing when they get to go to do the in-person tours."
Even during the COVID-19 Pandemic, introductions were adapted into a virtual event called "Heroes Connect" when tours weren't possible.
"The Heroes Connect is what we've started on Wednesday afternoons to give the manufacturers more involvement," said Bloomer. "They get on and they tell a little bit about their company and who they stand for and their morals and what they produce, and then they will always have some form of leadership whether it be from HR or a plant manager or, heck, even sometimes the CEO will directly be involved in coming and speaking. And these events aren't just open to our participants but to the broader military community."
Other programs at other military installations cover logistics and mechatronics with their students but Bloomer says manufacturing needs in the Cumberland County area is what decided the program focus for Fort Bragg.
"It's the need. Honestly, there's a workforce crisis in manufacturing," said Bloomer. "When I took over as program manager in August of 2020 there were about 350,000 jobs open in manufacturing. Here currently, our (The Manufacturing Institute's) Chief Economist out of D.C Mr. Chad Moutray reports that there are over a million jobs open in manufacturing. So there's a severe need in the skills gap in the trade industry."

Bloomer says the population of military families, the booming biotech industry found in the Triangle and the semi-permanent military communities made Fort Bragg an ideal spot for the program to focus on manufacturing.

The class is currently underway at FTCC with 13 students until August 26, with the next course scheduled to begin in October. A total of 124 students have finished the program since it began in 2019 and it currently has a 91 percent hiring placement rate among those graduates.

Eldridge says it's important to have a vast variety of programs available to meet the needs of the soldiers they serve as well as offer long-term success and stability.

"We're trying to meet the soldiers' needs, as well as put them in programs that they'll be able to support themselves in. We can't give them a program where they're only going to make $30,000 a year. That's not a good situation to put someone in," said Eldridge. "So we have to put these programs that we know the salary, and the potential to grow in these programs in your career will increase your salary so you are able to support yourself financially once you exit the military."

The program is available to all branches of the military and those with military affiliation and veteran status including military spouses and dependents.

"Our focus was, 'Hey, the manufacturers see how well the veterans' skills are translating into manufacturing.' And the veterans are like, 'Hey, we're making this awesome smooth transition into this manufacturing sector,'" Bloomer said.
Anyone interested in the Heroes MAKE America Program can contact FTCC Transition Tech Recruiter Pendy Eldridge at transtech@faytechcc.edu, or find out more about the program online at www. themanufacturinginstitute.org/veterans.
---
Copyright © 2022 Enhanced Media Management Inc. dba Greater Fayetteville Business Journal
This story may be displayed, reformatted and printed for your personal, noncommercial use only and in accordance with our Terms of Service located at https://bizfayetteville.com/useragreement.