FirstHealth cardiothoracic surgeons now providing services in Cumberland County
By Staff Report, posted Aug 10, 2022 on BizFayetteville.com
---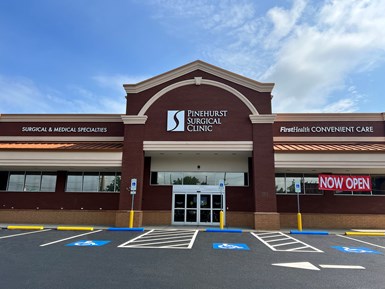 FirstHealth's multi-specialty clinic in Fayetteville is now offering world-class heart care with the addition of cardiothoracic surgery consultations.
FirstHealth's heart program has been recognized by U.S. News & World Report for its high performance in treatments and outcomes for heart attack, heart failure and heart bypass surgery. Their award-winning team of cardiothoracic surgeons began seeing patients last month at the new Fayetteville clinic, located at the corner of McPherson Church Road and Morganton Road.
Following evaluations conducted at the Fayetteville clinic, surgeons Peter Ellman, M.D., Cliff Kitchens, M.D. and Stephen Davies, M.D., will then perform necessary procedures in Reid Heart Center on the campus of Moore Regional Hospital in Pinehurst. They will also provide follow-up visits after surgery.
"We are thrilled to be seeing patients in Cumberland County," Ellman shared. "We know that traveling to multiple appointments can be a struggle at times, so we want to take down any barriers and make it easier for patients to see our specialized surgeons for their heart care close to home."
Ellman, Kitchens and Davies offer the full range of minimally invasive adult cardiac and thoracic procedures, including robotic lung surgery and transcatheter aortic valve replacement. Additionally, they perform coronary artery bypass grafting, surgical aortic valve replacement, mitral valve repair or replacement, the MitraClip procedure and MAZE procedure for atrial fibrillation.
The multi-specialty clinic at 3716 Morganton Road in Fayetteville also offers services in convenient care, occupational health, interventional pain medicine, vascular, orthopedics and spine orthopedics.
---
Copyright © 2023 Enhanced Media Management Inc. dba Greater Fayetteville Business Journal
This story may be displayed, reformatted and printed for your personal, noncommercial use only and in accordance with our Terms of Service located at https://bizfayetteville.com/useragreement.