195 American Fusion
By Diana Hansen, posted Aug 24, 2022 on BizFayetteville.com
---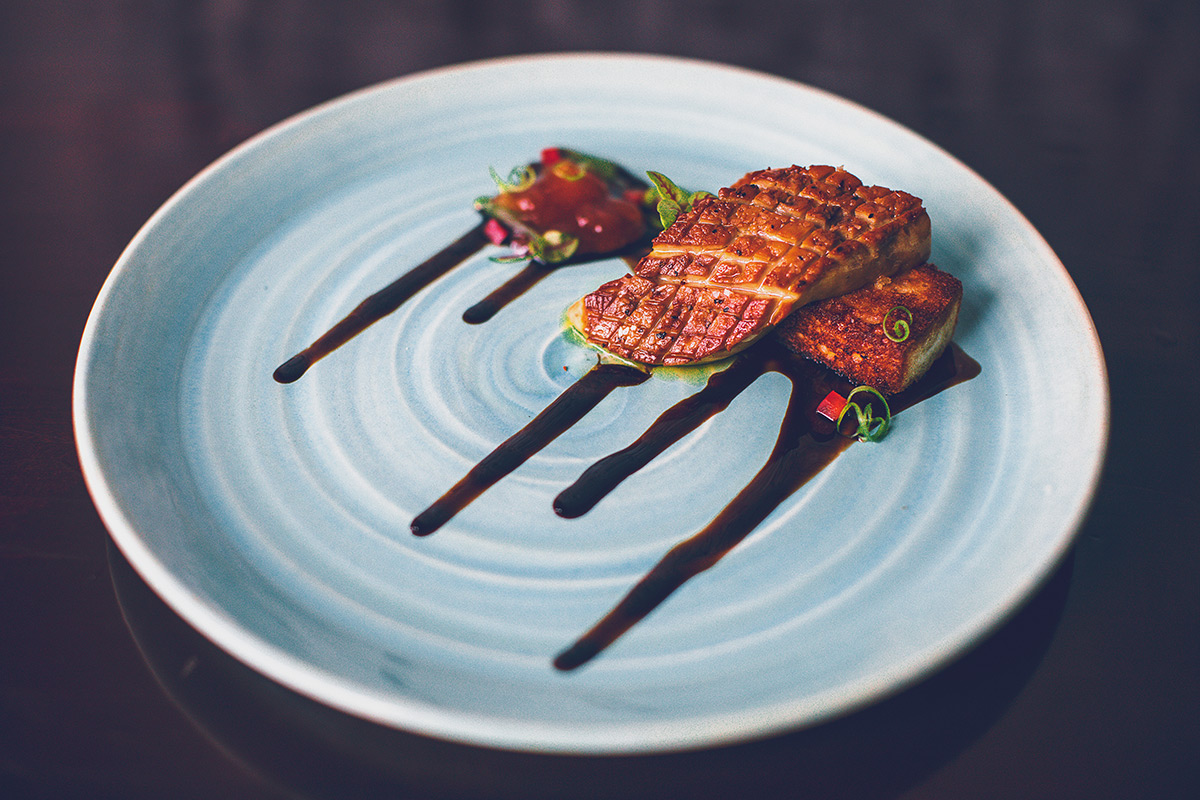 Southern Pines' 195 American Fusion restaurant is a one-of-a-kind dynamic, upscale dining experience. Located at 195 Bell Avenue in Southern Pines, 195 American Fusion sits near Sand Hills Boulevard and Southern Pines Golf Club. The name of the establishment comes from its 195 Bell Avenue address, according to Anna Pilson, the owner.
Pilson's parents, Milton Pilson and Karen Frye, started Nature's Own Market & Café nearly 36 years ago.
Karen opened the health food store and at that time, the café section was ust an extension of the actual health food store.
The menu focus back then was mostly paninis, salads, and vegetarian and vegan dishes – simple dining with nothing extremely fancy. Pilson's parents eventually made the decision to expand and purchased a former Scotty's True Value Hardware store right across the street. They remodeled the entire hardware store to create the present Nature's Own on one side and 195 American Fusion on the other side. This brilliant transition fused a great deal of variety in healthy food between the store and restaurant businesses all in one convenient location.

Milton and Karen always loved going out to dinner and made the drive to Durham once a week to enjoy upscale dining at the Magnolia Grill, now closed. The Southern Pines area, at that time, lacked any upscale dining niche. There were a few restaurants in town, however. Nature's Own Market & Café was
not considered upscale. Milton, a true, dedicated entrepreneur, decided when they made the move to turn 195 American Fusion into its own entity, the focus was to make it fine dining. "I would like to mention we are an eclectic, casual, upscale dining experience. I think our menu touches on just about every cuisine and I want everyone to be able to find something they enjoy on our menu," Anna said.
The ingredients for 195 American Fusion's cuisine are sourced locally whenever possible. C.V. Pilson Farms is one such local source – and yes, this is part of the Pilson Family. "This is where we get our very famous sweet potato wedges as well as our strawberries for our seasonal strawberry quesadilla dessert," Anna said.
Recently, 195 American Fusion began using SGT Peppers Mushroom Farm for their gourmet mushrooms. They obtain goat cheese and related products from Paradox Farms. They support the local community and economy whenever possible and in doing so, they have a farm to table approach in fine dining. The Pilot's 2022 Best of the Pines declared 195 American Fusion the Best Farm to Table Restaurant in the area, in fact. Derek Platt and Alex Turner are the faces behind the food. Pilson explained, "They've been with us for multiple years now, and training under our former Executive Chef Prem Nath, were able to become experts in our old dishes, and bring a good mix of new items into play. Syrups for the bar drinks are all created in-house. They juice daily which keeps everything as fresh as possible. They have signature cocktails and rotate the seasonal cocktails. They offer craft beer, a full bar, and a variety of non-alcoholic options besides a variety of wines. Derek carefully curates the wine list to pair with items on the menu. Nice to have someone in the back of the house control what goes on in that respect. You can order wines based off flavors created in the kitchen."
The restaurant features a lovely outdoor patio and bar, open year-round. Last year, they installed overhead heaters. The heaters keep the outdoor dining area warm when the cooler months arrive while patrons enjoy the same outdoor ambience. Aside from the normal seating and reservations, 195 American Fusion rents out the space for private events, too. Rehearsal dinners, bridal showers and just about any other event the customer desires. Customers can inquire about the private dining room off the main dining room. The private dining room serves to fulfill customer needs for private functions indoors. On and off-site catering are available. All menus are customizable to fit customer needs. Call 910-692-7110 or email Anna at anna@195americanfusion.com for more information or to make an appointment for further details.
Anna comments on 195 American Fusion's dedication to the ultimate in customer service. "We have always strived to give excellent customer service. I like to have a small staff," she told GFBJ. "They know who all our regulars are and a lot of times those people turn into family. I think people enjoy coming here and seeing friendly faces and having the servers know what they want before the customers themselves even tell them. Just like a part of the family. Even with the influx of military and all the new faces and growth the community has experienced, though the restaurant has become much busier, I will say that we have always been able to maintain that high quality standard."
"Consistency is key to having a successful restaurant," she continued. "Make sure your front door never has fingerprints on it." These wise words are ones Anna learned from her father. She knows the secret to the best customer service rests in dedication, high quality in every sense of the word, great food and drinks and extreme cleanliness. 195 American Fusion strives each day to meet the highest standards possible coupled with heartfelt southern hospitality – where everyone feels at home, just like one of the family.
---
Copyright © 2023 Enhanced Media Management Inc. dba Greater Fayetteville Business Journal
This story may be displayed, reformatted and printed for your personal, noncommercial use only and in accordance with our Terms of Service located at https://bizfayetteville.com/useragreement.