Medical merger: Cape Fear Center for Digestive Diseases and Fayetteville Gastroenterology Associates form Premier Gastroenterology
By Eddie Velazquez, posted Aug 24, 2022 on BizFayetteville.com
---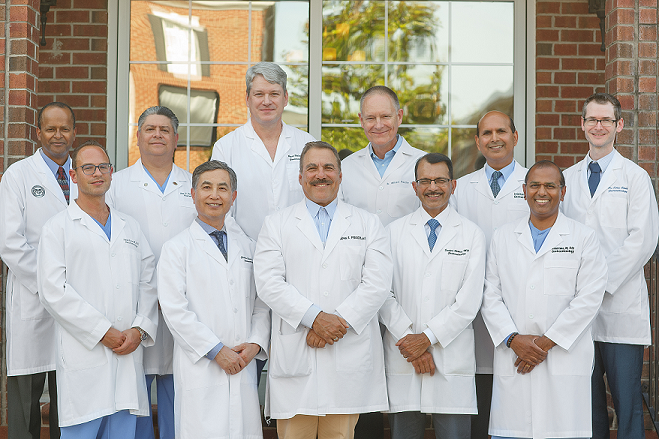 Two of the most prominent gastroenterology firms in Cumberland County have joined forces to create Premier Gastroenterology, a new practice set to expand healthcare offerings and become an even bigger presence in the community.
Cape Fear Center for Digestive Diseases and Fayetteville Gastroenterology Associates successfully completed the merger on July 1, forming Premier Gastroenterology after years of sustained talks among stakeholders. The new practice, according to Chief Operating Officer Crystalyn Zoquier, is now the third largest in North Carolina.
"We believe the combination of the two practices will be positive for our employees, our patients, and our communities," Zoquier said in a recent interview. "The combination of our companies brings our specialty services together under one corporate entity serving all segments of our industry."
The main priority for the new practice, Zoquier said, is to provide quality, patient-centered gastroenterology care to all patients in a warm and caring environment. The new venture also signifies new ambitions.
"We plan to fully integrate the combined businesses with the clear goal of becoming the strongest player in our field," Zoquier said.
Now, Premier Gastroenterology employs 130 people, including 11 doctors and 12 mid-level employees. In the world of health care, Zoquier explained, mid-level employees typically refer to those who receive shorter training than physicians but will perform some of the same tasks. These workers follow certified training courses and receive accreditation for their work. Employees in the mid-level category include nurses, auxiliary nurses, nurse assistants, non-physician clinicians and surgical technicians. "One of the main reasons that we have gone through with the merger is that there's strength in numbers," Zoquier said. "We're the third largest gastroenterology company in North Carolina now."
Patients can expect to keep the same level of quality service from Premier while also enjoying the benefits of an expanded practice, Zoquier said.
"Since we have such a vast number of doctors now, you will still be seen at the same practice and your records will be there," she said. "So if you need to see one doctor for a specific service you can come to us here, but then if you need to see another doctor for another procedure, you can see that doctor too without the hassle of getting a referral. There is no hassle of moving your records. You're still being seen at the same practice."
Additionally, the new practice also features extended insurance coverage.
"Because we're a larger entity, we want to be able to take just about every insurance there is under the sun now," Zoquier said. "That way people don't have to travel out to other cities and visit other practices."
Even as a new practice, Zoquier said Premier will retain and build upon the foundations of the past.
"We want to build upon our strengths and common core set of values and just commit to providing the best care for our patients," she noted.
The merger will also help the company streamline operational costs.
"Merging helps with health care and the rising insurance costs for our employees. There are some cost saving benefits to it," Zoquier said.
Employees will also benefit from the new merger.
"The combination of the two practices has really been positive for the employees because we've been able to look at benefits for both sides," Zoquier said, explaining that benefits such as time off options are consistently improved upon.
Premier also plans to be a mainstay in community life in Cumberland County. Although the merger has just come to fruition this past July, Zoquier the practice is already looking at effective community outreach strategies.
"We're going to start doing just some community involvement," Zoquier said. "Even little things such as, you know, if we let our employees dress down for a day, they have to participate in a canned foods drive for local charities. We're going to do a lot more community involvement since we have grown so much."
Part of community outreach includes emphasizing to community members just how important gastrointestinal health is.
"Our doctors are very skilled at what they do," Zoquier said. "They are very well-educated and they do not make you feel judged. I know gut health can be an uncomfortable subject for a lot of people."
Colonoscopies in particular, Zoquier said, can be a touchy subject for some. Advances in the practice and technology, however, have facilitated conversations around gastrointestinal health.
"Coming in and seeing our specialists and knowing that they're not going to judge you is a huge bonus," she said. "Sometimes patients think they're going to come in and the doctors are going to lecture them about their habits. Our doctors aren't like that at all. They really care for your health and they want your well being."
Zoquier spoke on the severity of colon cancer and its preventability.
"Colon cancer doesn't care if you're 70-years-old or 40-years-old. It does happen earlier sometimes as well, especially if it runs in your family," Zoquier said. "There are a lot of factors that really play into that, so we really just want to promote and get out there and let people know we're here to help."
The City of Fayetteville has also taken notice of the importance of gut health.
On March 4, Fayetteville Mayor Mitch Colvin declared "Fayetteville Goes Blue for Colon Cancer" day. As part of the proclamation, city officials noted more than 151,000 new cases of colon cancer are diagnosed each year in the U.S.
"But the good news is that colon cancer is preventable, treatable, and curable with appropriate screening and early diagnosis," Zoquier said. "If you come in for a screening or a similar procedure, our medical professionals are going to make the process warm and inviting."
Premier Gastroenterology offices are located in Fayetteville at 1880 Quiet Cove at the former Cape Fear Center for Digestive Diseases location. A second office is located at 2041 and 2015 Valleygate Dr., formerly the location for Fayetteville Gastroenterology Associates.
---
Copyright © 2022 Enhanced Media Management Inc. dba Greater Fayetteville Business Journal
This story may be displayed, reformatted and printed for your personal, noncommercial use only and in accordance with our Terms of Service located at https://bizfayetteville.com/useragreement.