Certified for cybersecurity: IT program for high schoolers sets students up to thrive in tech industry
By Savanah Ramsey, posted Aug 24, 2022 on BizFayetteville.com
---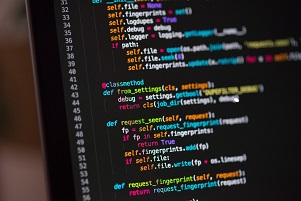 A local high school program has opened a door into a profitable industry for two Cumberland County students.
The Pine Forest High School Academy of Information Technology helps introduce high school students to career opportunities in the information technology industry. The academy provides a program of study in information systems, software installation and maintenance, and networking.
To apply for the Academy of Information Technology, students must complete and submit an application, have an overall minimum grade point average of 2.5, and be a rising 9th or 10th grader. Students outside of the Pine Forest High School district can also apply. Once accepted, students are required to pay a $35 dollar yearly fee.
At completion of high school the academy equips its students with the skills necessary to compete in a career field.
The two students who have shined in the Academy and are continuing their future in technology are Charles Morris and Theron Stauffer.
Stauffer began to take interest in technology when he was in middle school, when he began to work with technology and take courses.
"My mom used to be like 'I don't know how to use this,' but I would get to working on the computer, and then next thing I know, I would be taking the computer apart just for fun when I was bored," Stauffer said.
For Morris, the story was similar. Growing up, Morris loved playing with LEGO sets and obsessed with putting them together and taking them apart as well as figuring out how they worked.
"I also took apart the family computer and thought it was really fun and got in trouble for it and had to get it back together," Morris added.
"I feel like it's really important for people to see that the Academy and doing clubs like it really does pay off in the long run," said Morris. "I feel more prepared for college and the career world after that."
While in the program, students have the ability to earn certifications in Comp TIA A + Computer Technician, Comp TIA IT Fundamentals, Comp TIA Network+, Comp TIA Security+, Adobe Creative Cloud, Adobe Premiere Pro, Adobe Dream Weaver, and Microsoft Office Specialist.
"The certifications we have are really high level certifications that high schoolers don't usually have because they're too expensive," Morris added. "So the opportunities that the academy provides and the staff members that run the academy, especially our Director, Elaine Vallery, help ensure that we're prepared and ready for the next step of life."
Along with earning these certifications, during the students' junior and senior year, they are able to take technology community college courses through Fayetteville Technical Community College.
The county ensures that the classes the students take at FTCC are covered along with their textbooks and the costs of their certifications.
"Just to have the community college classes to prepare us for what actual college classes would be like, is extremely helpful by making us feel more confident with going away from home," said Stauffer.
Throughout the year, the Academy takes its students to regional, state and national competitions.
"We went to after school meetings and prepared on the topic of network design," said Stauffer. "We had the state competition, which is a little bit harder than regionals and then worked our way to nations."
At the Future Business Leaders of America national competition in Chicago, held June 27 through July 2, Morris and Stauffer received first place with other members of the Academy in the network design category.
During the last three years the Academy has set up Morris and Stauffer, along with their teammates, to succeed at this event. "Getting the experience and opportunities to prove to ourselves that we can do this, it all accumulated to this, like a capstone in a sense," stated Morris.
At nationals, the Academy of Information Technology was tasked with a prompt and needed to present to a panel of judges as if it were a business meeting the solutions and ideas the team came up with.
For example, the team could receive a prompt the day of the event and is given only twenty minutes to prepare a presentation to roleplay as a company who sets up the network. The team was in charge of fixing issues with hardware and cabling. Then, the team had seven minutes to present their ideas.
Following the presentation, the judges would ask questions as if it were a true business meeting.
"At nationals, it kind of really caught us off guard initially because it wasn't anything we were expecting," added Morris. "We had to deal with more troubleshooting instead of standard designing."
As recent graduates from Pine Forest High School and the Academy of Information Technology, both Morris and Stauffer plan to attend the University of North Carolina Charlotte and major in Computer Science Cybersecurity.
"I really feel like the cybersecurity field is interesting," Morris said. "It's so relevant today and everytime we turn the news on there's different conversations about cyberattacks and more."
"For me, I plan on going into something with cloud computing and virtualization with security," Stauffer added. "It's a new and upcoming field that not a lot of people know about and use it everywhere. So it's going to be something new and fun to learn about in the technology field."
---
Copyright © 2022 Enhanced Media Management Inc. dba Greater Fayetteville Business Journal
This story may be displayed, reformatted and printed for your personal, noncommercial use only and in accordance with our Terms of Service located at https://bizfayetteville.com/useragreement.