Beloved Betsy's: Southern Pines' Betsy's crepes a community favorite
By Kate Griffin, posted Aug 24, 2022 on BizFayetteville.com
---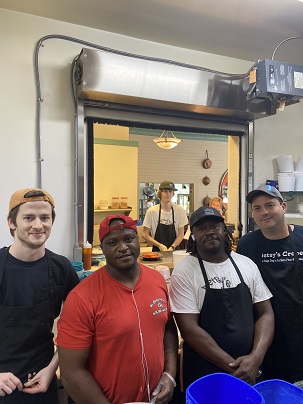 From the corner of a coffeeshop to a building on the corner of historic downtown Southern Pines, locally-owned restaurant Betsy's Crepes is a testament to perseverance and hope.
Betsy Markey, owner and sole proprietor of the restaurant, persisted through hard times, drastic life changes, and the obstacles building codes threw in her way. Markey's journey as a waitress to restaurant owner was rife with ups and downs, but through it all she still retains that never-met-a-stranger spirit. She has a compliment for every customer and a story for every crepe.
Having started in 2011, Betsy's Crepes puts a unique, fun spin on breakfast by incorporating fresh ingredients and creative combos to fulfill all of your brunch dreams.
In the restaurant's planning phase, Markey originally sought to open a bagel shop. She reveals her inspiration for the final decision with charming roots in childhood memories. "My grandfather would take us to a place that served German pancakes, so I guess they were crepes but they were rolled and had lemon and sugar on them," said Markey. "Now when I went to this restaurant with my son, we tasted one, and I looked at my son and said, 'This is it. This is what we're gonna do.' It was completely different than what anyone else was doing, so that's why I picked crepes."
Markey honed her craft of crepes through guest critiques and personal practice. "When I first started in that little space in the coffeeshop, people were hard on me, telling me the crepes were not right, they were too thick, but everyone kept coming back." Through all the first stages of opening, Betsy's Crepes was wildly popular and quickly outgrowing the startup location. "Back when I started, there were not many places that served crepes. Now, I think it's more of a trend thing, but 11 years ago when I started, you didn't hear of crepes hardly," she said. "It actually used to be a hot brunch spot, but now other places are also fun and creative, so it calmed us down a bit, and it's more workable and less insane."
Betsy's Crepes' specialties are in the name: crepes. A simple French pastry, reminiscent of a very thin pancake, all made to order. After the batter's mixed, a special piece of equipment called a crepe-maker, is used in cooking the crepe itself, then the toppings are added and everything's plated. There is lots of preparation involved, but the efficient staff behind the scenes make sure the restaurant stays flowing smoothly.
"It's so organized. It's pretty amazing to watch everyone in the kitchen work. They're incredible," said Markey. "We only take three minutes to make a crepe — it doesn't matter if a customer asks for a really elaborate one. It's the same time. One of the things we're really good at is getting the food to the table pretty quickly. That just kinda comes with being an ex-waitress – knowing that people get tired of waiting for their food to come out so everything is pretty fast here."
The diverse menu displays a panoply of options for a customer to choose from. There are 17 breakfast crepes, 12 sweet crepes and 13 savory crepes in addition to salads, sandwiches, and waffles. If none of those catch your fancy, the menu also boasts a build-your-own crepe option. "It's fun to watch people get creative," Markey said.
The crepes are diverse not only in flavors and toppings, but also highly accommodating for people with allergies and diet restrictions. The restaurant makes their crepes with over six different types of batter, including but not limited to gluten free and whole wheat. The restaurant also includes selling their own batter mix, so you can bring the deliciousness back home to your kitchen.
Betsy's Crepes was not accomplished alone. "If I can take myself out of myself and look at it, it's definitely crazy that it worked. I didn't think it would work. I mean, I couldn't even make a crepe," said Markey. "When I first started people were like, 'This isn't gonna work Betsy,' but I was determined to make it work."
Betsy's Crepes pulled through, but not without help from the community. "I don't think we would've been here if it wasn't for everyone's help," said Markey. The community played a big role in helping Markey's business expand and advance to the bustling breakfast hub it is today.
Encouraged by others, Markey reluctantly opened a GoFundMe page. "I didn't want to open one. It was like asking for money, and I never wanted to do that," said Markey. She narrates instances of the community's assistance, from random strangers donating thousand-dollar checks to people she's known since they were kids donating to support her business.
"It's just amazing, with the thousand dollars, or the little girl with the 20 dollars, it was like, this is crazy that people are fighting for somebody else. The community did it."
Snatching victory from the jaws of defeat, the community helped Markey finally open up her restaurant in the new location. "It is just so amazing that these people did this. The GoFundMe page made $11,000 dollars and the engineer's bill was 11,000 dollars. So the community paid for the engineers, and the engineers got the stamp on the paper, and that's how we got open. I think that's pretty cool," said Markey. "There's a plaque in the restaurant with the names of everyone who donated money."
donated money." In addition to personally regularly donating to small businesses, Markey is in the process of reopening a Moore County restaurant that closed in 2013. She fondly remembers going with her dad to the restaurant, and is determined to put it back in business one day.
"So, maybe in ten years, you can call and talk to me about that one," laughed Markey. Betsy's Crepes is so much more than just a breakfast and lunch spot. It's a monument to the power of community support – that despite all, things can work out for the better. Maintaining an undying perseverance and a thankful attitude, Markey consistently makes great strides to improve the scene for local businesses, just like the community did for her. "I think we all just got to help each other. Support each other. I think that's really important to remember."
---
Copyright © 2023 Enhanced Media Management Inc. dba Greater Fayetteville Business Journal
This story may be displayed, reformatted and printed for your personal, noncommercial use only and in accordance with our Terms of Service located at https://bizfayetteville.com/useragreement.