NC Carolina Core celebrates successful first Summit event
By Faith Hatton, posted Sep 15, 2022 on BizFayetteville.com
---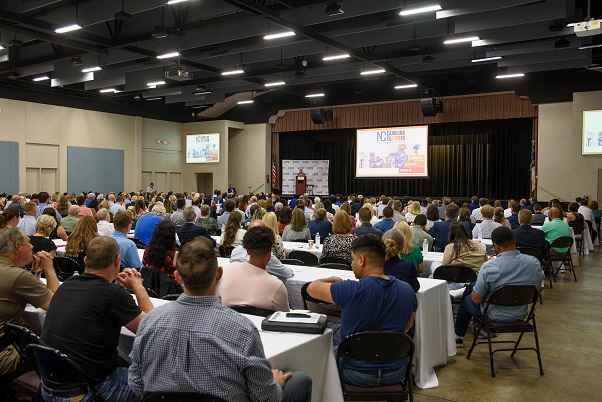 Event organizers and leaders with NC Carolina Core are celebrating the successful completion of their first Carolina Core Summit which took place on Sept. 13 in Sanford, NC.
A total of 650 attendees including civic, elected and real estate leaders came to the gathering to learn more about the potential real estate boom set to take place along U.S. Highway 421 stretching from Interstate 77 to Interstate 95 known as the "Carolina Core" region.
"When we were first talking about it back six plus months ago, we were thinking you know if we got 400 people it'd be incredible and we'd be very satisfied with 200-300," said Carolina Core Regional Economic Development Director Loren Hill.
With four Megasites currently aimed to be developed, with a potential to impact 13 cities, leaders say it was important to give realtors and idea of what changes to expect in their areas and how they can prepare. Hill said the last ten days leading up to the event saw a spike in registered attendees.
"We were so pleased, we wanted to get the word out to the business community and elected officials and the real estate folks, the commercial and residential realtors, in a big way and boy we were proud we succeeded in getting that message out in a big way," said Hill.
The NC Carolina Core hosted the event in conjunction with 13 North Carolina, Sandhills, Triad, and Triangle realtor associations. The Summit focused on networking opportunities and the chance for guests to learn more about the Carolina Core and its mission, current development efforts and how guests can assist and benefit from the Core's efforts.
Speakers included leaders from across the region such as President of the Fayetteville Cumberland County Economic Development Corporation Robert Van Geons, President of the North Carolina Association of REALTORS Wendy Harris, Chief Executive Officer of the Economic Development Partnership of North Carolina Christopher Chung and others.
Hill said that, for now, there are no plans set in stone for a second event, but leaders and event organizers will meet in the coming weeks to review this past Summit and discuss options moving forward.
Anyone who is interested in getting involved or learning more about NC Carolina Core can find out more online at: www.nccarolinacore.com
---
Copyright © 2023 Enhanced Media Management Inc. dba Greater Fayetteville Business Journal
This story may be displayed, reformatted and printed for your personal, noncommercial use only and in accordance with our Terms of Service located at https://bizfayetteville.com/useragreement.