Bullard Farm 150+ years strong: Commercial farm continues production despite challenges in industry, environment, and economy
By Stephanie Meador, posted Sep 22, 2022 on BizFayetteville.com
---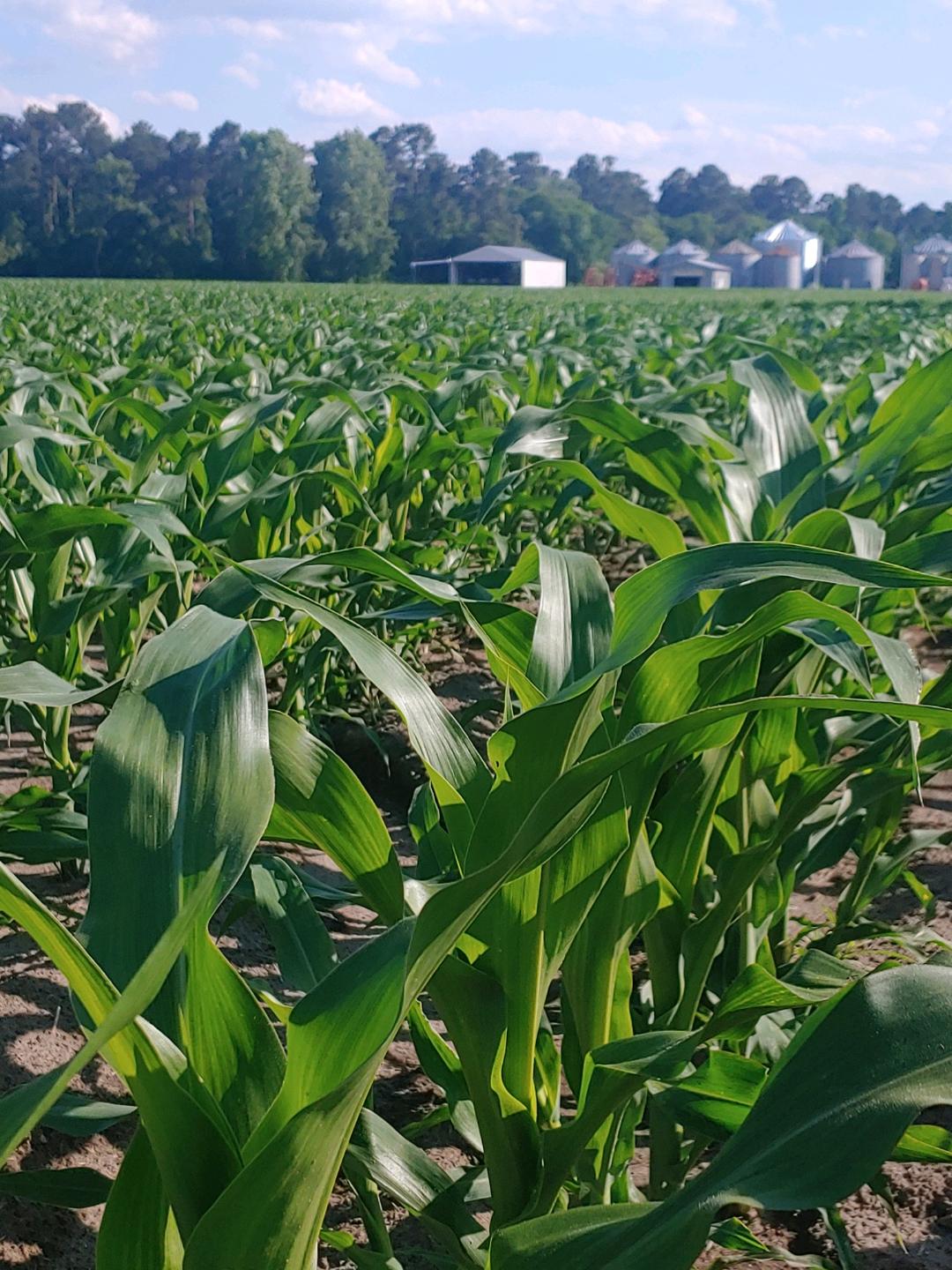 An age-old profession that every person benefits from, farming is no easy occupation. Between the long hours, uncontrollable variables like the weather and markets, and no days off, it's not a task everyone can handle. Collins Bullard, a fifth-generation farmer on Bullard Farm, told Greater Fayetteville Business Journal "... It's a self-motivated job but, if you're not self-motivated, you would never be a successful farmer."
Started in 1855, Bullard Farm is located just outside of Fayetteville in the town of Stedman. Bullard Farm is a 2,000 acre state registered Century Farm. On the farm they grow corn, wheat and soybeans, and in addition to growing crops, they raise 180,000 turkeys annually.
Their farm operates from a commercial business standpoint rather than an agri-tourism business. They sell soybeans to Cargill, the corn is harvested and sold to various integrators who raise livestock, and they also grow seed plants to sell to Pioneer to be used for the following year. Other than the occasional sweet corn or watermelons, the crops grown on Bullard farm are primarily feed crops and are produced for commercial use. Bullard works with four full-time employees to raise good crops and poultry. They also contract workers through the H2-A program and typically hire one seasonal worker.
Though they are a commercial farm, Bullard and his coworkers make an effort to give back to their community. They participate with Ed Petkovich's company Walsingham Group to donate some of their crops. Bullard shared that once they get through with the fields, they glean the fields and a lot of it goes to the Wounded Warriors programs.
The Bullard family has also received awards for their work. Both Collins and his father have been recognized as Cumberland County Farmer of the Year. They received the Grower Environmental Excellence Award by the North Carolina Poultry Federation for excellence in farming and environmental stewardship. Additionally, they have been awarded the U.S. Poultry & Egg Association Family Farm Environmental Excellence Award.
Bullard takes pride in carrying on family tradition by running the farm: "…I enjoy work, I enjoy manual labor, I enjoy being outside, I enjoy trying to raise good crops, trying to raise good animals, I like being my own boss…" Bullard's passion for the work he does is a necessary trait for being a successful farmer. Though he doesn't often get the thanks his busy days warrant, he finds satisfaction in cultivating quality crops and livestock.
However, a strong work ethic doesn't erase the hardships Bullard and other farmers are facing in our current society. The past year specifically posed a challenge with increasing costs of fuel and fertilizer and a drought which caused a poorer crop year than what they've had over the past five years. As economic difficulties plague businesses across the country, agriculture workers are far from exempt from these trying circumstances.. Bullard shared that costs for the farm have doubled and in some cases tripled.
ion in the future this was what Bullard had to say: "At this point you know we're at a comfortable level, I mean with the economic situation, that environment that we're in right now, we just hope to maintain with the level that we're at right now… at this point we're not really looking into expansion, if opportunities arise that make sense [with] what we're trying to do, then we may look at it a little bit harder, but right now we're just really just trying to stay in business…you dont wanna stick your neck out too far because you might not be able to recover from it…"
Luckily, Bullard shared that their farm has not had a retention issue as far as their employees go. Though like many other industries experiencing a labor shortage, it has become more difficult for them to find good help and find truck drivers to move product.
However, the greatest challenge facing farmers at this time is the increasing urban sprawl across rural areas. "...The things that face agriculture at this point in our area in particular is rapid development and losing farmland and I think what people really need to sit down and think about is, you can't eat asphalt," stated Bullard. "...You have to have land to grow food. Everything that you touch on a daily basis has been touched in some way by a farmer. You know it's just one of the challenges we face right now with economic growth or housing growth is farmlands being taken away and that just adds more people and if you add more people you need more food…"
Businesses such as Bullard Farm are the underrecognized backbones of our society and our economy. Bullard Farm's employees work hard to take care of the land. As commercial and residential real estate continue to take over fields, it is important that people take a moment to sit back and remember where their food comes from.
---
Copyright © 2023 Enhanced Media Management Inc. dba Greater Fayetteville Business Journal
This story may be displayed, reformatted and printed for your personal, noncommercial use only and in accordance with our Terms of Service located at https://bizfayetteville.com/useragreement.