Cannon and Keen recognized for their support of Institute for Community Leadership
By Staff Report, posted Sep 28, 2022 on BizFayetteville.com
---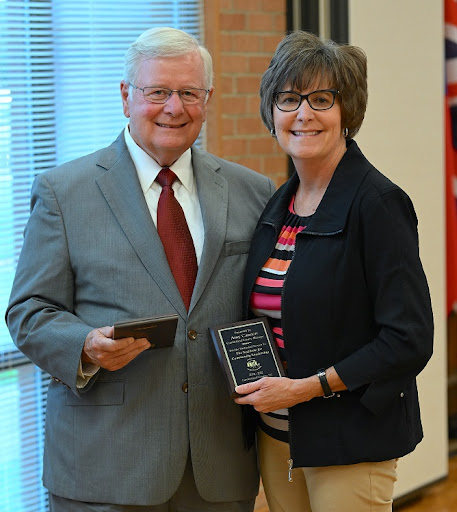 President of Fayetteville Technical Community College Dr. J. Larry Keen and Cumberland County Manager Amy Cannon were recognized for their long-term support of the Institute for Community Leadership during the first meeting of ICL's 19th class, held at FTCC on Sept. 20.
Keen and Cannon represent two of the entities that sponsor the community leadership development program. Both Keen and Cannon have announced plans to retire – Cannon as of Dec. 1 this year and Keen as of January 1, 2023.
Formed in 2004, ICL is designed to provide local citizens with information and opportunities to participate in activities that lead to community leadership, volunteer service and membership on local boards and commissions. Classes are held annually with participants chosen from a pool of applicants from Cumberland County.
Keen has supported FTCC's sponsorship of ICL since joining the college as its president in 2007. Cannon, who has been with Cumberland County for 32 years and has occupied the role of County Manager since 2014, has also been a longtime supporter of the program.
Six more meetings will be held over the next several months, and the class will work to complete one or more service projects.
---
Copyright © 2023 Enhanced Media Management Inc. dba Greater Fayetteville Business Journal
This story may be displayed, reformatted and printed for your personal, noncommercial use only and in accordance with our Terms of Service located at https://bizfayetteville.com/useragreement.