Airborne Innovation Lab: Fort Bragg now has a new makerspace available to paratroopers to help provide them with the tools they need to succeed
By Faith Hatton, posted Nov 10, 2022 on BizFayetteville.com
---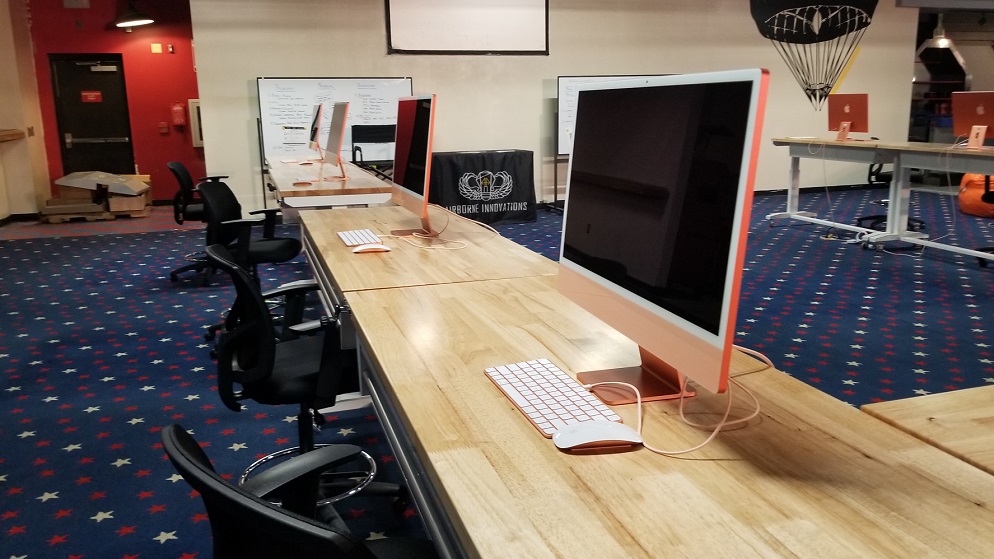 The 82nd Airborne Division aims to foster technological progress, innovation and creativity on and off the field with their new Airborne Innovation Lab available on Fort Bragg. After celebrating a soft opening in August, the facility held their grand opening on Oct. 6. The facilities are now open between 10:00 a.m. to 4:00 p.m. and soldiers are invited to Building 3-2102 on Long Street, Fort Bragg to come in and make use of the workstations and meeting stations.
The Lab is the product of more than a year's worth of effort and funding and is one of three Design, Innovation, Research, and Technology (DIRT) labs funded by Army Research Labs. The new makerspace features robotics equipment, 3D printers, a woodshop, textile station, sewing station and computer lab and is open to service members on Fort Bragg.
"Our goal is to help soldiers do their job better, and to make things and prototype solutions to making their job easier. So, some of the things that we're working on right now are like training aids, things that they can take out into the field and test. We recently made some combined arms rehearsal icons, friendly and enemy icons for them, so they can plan out maneuvers and things like that in rehearsals," said Makerspace Manager Erika Uzmann.
The goal of the space is to provide soldiers with the tools to help innovate equipment and solutions they need to do their jobs. The lab features a several workspaces, meeting areas, and tools available to soldiers completely free.
"We have the woodshop, that's where we have our laser engraver, saw table, all of the hand tools necessary for like your basic craftsmanship work. Then we have our textiles station, that's where we have our sewing machines, our industrial sewing machine, our plotter, cutter, t-shirt, press, iron, all of that, and then that general area is actually called the Workshop, and in the Workshop it's kind of like subsections. The workshop entails both the electronic prototyping stations as well as the digital fabrication, and the digital fabrication is all those 3D printers and all that good stuff. After you get out of the workshop and those two subcomponents, you get to the computer lab and then go to the Design Thinking Collaborative space which, I know, doesn't really flow off the tongue," said Lab Director 1Lt. Jenelle Sanders.
The AIL is available thanks to a program started through Army Research Labs known as the Catalyst Pathfinder program, a program dedicated to connecting soldiers to academic partners to be able to solve problems at the soldier level. Those soldiers are being encouraged to find their own solutions to common problems they face.
"No one knows soldier issues better than the soldiers that are experiencing them. And so typically, the army acquisition process takes like four to six years to be able to get equipment in the hands of the Warfighter, and especially here at the 82nd, the tactical timeline is a lot shorter than that," said Sanders. "We want to be able to provide soldiers with the capability to prepare for the future battlefield today and adapt as our op tempo changes and as the mission set changes, to be able to make those on the ground changes to our equipment. And even though we're a physical makerspace, we also do design thinking workshops and stuff like that. We're not just modifying our equipment, we're also modifying our system and processes down at the Lab. It's kind of serving as like the central location for updating, innovating, and pushing forward the 82nd Airborne Division."
The goal of the AIL moving forward is to continue to educate and prepare soldiers for the future challenges. Leaders at the AIL said they plan on expanding their offerings even more in 2023 by offering classes to improve skillsets on base including use of the 3D printer and other workshops to improve equipment use.
"Truthfully, we're just really excited about this entire thing," said Division Innovation Chief Lt. Kyle Kirby. "You know, the Airborne Innovation Lab is the physical manifestation of innovation, right? It is the hub where people can come not just create things, but frame problems, collaborate, come work on things, and that provides an outlet for solving problems in ways we would never even have thought of."
---
Copyright © 2023 Enhanced Media Management Inc. dba Greater Fayetteville Business Journal
This story may be displayed, reformatted and printed for your personal, noncommercial use only and in accordance with our Terms of Service located at https://bizfayetteville.com/useragreement.