Cool Spring Downtown District to welcome new art exhibit for the holidays
By Staff Report, posted Nov 21, 2022 on BizFayetteville.com
---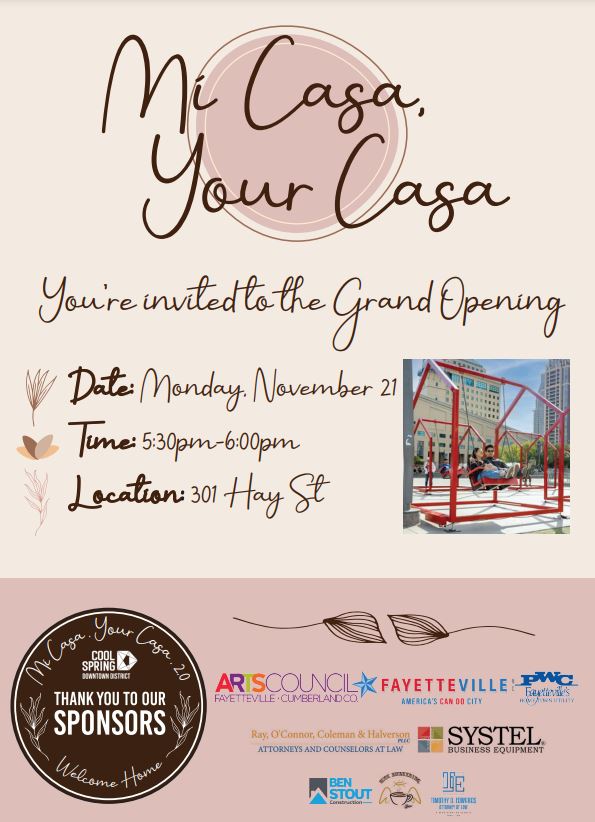 The public is invited to join the Cool Spring Downtown District for the unveiling of downtown Fayetteville's newest art installation "Mi Casa, Your Casa 2.0".
The installation is the result of a partnership between CSDD and the Arts Council of Fayetteville-Cumberland County, and is the latest of 14 art installations brought to the downtown area by CSDD within the last two years. CSDD has strategically placed these eight art pieces around the Arts & Entertainment District for visitors to enjoy. Following the official opening ceremony on Monday Nov. 21, the interactive art pieces will be available through the holidays until Jan 9, 2023.
A Quebec-based company, Creos, is responsible for taking Mi Casa, Your Casa 2.0 on its world tour. The creators, Hector Esrawe and Ignacio Cadena, were inspired by Latin-American mercados, or lively street markets, "where human connections are made every day."
Creos describes the installation as "a series of eight, three-dimensional, red frames that illustrate the warmth, comfort, and safety of our homes." These frames look like tiny houses, feature swings, and emit a soft white glow when they are empty; however, once a visitor steps inside one, the glow intensifies to indicate someone is home.
"As many folks know, Fayetteville is home to quite a diverse community of folks who hail from all over the world, thanks to Ft. Bragg, and our community becomes a home away from home for them," said CSDD's president and CEO, Bianca Shoneman in a press release."Of course, the commonly used Spanish phrase 'mi casa es su casa' translates to 'my house is your house, and I believe this new art installation is a visual symbol of the welcoming nature of 'America's Can Do City' towards everyone, especially over the holidays."
The public is invited to attend an opening ceremony on Monday, November 21, 2022 at 5:30 PM at the Arts Council of Fayetteville-Cumberland County, 301 Hay Street. Attendees will enjoy music by Michael Pennink, refreshments and a ribbon cutting.
---
Copyright © 2023 Enhanced Media Management Inc. dba Greater Fayetteville Business Journal
This story may be displayed, reformatted and printed for your personal, noncommercial use only and in accordance with our Terms of Service located at https://bizfayetteville.com/useragreement.