Medical Lab Technology Program: Fayetteville Technical Community College shines spotlight on laboratory science programs
By Diana Hansen, posted Dec 15, 2022 on BizFayetteville.com
---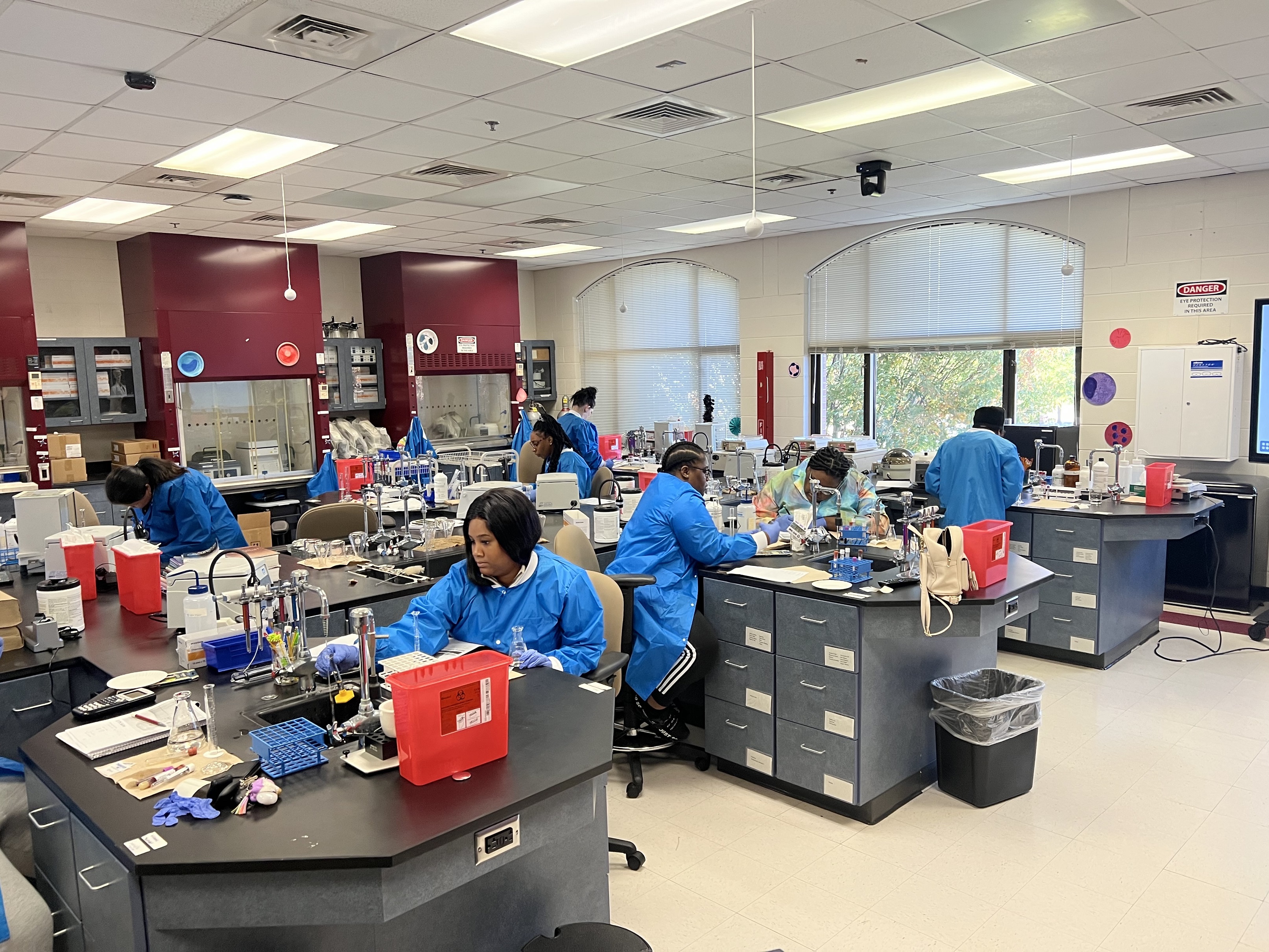 Fayetteville Technical Community College educates more than 28,000 students yearly. This public, state-supported, two-year all-inclusive community college provides quality educational opportunities in Fayetteville and Cumberland County areas. Programs encompass general educational, occupational, technical, continuing education and college transfers. Along with general education, FTCC presents exceptional Laboratory Science programs with course offerings such as the Medical Laboratory Technology Program, which provides students within Allied Health Sciences a two-year program of 74 credit hours. Students study subjects like clinical chemistry, hematology, transfusions, as well as compatible blood and micropathology. The MLT program enrolls up to 20 students each fall. Students start the program together and spend five semesters with the same classmates, building strong bonds and collaborative learning throughout the program.
"One of the best experiences that comes of the two-year program is student practice with preparing for national certification. Each semester, students are required to sit for a mock, national certification exam, designed to mimic the exam they will complete through the American Society of Clinical Pathology," said Medical Laboratory Technology Program Director Candice Freeman, Ph.D. "With effort, students are well prepared to successfully pass this exam and become a credentialed Medical Laboratory Technician. The huge, ongoing demand for graduates provides stable, gainful employment and very good living wages upon entrance to the workforce. The job, highly portable, serves graduates wherever they move worldwide."
The first cohort in July saw 100 percent graduation rate and 100 percent placement rate. Dr. Freeman mentions, "There are hundreds of open positions for clinical laboratory professionals, just in North Carolina; so many, the educational programs cannot produce enough graduates to fill vacancies."
The FTCC MLT Program holds accreditation from the National Accreditation Agency for Clinical Laboratory Sciences.
"We are thrilled that our program has achieved national accreditation. With this five-year award, we are able to continually refine and improve the program with each coming year, in hopes during our next reaccreditation we will receive a seven- or 10-year award," Dr. Freeman stated. "I am a product of a Medical Laboratory Technology program in the North Carolina community college system. This field of Allied Health has a rich history within the system, dating back to the late '60s and early '70s."
Laboratory Sciences features a forthcoming Histotechnican Program. FTCC will be one of three colleges in North Carolina to offer both MLT and HT training programs at the two-year level. Students in the MLT program will be able to transition into the Histotechnology program, carry all general education credits, and take two to three more semesters, then complete a second A.A.S. degree.
Dr. Freeman explains this unique program, "It is rare to find a clinical laboratory professional credentialed in both Medical Laboratory Technology and Histology, so this option serves to provide students with more choice and career-focused options in healthcare. Histology focuses on the study of body tissues and diseases associated with those tissues. We often refer to this area of the lab as Anatomic Pathology, while the MLT side of the lab world is referred to as Clinical Pathology. We anticipate this program to start in summer, 2023. The majority of students enrolling in the program will be from previous graduating classes from the MLT program."
The average pay for an entry-level, certified histotechnician starts in the low to mid-$20 range; however, with experience, employees easily make over $30 per hour soon after graduation. Strong demand prevails for trained, qualified histology professionals throughout the United States.
Dr. Freeman added that great support exists from local clinical affiliates. "The Cape Fear Valley Health System can be credited with requesting the inception of this program. They are our main affiliate; we have clinical training placement at all their facilities. They train the majority of our students. The system offers a work-based scholarship program for our students. They can receive full tuition payment in exchange for a three-year work commitment. This works very well both during the student's education, and after graduation. Three years of work experience in a large trauma center is very beneficial to career growth of the MLT."
Dr. Freeman said she also believes in the exceptional value of the North Carolina community college system and states, "I am a product of a community college, and, honestly, choosing this path was the best academic decision of my educational career. Without this technical training, I would not have gained employment in healthcare, pharmaceuticals, corporate biomedical companies, and education. In fact, my salary as a medical laboratory professional afforded me the opportunity to pursue my master's and doctorate degrees. Being a first-generation college student and graduate, I can truly relate to the struggles many of my students face. Experiencing and knowing this, I am able to customize their learning experience to their immediate needs, making their training highly relevant, authentic, and effective."
Dr. Freeman understands poverty, as she herself experienced, is not permanent. She inspires her students — she recognizes their ability to succeed. Dr. Freeman understands time-limitations many face in pursuit of educational goals. She created a Hyflex model to support students, making sure traditional face to face on-site, virtual, or video modes are all available.
These programs create a strong career path, and quality pay structure students take wherever they go. These high demand careers require trained professionals and work is available worldwide. These careers are especially beneficial to military spouses — so wherever the military stations — these students can meet the demand.
Learn more at FTCC's website: www.faytechcc.edu and for Health Technologies Programs, call 910-486- 7425 or email Curriculum Chairperson Candice Freeman: freemanc@faytechcc. edu and experience Fayetteville and Cumberland County's stellar programs to reach for the stars!
---
Copyright © 2023 Enhanced Media Management Inc. dba Greater Fayetteville Business Journal
This story may be displayed, reformatted and printed for your personal, noncommercial use only and in accordance with our Terms of Service located at https://bizfayetteville.com/useragreement.