Lofty goals: Fayetteville native finds restoring historic buildings to be a rewarding outlet for her artistic expression
By Stephanie Meador, posted Mar 16, 2023 on BizFayetteville.com
---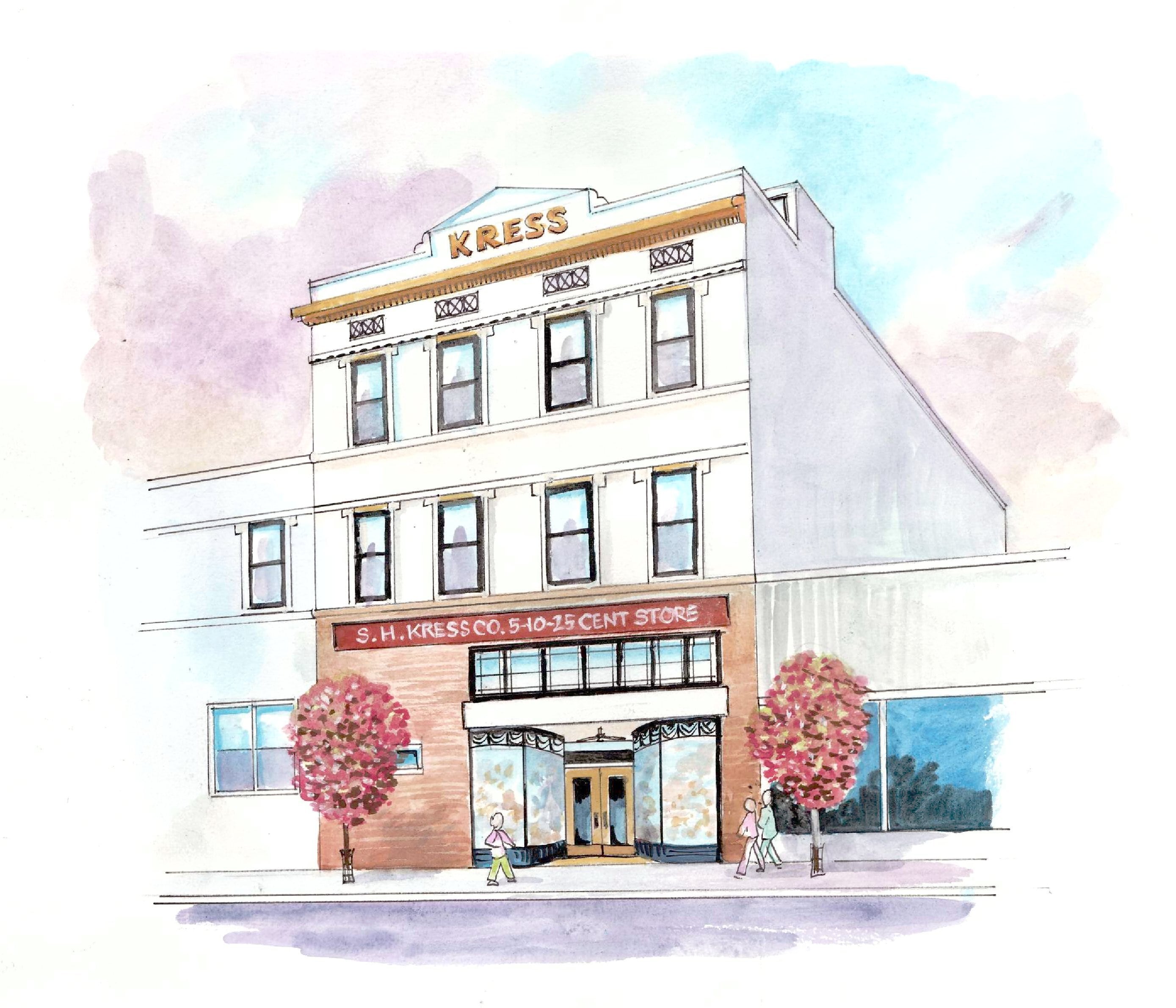 Daphne Sanitz, a Veteran entrepreneur, has made quite the name for herself through her work of "preserving what most throw away" here in Fayetteville. Sanitz has developed eight properties in downtown Fayetteville including the building at 108 Person St. which now hosts the popular restaurant CIRCA 1800.
Sanitz spoke with the Greater Fayetteville Business Journal about her latest project, the Kress Lofts on Maxwell St.
Sanitz first began the steps to renovating the Kress building in 2017. The past several years have involved a lot of paperwork, planning and foundation repairs. Even the smallest technicalities have to be sorted out in order for a project such as this to succeed.
Sanitz shared that there are multiple incentives that someone renovating a dilapidated historic property can utilize in their toolbox to make the project more affordable. These include historic tax credits, opportunity zone incentives and new market credits.
Sanitz explained further that banks don't lend money out for projects such as these, so it's important to get creative with the resources you have available.
Darden Jenkins, expert in community redevelopment, serves as development specialist of the Kress Lofts redevelopment project. Jenkins shared that he first met Sanitz in 2016, and after being a long-time admirer of her work, he joined her on this project in July of last year.
"My role with her now is essentially to get the incentives that she's got coming. Primarily, what she's doing on this project is we're syndicating the tax credits…So that's really my role is getting that tax credit money in for her project… the tax credits represent 40 to 45 percent of the cost of the renovation and you sell the tax credits, corporations take the credit against their taxes and then you get the money," explained Jenkins.
Sanitz identified some of the foundational issues that have to be addressed before the construction of individual units can really begin.
"So basically, the Kress building was pretty much broken in half… And what they do to repair it is they drill these long holes in the ground, some of them are really deep, like 60-80 feet, and they put what looks like an auger all the way into the base rock of the earth to support the rear of that building so it doesn't sink in more," said Sanitz.
There are creative ways to preserve the original materials and designs of a building while redesigning it as an updated, functional space.
"And then you can patch up the brick work. But on this particular project, the original historic brick doesn't exist. So we're having to take some interior brick, because the walls are thick. We're using the interior brick to put on the outside of the building and patch it and then we're rebuilding the interior brick with new brick," Sanitz added.
There will be 12 units in the newly renovated building.
Sanitz shared that she hopes to have the construction complete by the end of the year. Sanitz shared that when they're completed guests who enter these condos will feel "like you're walking into a painting."
Sanitz is very excited about the unique designs of the units.
"So there's lots of really neat things about that building that are going to make those condos very unique in that they're going to be two storeys, very high ceilings, big industrial windows, spiral staircases. catwalks, open floor plans…"
This is not Sanitz's first time designing housing units downtown, but she said these new spaces will be even more spectacular than the ones she has created in the past.
"The Kress Lofts are going to be like a whole nother level of 'Wow, I can't believe you live here.'"
Once completed, the 12 units will be available for rent. Sanitz predicts the monthly rates will be comparable to other housing options located downtown, and the rate will vary a bit depending on the different units and what they specifically offer.
Sanitz won't be finished with her downtown efforts following the completion of the Kress Project. She shared that her next renovation will be the Lawyers Building. She has a couple of different ideas for that, and with Sanitz's track record it is sure to be another standout staple in the downtown area.
---
Copyright © 2023 Enhanced Media Management Inc. dba Greater Fayetteville Business Journal
This story may be displayed, reformatted and printed for your personal, noncommercial use only and in accordance with our Terms of Service located at https://bizfayetteville.com/useragreement.