The Friend's Table to offer upscale comfort food in downtown Fayetteville
By Staff Report, posted Aug 27, 2021 on BizFayetteville.com
---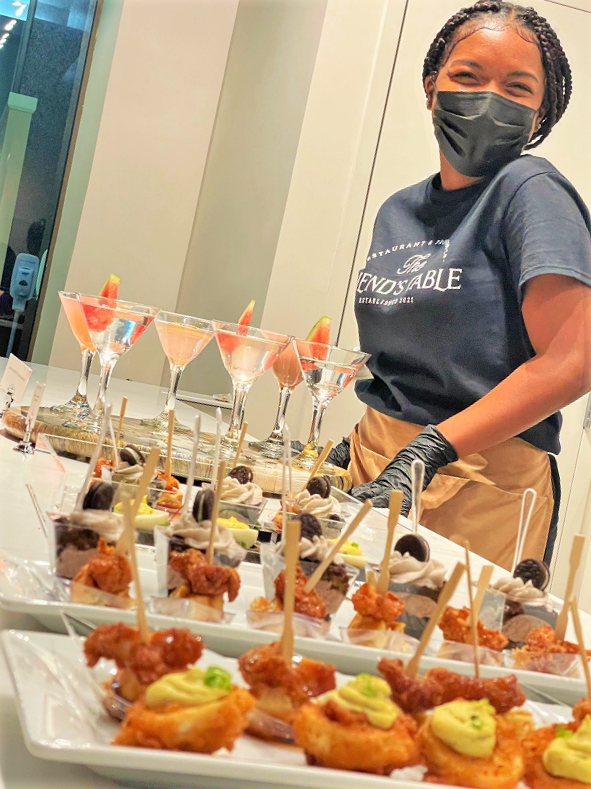 What began as a group of friends enjoying enjoying a meal together has blossomed into a new business bringing "upscale comfort food" to downtown Fayetteville.

Co-owners, Portia Grady and Mahalia Robinson, have seen success before in the catering sector, which sparked a "desire to operate their own restaurant that would offer that same welcoming experience to others," according to information released Friday.

"We are excited to welcome The Friends Table to the Downtown District, and we are looking forward to what the future holds for them at 225 Green St." said Jacqueline Smith, owner and principal of Allison Capital Partners.

Early in 2021, Cool Spring Downtown District, together with Allison Capital Partners — a real estate investment and property management company — a search began for cafes/restaurants to occupy space in the Systel Building at 225 Green St.

Grady and Robinson said they were impressed with the location, which includes "a fully upfit kitchen and indoor and outdoor dining spaces.

"We noticed every little detail, from the gold accents and marble countertops, to all of the color schemes and textures that complement each other; it felt like home," Grady said.

According to information provided to the Greater Fayetteville Business Journal, many of Grady and Robinson's popular recipes will make their way onto the business menu, including shrimp and grits, chicken and waffles and fried deviled eggs.

In addition to enjoying the indoor/outdoor dining space, customers will also have an option of taking quick meals to go. The Friend's Table also will sell provisions such as made-from-scratch vegetable stock.

Bianca Shoneman, president and CEO of Cool Spring Downtown District, said she was excited about the new restaurant.

"Our iconic 11-story tower and its 300-plus building tenants were already a shining asset to our municipal service district, but now Allison Capital Partners and our organization are thrilled to help bring a new type of dining experience to that gorgeous space that will provide unique offerings for our visitors, residents, and merchants alike."

A soft opening is expected to take place in September, with a grand opening in October. The business will operate daily, opening for breakfast from 7 a.m.; lunch service will run from 10:30 a.m. to 4 p.m., Monday through Friday. Saturday and Sunday brunch will take place from 11 a.m. to 4 p.m. on Saturdays and Sundays.

---
Copyright © 2022 Enhanced Media Management Inc. dba Greater Fayetteville Business Journal
This story may be displayed, reformatted and printed for your personal, noncommercial use only and in accordance with our Terms of Service located at https://bizfayetteville.com/useragreement.