Business gives new life to neglected piece of Fayetteville history
By Scott Nunn, posted Sep 23, 2021 on BizFayetteville.com
---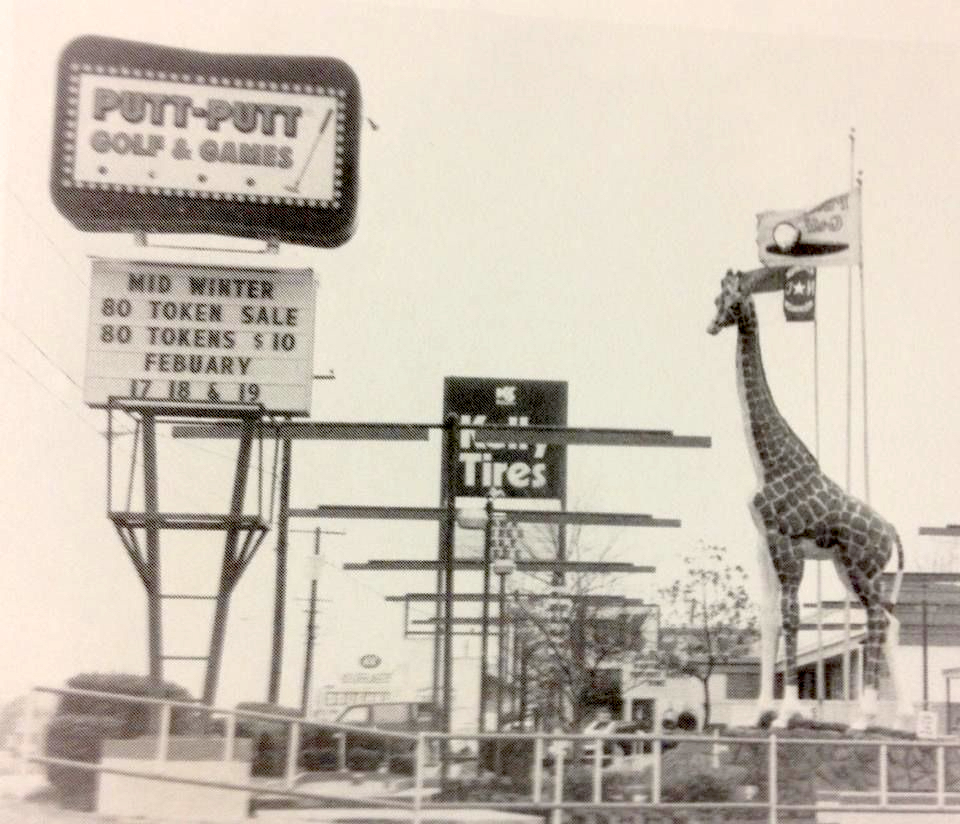 Granted, the empty lot at 3218 Bragg Blvd. isn't much to look at. In fact, "eyesore" might come to mind. But, as many locals can attest, the land was once home to a unique piece of Fayetteville's history and lore.
In a city that dates to the American Revolution, 1954's not likely to get much attention in the local-history chronicles. But it was that year when Don Clayton, a hard-driven Fayetteville insurance salesman with orders from his doctor to "relax more," opened a miniature golf course on Bragg Boulevard.
Soon afterward, he named his new venture Putt-Putt. The rest is history, with Clayton's unique brand of miniature golf taking off nationwide. The savvy businessman -- who never returned to the insurance business -- ended up with 300 Putt-Putt franchises.
In 1996, Clayton died at the age of 70. The franchise was sold and Putt-Putt's Bragg Boulevard birthplace closed. In its post Putt-Putt days, the location was home to the House of R&B, a popular nightclub. It closed after a fire in 2008.
Like many forgotten places, the two-acre parcel next to Black's Tire soon will have a new purpose. The property is getting a "mulligan" -- the golf term for a "do-over." For its next round, the land will be home to a new dental office. Dr. Laurence R. Mester Jr., who owns two dental practices in the Fayetteville area, is opening a third at the former Putt-Putt site.
According to Cumberland County property records, M&E Properties LLC -- a business entity formed by the Mesters -- paid $375,000 a year ago for the 1.89-acre lot, which has 363 feet of frontage along Bragg Boulevard and backs up to Tally Ho Drive. According to a building permit, the estimated cost of the project is $3 million. Fayetteville's Rubicon Group is the primary contractor.
In an interview Thursday with the Greater Fayetteville Business Journal, Jing Mester, who runs her husband's practices, said that site work had begun, but actual construction has been delayed by the ongoing steel shortage, a problem plaguing builders and other industries.
Although the uncertainty caused by the steel shortage has made it difficult to predict an opening date, Mester said it was full steam ahead.
"Absolutely. We are at a point of no return," she said. "There's been a significant amount of investment into the building and construction process. A lot of building materials are back-ordered and the (dental) equipment is already being purchased."
Mester said a lot of people have driven by the property and were curious about what was planned for the site. The couple also are aware of the location's unique place in Fayetteville's history.
"We've been dealing with local citizens for a while, and everybody's telling us about the Putt-Putt history," Mester said. "The seller, the marketing material, the lawyers, even the builders. Everybody's from the Fayetteville area and they told us about it."
"It's a piece of unique history, and that just adds more interest to the land," Mester said.
---
Copyright © 2021 Enhanced Media Management Inc. dba Greater Fayetteville Business Journal
This story may be displayed, reformatted and printed for your personal, noncommercial use only and in accordance with our Terms of Service located at https://bizfayetteville.com/useragreement.