Got land? Golden LEAF offers millions for industrial-site development
By Scott Nunn, posted Oct 5, 2021 on BizFayetteville.com
---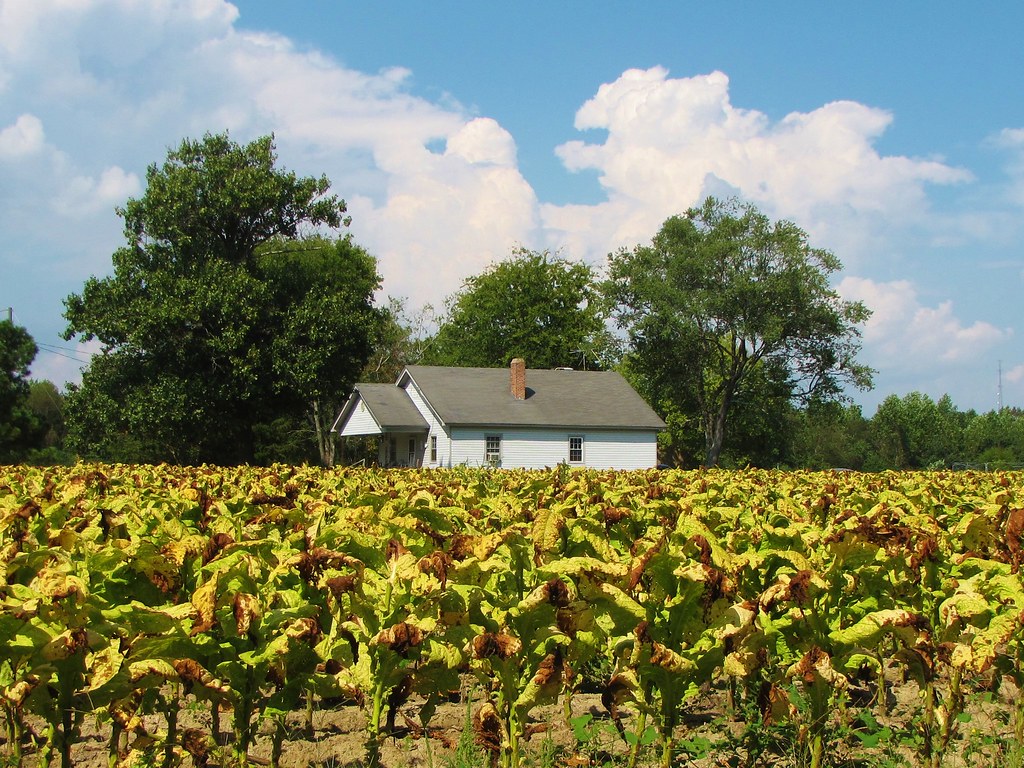 Move over Tobacco Road … and make room for manufacturing, logistics and other industrial-related businesses.
Since taking root in 1999 to receive funds from the 1998 settlement with cigarette manufacturers, Rocky Mount-based Golden LEAF Foundation has plowed along to increase economic opportunity in North Carolina's rural and tobacco-dependent communities through grantmaking, collaboration, innovation, and stewardship.
As several drug-store giants are on trial this week over lawsuits related to opioid addiction, funds from a similar addiction-related lawsuit --- the 1998 Master Settlement Agreement -- are slowly changing once tobacco-dominated North Carolina landscapes into economies built around modern manufacturing and other business initiatives.
After 20 years of imagining a new way forward for the thousands of farmers and other workers who relied on tobacco for a living, the Golden LEAF SITE Program is planting new seeds: helping communities identify potential sites for economic development, completing the due diligence to prepare sites for development, and -- one of its most valuable contributions -- extending essential public utilities.
It's not a turn-key solution, but having sites as close as possible to business-ready is a valuable asset, as cities and towns across the nation try to land the latest "big fish" in the rapidly growing manufacturing, industrial and logistics sectors, many of which are struggling to find a place not only to set up shop, but to be able to do so quickly in a business environment that's evolving faster than ever.
Robert Van Geons, president and CEO of Fayetteville Cumberland Economic Development Corporation, continues to stress the need for sites that can easily and quickly accommodate businesses -- businesses that can't afford years of searching for a suitable site or go through the bureaucratic red tape that often comes with it.
There is a significant demand for such sites, Van Geons said.
"We do not have any modern industrial buildings vacant in Cumberland County right now. Not a single one," Van Geons told Greater Fayetteville Business Journal recently.
That's where the Golden LEAF Foundation's SITE program comes in. According to Jenny Tinklepaugh, a spokesperson for the GLF, the SITE program is not just for areas that once had fields flourishing with tobacco.
"Governmental entities and 501(c)(3) organizations within all North Carolina counties are eligible to apply for funding from the Golden LEAF SITE Program," Tinklepaugh told GFBJ on Tuesday.
The GLF board will, however, prioritize awards to projects located in rural and economically distressed counties.
"Certain counties will be required to provide matching funding [15 percent] for due diligence and development phase projects," Tinklepaugh said.
In the Fayetteville area, only Moore County government or nonprofit agencies would be required to pitch in matching funds.
As local counties such as Harnett, Bladen and Robeson slowly transition away from agrarian-based economies (notably tobacco), identifying and developing industrial, manufacturing and other commercial assets is essential. Land that once produced tobacco gold can now have a second life, GLF officials say.
Van Geons, with the Fayetteville Cumberland Economic Development Corporation, believes it's just what is needed in communities where tobacco still matters but is no longer king. (For history buffs, the transition is reminiscent of the state's final years of King Cotton's reign).
"This is an exciting program and exactly the type of help communities in our region need," Van Geons said. "Product development is one of our top priorities."
FCEDC is already on board with the SITE program, Van Geons said.
"We've participated in the webinars and are talking with community partners to identify potential sites for submission," he said.
"I think there's some really good stuff poised to happen out here and if we had more buildable land available we'd have more projects happening," Geons told the journal recently.
For now, at least, it's a challenge that shows no signs of going away.

The details

Launched Sept 23, the Golden LEAF SITE Program will help communities identify potential sites for industrial development, complete due diligence, help extend public utilities as needed and conduct rough grading and clearing if sites are found suitable.
Golden LEAF has budgeted $10 million for the program this fiscal year, which will be awarded in Fall 2021 and Spring 2022. Applications for the Fall 2021 round are due October 14 at noon.
The Golden LEAF Foundation is a nonprofit organization established in 1999 to receive a portion of North Carolina's funding from the 1998 Master Settlement Agreement with cigarette manufacturers. Golden LEAF has worked to increase economic opportunity in North Carolina's rural and tobacco-dependent communities through leadership in grantmaking, collaboration, innovation, and stewardship as an independent and perpetual foundation.
According to its website, the foundation has provided "lasting impact to tobacco-dependent, economically distressed and rural areas of the state by helping create 66,000 jobs, over half a billion dollars in new payrolls and more than 90,000 workers trained or retrained for higher wages."
For more information, visit www.goldenleaf.org.
---
Copyright © 2022 Enhanced Media Management Inc. dba Greater Fayetteville Business Journal
This story may be displayed, reformatted and printed for your personal, noncommercial use only and in accordance with our Terms of Service located at https://bizfayetteville.com/useragreement.