Economic growth and development: Regional educational institutions fain insight from industry leader on entrenpreneurship
By Staff Report, posted May 12, 2022 on BizFayetteville.com
---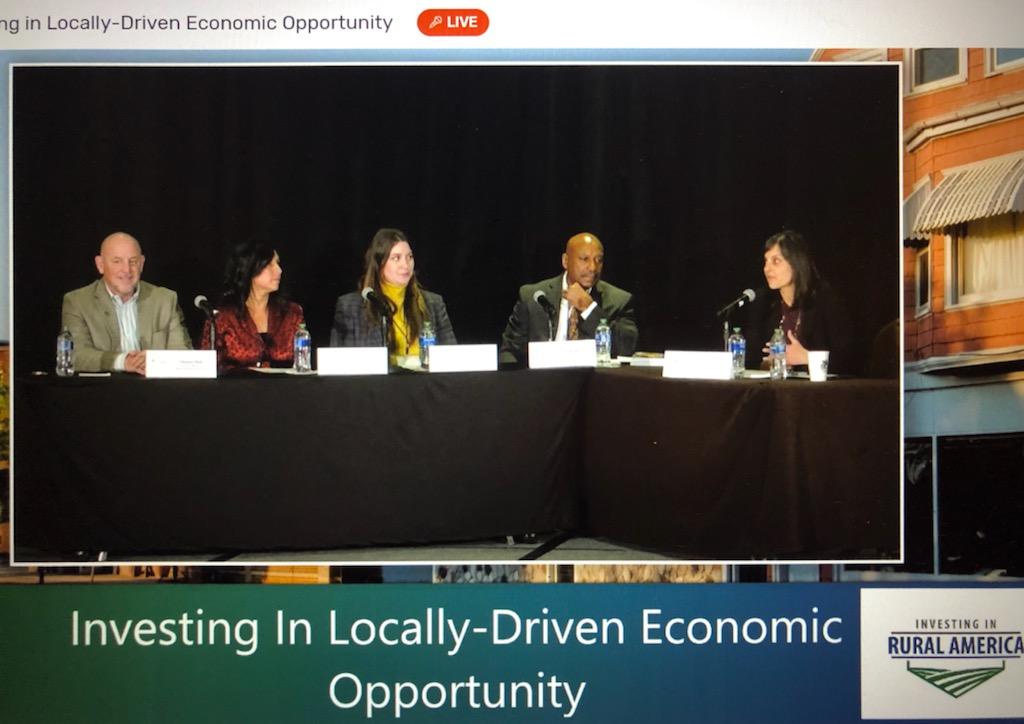 In the past month, Fayetteville State University and UNC Pembroke have both been heavily involved in the discussion of workforce and entrepreneurship in the area, participating in conversations with local and nationally known leaders alike.
At the recent Federal Reserve Bank of Richmond's Investing in
Rural America Conference, a face familiar to the region was featured among the panelists.
Thomas Hall, director of the Thomas Entrepreneurship Hub at UNC Pembroke, joined national experts, the region's leaders, and
economists from Richmond Fed to discuss "strategies for investing in community-driven economic and workforce development initiatives," a press release said.
Among the topics discussed, workforce development, small businesses and entrepreneurship, demographic changes, and rural development hubs were analyzed.
"The focus of our panel was on rural entrepreneurship as a means of economic development, which is something Pembroke is becoming pretty well known for," Hall said.
During the conference, Hall met the president of the Federal Reserve Bank of Richmond, Tom Barkin, and Matt Martin, senior vice president and Charlotte regional executive.
"Tom Barkin is interested in entrepreneurship in a rural setting. He
understands the issues rural areas face with acquiring funding for startups and finding matching funds for grants," Hall said. "The conference and workshops were mutually beneficial, and it gave UNCP and the HUB strong visibility among many important economic development groups."
Prior to joining the branch in Richmond, Barkin was a senior partner and CFO at McKinsey & Company, a management consulting firm, where he oversaw its offices in the southern part of the United States.
He stepped into this position in 2018 and earned his Bachelor and
Master of Business Administration and law degrees from Harvard
University.
Barkin is passionate about engaging firsthand with business, civic and community leaders in the regions served by the Richmond Fed to gain insight into how they are faring.
Erika Bell is the conference co-lead and serves as Richmond Fed's
Community Development regional manager for North Carolina and
South Carolina.
"At this conference, we explored several topics, including the changing demographics of rural America, small business development and entrepreneurship in rural communities, and building the rural workforce," Bell said.
"Our speakers and panelists sparked new ways of thinking and offered various perspectives on various subjects."
On April 18, Fayetteville State University hosted a University Roundtable and lunch featuring Barkin.
In attendance to discuss employment and economic growth were a variety of university and local leaders as well as business professionals.
"We are two years into a recovery now with COVID-19 and my job is to go to places and figure out what is happening economically in these areas that I visit," stated Barkin. "We have seen many things due to COVID-19, and many of them we could not have predicted, but we are on the upside of this."
One of the main points talked about during the lunch was Fayetteville being the third lowest in North Carolina on the scale for growing in employment in the last 10 years and how future businesses coming to town will help the community.
The university leaders, local leaders, and business community
representatives joined together to discuss the topic of "Employment and Economic Growth."
In attendance at the lunch include Glenn Adams, chair of the Board of Trustees at FSU and chair county commissioner; Dr. Marvin Connelly, Jr., superintendent of Cumberland County Schools; Dr. Stanley T. Wearden, president of Methodist
University; Scott Hamilton, president and CEO of Golden Leaf
Foundation; Bo Biggs, board member of Golden LEAF Foundation;
Brian Raynor, board member of Golden LEAF Foundation; Mitch
Colvin, Mayor of Fayetteville; Robert Van Geons, Fayetteville Cumberland Economic Development Corporation; Elaina Ball, Fayetteville Public Works Commission; Representative John Szoka; Representative Diane Wheatley; Senator Kirk deViere; Gen. Arnold Gordon-Bray, Sr., Advisor for Military Affairs; and Dean Ulysses Taylor College of Business and Economics at FSU.
---
Copyright © 2023 Enhanced Media Management Inc. dba Greater Fayetteville Business Journal
This story may be displayed, reformatted and printed for your personal, noncommercial use only and in accordance with our Terms of Service located at https://bizfayetteville.com/useragreement.