NC Tech job openings show increases in May
By Staff Report, posted Jun 23, 2022 on BizFayetteville.com
---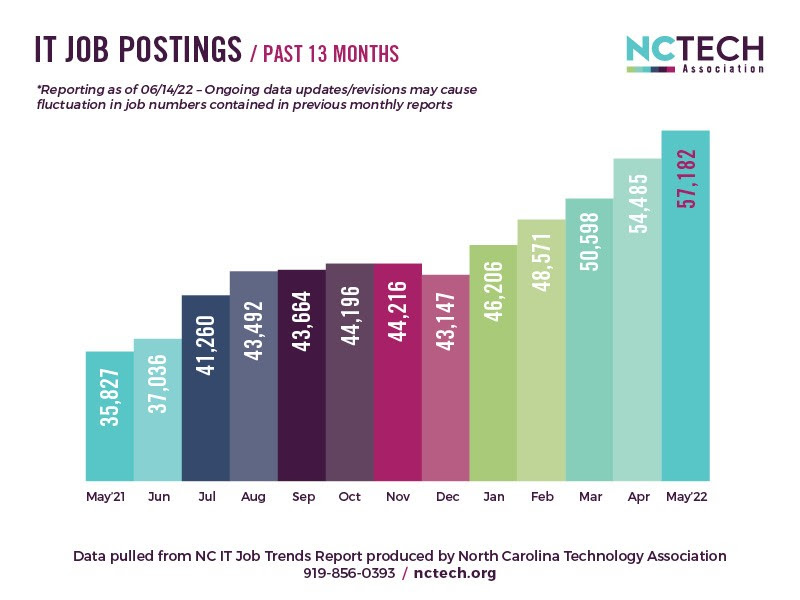 The North Carolina Technology Association has released its monthly snapshot of available IT positions in the state. These positions are broken down by top listings, MSA, job type, skills, and certifications.
NC TECH's Tech Talent Trends Alert is released at the latter half of every month with a rolling thirteen-month chart of IT job openings to help track trends in the industry.
"The Research Triangle area continues to dominate the IT openings for the state. Although listed by Metropolitan Statistical Area, the figures for Raleigh combined with the Durham / Chapel Hill area total close to 25,000 open positions," stated Andrea Felming, Director of Talent and Workforce Development for NC TECH. "Local and national news highlight stories of a slowing economy and declining opportunities, but that is not the case for tech in North Carolina. Tech openings continue their upward climb."
In May 2022, Fayetteville saw a 15 percent increase in openings for IT positions clocking in at 1,726. North Carolina witnessed a 60 percent increase from May 2021, with a total of 57,182 openings in 2022.
The top 10 job titles for May 2022 included senior software engineer, software engineer, project manager, data engineer, java developer, devops engineer, senior data engineer, senior software developer, software developer, and senior java developer.
The top 10 employers for May included Delotte, General Dynamics Information Technology, Oracle, PricewaterhouseCoopers, Wells Fargo, Microsoft, Bank of America, KPMG, Accenture, and Ernst & Young.
The Tech Talent Trends Alert is produced using Gartner's TalentNeuron, a leading supplier of real-time business intelligence solutions for the talent marketplace.
---
Copyright © 2022 Enhanced Media Management Inc. dba Greater Fayetteville Business Journal
This story may be displayed, reformatted and printed for your personal, noncommercial use only and in accordance with our Terms of Service located at https://bizfayetteville.com/useragreement.