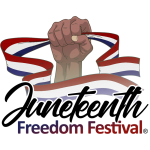 For the fourth time, a Juneteenth Freedom Festival will be held in the region, taking place over the course of four days at multiple venues around the county.
Juneteenth is the celebration of enslaved Black people in America at the end of the Civil War; on June 19, 1865, enslaved people were informed of the end of the war and the implementation of the Emancipation Proclamation that President Abraham Lincoln had issued two and a half years prior.
To celebrate this occasion Cool Spring Downtown District, Circa 1865, and Cumulus Media have partnered to organize the inaugural Juneteenth Jubilee and Praise Party in the Park - A Juneteenth Celebration.
The Cool Spring Downtown District, Inc. is a charitable, nonprofit corporation formed in 2017 to create and sustain an arts and entertainment district located in downtown Fayetteville, North Carolina, as a vibrant center of artistic, cultural, civic and commercial activity.
Circa 1865 exists to promote unity within the African American diaspora; a love for our culture, and respect for our heritage through African American centered-entertainment and education. Circa 1865 hosts citywide celebrations for African American holidays.
WMGU-FM, Magic 106.9 with Cumulus Media is a leader in the radio broadcasting industry and the #1 Urban AC station in Fayetteville. Fayetteville's Best Mix Of R & B, Magic 106.9 combines high-quality local programming with iconic, nationally syndicated shows.
"This [Juneteenth] was recently made a federal holiday, and so we are now seeing people claiming and reclaiming it and learning more about it, including here in the Fayetteville area," shared Ashanti Bennett, Cool Spring Downtown District's director of special projects.
Prior to the initial kickoff of the Juneteenth Jubilee festivities, there will be a launch party held at Dirtbag Ales in Hope Mills on June 16. This event will showcase live music and a variety of local entertainment for all ages. The event is free and open to the public.
The Jubilee will kick off on Saturday, June 18.
That day will hold a street festival featuring multiple nationally touring headliners, local musical acts, other performances, food trucks, small business and corporate vendors, artists and artisans, and more.
On June 19, Cool Spring Downtown District and Circa 1865 will host a Juneteenth Jubilee Heritage brunch. This is a ticketed event and will showcase Black chefs and culinary students serving dishes that feature heritage-worthy, southern Black cuisines. Light entertainment will also be available.
The brunch will also feature a keynote speaker, Jaki Shelton Green, North Carolina's ninth Poet Laureate. Green is the first Black Poet Laureate and the third woman to hold the position.
Immediately following the brunch, Magic 106.9 Radio Station and the City of Fayetteville will host the Praise Party in the Park- A Juneteenth Celebration from noon to 6 p.m. as the final event of the weekend.
The event is free and will headline three-time Grammy-award winner gospel singer Donnie McClurkin closing the show.
"We were approached by the city after our New Year's Eve event to see if we wanted to try and create a Juneteenth event," said Bennett. "The city made this a holiday at the end of last year close to June, so at that time there wasn't much of an opportunity to try and create anything."
According to Bennett, now felt like a good time to jump on the opportunity and include other organizations within the city.
"We got together with members of both Circa 1865 and Cumulus Media and put our creative thinking caps on and created a full program of events to showcase the importance of this holiday."
One of Circa 1865's board members, Tyrrel Walker, serves as the executive coordinator of the Juneteenth Freedom Festival and has been assisting Bennett in the planning process.
"Along with Cool Spring Downtown District, Circa 1865 has worked long and hard to put together a historic celebration that our community can be proud of," Walker shared in a press release. "Expect a bunch of family fun, laughter, friendship, great music, good times, and an amazing opportunity to create some memories while we celebrate freedom as a unified community."
In anticipation of the Juneteenth celebration weekend it is expected that many residents and nonresidents of Cumberland County will attend this event.
"With this being the kick-off to summer and there being very little to no COVID-19 restrictions, I anticipate that folks will want to come out," said Bennett. "We have worked really hard to make this as inclusive as possible. I think our community will feel welcome to this as it is a brand new event."
With this being the first Jubilee event, there are no current numbers to compare to, but based on the near 12,000 in attendance at the downtown New Year's Eve celebration, CSDD hopes to see similar numbers.
Organizations sponsoring the event include, ABC11, The Arts Council of Fayetteville/Cumberland County, Capitol Encore Academy, Methodist University, Duke Energy, and Healy Wholesale.
"I think this event is really interesting and a lovely way to honor the diversity of our community," added Bennett. "I think that we continue to have events in this community that promote unity and showcase all the wonderful things that we have going on in Fayetteville and bring people toward us."
Geographically, Fayetteville is right in the middle of New York and Florida and positioned to draw travelers' attention to the art and culture and events in the area.
"We hope that everyone wants to come out and enjoy the event," said Bennett. "I hope people will be able to come and have a really great time, as well as learn a lot about the history of Juneteenth and get exposed to amazing culture, music and food."