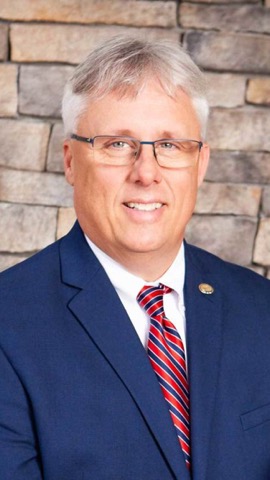 Now serving as Market President for Truist Bank for Cumberland, Sampson and Robeson counties, Pat Nobles began his career in finance in savings and loan with East Coast Federal in 1990. Since then, he has stayed onboard and seen his former starting company through one acquisition by Southern National Bank in 1993, and two mergers, the first with BB&T in 1995, and later with SunTrust Bank in 2019. Now known as Truist Bank, those acquisitions have led to Truist holding a majority of the financial market. The Greater Fayetteville Business Journal spoke with Nobles about his experiences with the changes, and the customer and employee retention practices that are keeping long-time clients on board with Truist.
GFBJ: You've been with these different institutions throughout a number of big acquisitions, what is one thing about yourself that you think helped stay on through those changes?
NOBLES: I just have a belief that if you work hard, and are patient and treat people well, then you will be successful and you'll get the opportunities to advance throughout your career. And that formula has worked very well for me, and just having a strong work ethic that my parents instilled in me years ago. Good things come to those who wait so to speak. It's what my mother taught me and that's worked out very well for me over the years.
GFBJ: What made you want to work in banking and finances?
NOBLES: I was just fascinated with the economy, and the money and banking system and finance, and it was just a really good stable career choice. It just kind of fit into my needs.
I went to college at Appalachian State and they have an excellent business school. I took some entry level econ classes, and I just really liked the curriculum for banking and finance and that's what I ended up majoring in and I was lucky enough to get a job out of college and it just really suited me.
GFBJ: What has kept you in the banking field for more than three decades?
NOBLES: You really are helping people in a really positive way. People have to have their health, it is important, but their financial health is also very important and you get to help individuals achieve their hopes and dreams, as well as business owners, and then the business owners in kind are employing a lot of people that are able to realize their dreams, so you're really doing a lot for the community at large when you're in banking as a career. So it just has appealed to me, it's been rewarding, both personally and professionally.
GFBJ: Over the course of your career, is there any experience or highlight that has stuck with you?
NOBLES: You know, there have been a lot of moments, a lot of deals, so to speak, that were really fun to work on, and were kind of, I won't call crowning achievements, but really made for some successful moments. But sometimes it's the little things, seeing someone in a branch that's in need and you're able to go help them. I've formed a lot of great friendships through my work as a banker, and just going through the moments with these families, watching them start their business and grow their business and watching that accelerate. I'd say the most rewarding thing is probably when we see we're able to help a business owner grow and then the next generation of their family comes into that business and we get the opportunity to work with them again, and help them evolve as well. I think that's been really touching to me to be able to see that generational success in the lives of a business owner, and being able to help them through all the cycles of their business from the early stages to the growth to where it's kind of sustainable and ready to pass on.
GFBJ: Serving as Market President for Cumberland, Sampson and Robeson Counties, how have you kind of seen the banking needs of these different areas change throughout the years?
NOBLES: Well, I think a lot of the basic needs are still the same, people need to, first and foremost, meet their daily needs. What it costs to run a household, what it costs to run a business and bankers fulfill those needs. We help facilitate every business owner's needs, to be able to transact, how they get paid and how they dispersed payments.
And what I would say is, the average business owner has probably had to find ways to attract and retain a good workforce, good talent, and there's probably a business banker, trying to help them figure out ways to do that.
GFBJ: Truist Bank has acquired a number of smaller more local banks, how have you managed to retain customer loyalty after that change?
NOBLES: We're really big on meeting community needs. We think that we can create a very positive impact on a large scale for the community at large. We want to be there for our clients, no matter how they interact with us whether it's in person or digital, but very distinct in differentiated services. We go beyond being deeply committed to people. I don't want to leave out our teammates, our employees are very, very important, and we want them to be taken care of. If we do that, we think the clients will be taken care of and the community will be taken care of as well. We want to continue to be a strong corporate citizen and support the community in a very deep and meaningful way.