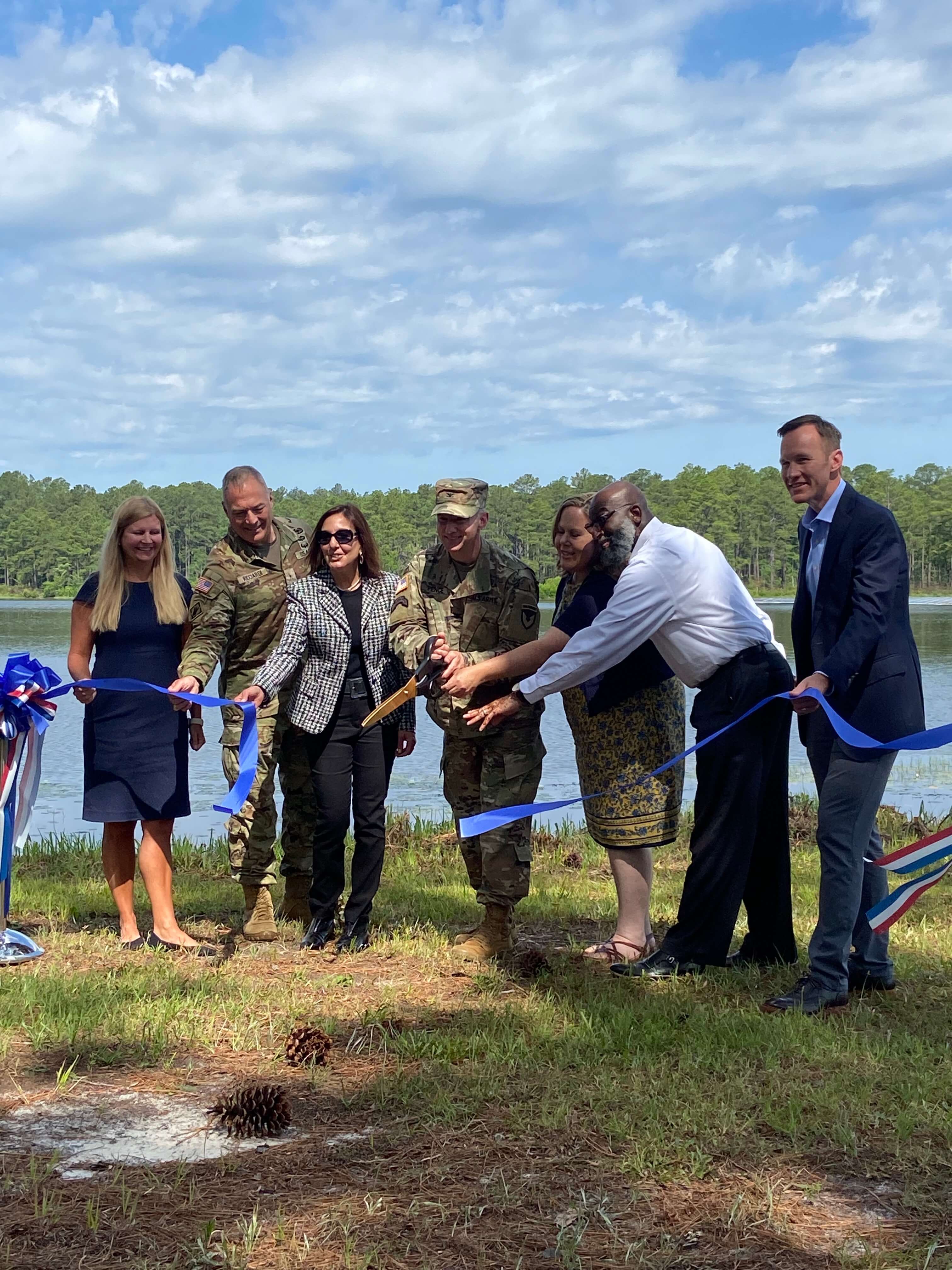 This morning, Army leaders, executives from Duke Energy and Ameresco gathered at Fort Bragg's Camp Mackall for a ribbon-cutting ceremony for its new floating solar array.
The array is the first of its kind in the Department of Defense and the largest floating system in the Southeast United States. The 1.1-megawatt floating solar system is located on Big Muddy Lake in the heart of Camp Mackall and includes a 2-MW/2 megawatt-hour battery energy storage system.
With the system operating, it will provide carbon-free energy, supplemental power to the local grid, and backup power for Camp Mackall during electricity outages.
"We are grateful for our relationship with Duke Energy and Ameresco," said Colonel Scott Pence, garrison commander for Fort Bragg. "With this system, the largest solar array in the Southeast, we will be able to provide energy resiliency to Fort Bragg operations through sustainable resources. With this partnership, Fort Bragg not only has renewable electricity, but energy security that will be critical with continuing the installation's mission during a power outage."
This project will directly support the Army's mission to enhance readiness, save energy, leverage resources and reduce long-term operating costs.
"This project is an excellent example of what the Army is trying to achieve as stated in the Army Climate Strategy and the Army's Energy and Water Strategic Plan," said Honorable Rachel Jacobson, the Assistant Secretary of the Army for Installations, Energy and Environment. "It provides carbon-free electricity and supports the Army's efforts to increase reliance on clean energy while reducing greenhouse gas emissions. When we collaborate with utilities and industry to promote energy resilience while powering the local grid, it is a winning solution across the board."