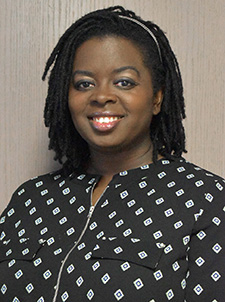 Cumberland County Manager Amy Cannon recently announced the hiring of Dominique Hall as the County's new Human Resources Director.
Hall started in her new role with the County on Monday, Oct. 24. She comes to Cumberland County from Dougherty County, Georgia, where she served as the County's Human Resources Director since August 2016. Prior to that, she served in other roles in the Dougherty County Human Resources Department, including as a Human Resources Project Manager.
"I am eager to make the transition to Cumberland County to help strengthen the County's Human Resources efforts," said Hall in a press release. "One of my favorite quotes and one I try to live by is from Maya Angelou – 'People will forget what you said, people will forget what you did, but people will never forget how you made them feel.' Therefore, I strive to always treat everyone with kindness."
Hall earned a bachelor's degree in Accounting and a Master of Business Administration from Georgia Southwestern State University and holds a Professional in Human Resources certification from the Human Resources Certification Institute. She has also served as an adjunct instructor of accounting with Albany Technical College since 2010.
"We were impressed by Ms. Hall's experience and background during the recruitment process, as well as her exuberance and passion for HR and the critical role the department plays in moving organizations forward," said Cannon in a press release. "I believe Ms. Hall will be able to come in and work with Human Resources staff and County Management to make immediate progress on moving many of the County's HR goals and initiatives forward."
Hall has also been involved in numerous projects in her current organization that are relevant to ongoing priorities in Cumberland County, including the recent completion and implementation of a compensation study. She was also heavily involved in her organization's transition to Tyler Munis and has experience working with a digital timekeeping solution.