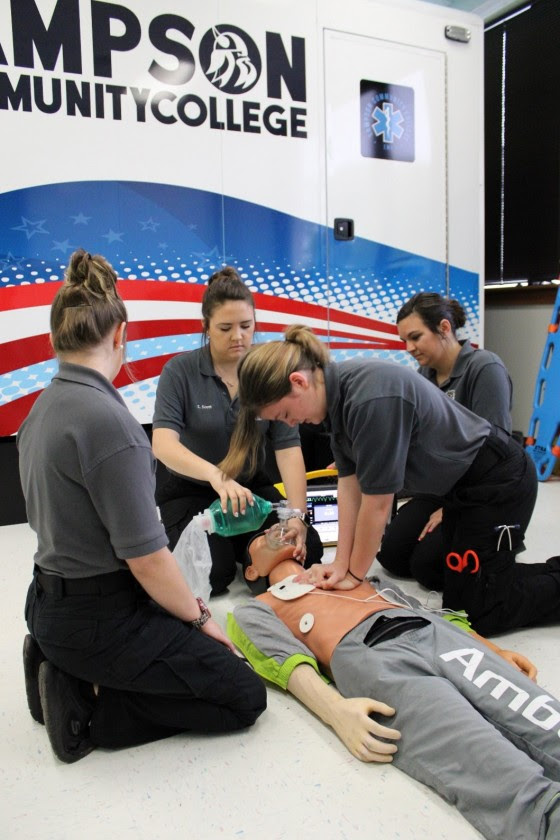 On Sept. 15, 2023, Sampson Community College's (SCC) Emergency Medical Services- Paramedic (EMS) program was awarded initial accreditation by the Commission on Accreditation of Allied Health Education Programs (CAAHEP), upon the recommendation of the Committee on Accreditation of Educational Programs for the Emergency Medical Services Professions (CoAEMSP).
The CAAHEP is a programmatic postsecondary accrediting agency recognized by the Council for Higher Education Accreditation (CHEA). They are the leaders in the accreditation of health sciences and health professions education. Accreditation examines specific schools or programs within an educational institution and is designed to evaluate and ensure that the standards of each profession under the CAAHEP umbrella are met by each program.
According to Jim DeMay, Public Safety Director at SCC, the two-year process began with the submission of an application for accreditation to the CoAEMSP. Afterwards, a Letter of Self-Study Report was completed by the EMS department and SCC administration.
Upon acceptance by the CoAEMSP, DeMay explained that the College earned a Letter of Review status, which informed students that the accreditation process was officially underway. Soon, an Initial Self Study Report was completed to allow the CoAEMSP to review SCC's records and to prepare for a site visit.
Finally, the process was completed by a recommendation from the CoAEMSP to the CAAHEP for the initial accreditation of SCC's EMS program, which was officially announced on Sept. 15.
This accreditation milestone now gives SCC EMS students the opportunity to sit for their national registry certification, allowing an easier path to certification in different states. Upon passing, EMS graduates will be able to serve outside of North Carolina as certified paramedics.
DeMay elaborated in a press release stating: "This achievement shows potential employers that our students have been taught and evaluated based on rigorous national standards, according to the CAAHEP. This process took us about two years to complete and many hours of work to make sure we were following each standard to a 'T'. This will be a continuous process with annual reports and reaccreditation in the future. We are excited and very proud of the entire EMS program team and thankful of the support from the administrative team."
Accreditation of SCC's EMS-Paramedic program is an outstanding accomplishment for both the College and its students.
Angela Magill, Department Chair/Coordinator of Emergency Medical Science at SCC, mentioned in a press release that the EMS team has "unwaveringly dedicated countless hours" to continuously pursuing excellence and achieving national accreditation. In her eyes, this achievement is a huge testament to SCC's unwavering commitment to excellence in education and patient care—not only ensuring the highest standard of students' education, but also setting a new benchmark for the industry.
Magill anticipated in a press release, "As we celebrate this accreditation, we are also excited about the future. We will continue to innovate, evolve and raise the bar even higher in EMS education. Together with our dedicated team and passionate students, we will shape the future of Emergency Medical Science, ensuring that the care provided to patients is nothing short of exceptional. The journey ahead is filled with promise, and we can't wait to see what lies ahead."
Speaking on behalf of the College, SCC's Dean of Workforce Development & Continuing Education (WD&CE), Amanda Bradshaw, expressed her gratitude to the EMS team for their dedication to the College's mission to serve students to the best of their abilities— both through curriculum and career opportunities. Through the program's new accreditation status, Bradshaw believes that SCC can continue to "create space for continued success" as the paramedic students move throughout their careers.
"I'm proud of the EMS Team for having the vision to start this process five years ago and working diligently to meet each milestone through these last few years," she voiced in a press release. "Much appreciation goes to the entire EMS team, the Accreditation Advisory Board, and to our supporting partners. This is a win for the students, Sampson Community College, and the community."
More information about SCC's Emergency Medical Science program can be found online at www.sampsoncc.edu/ems