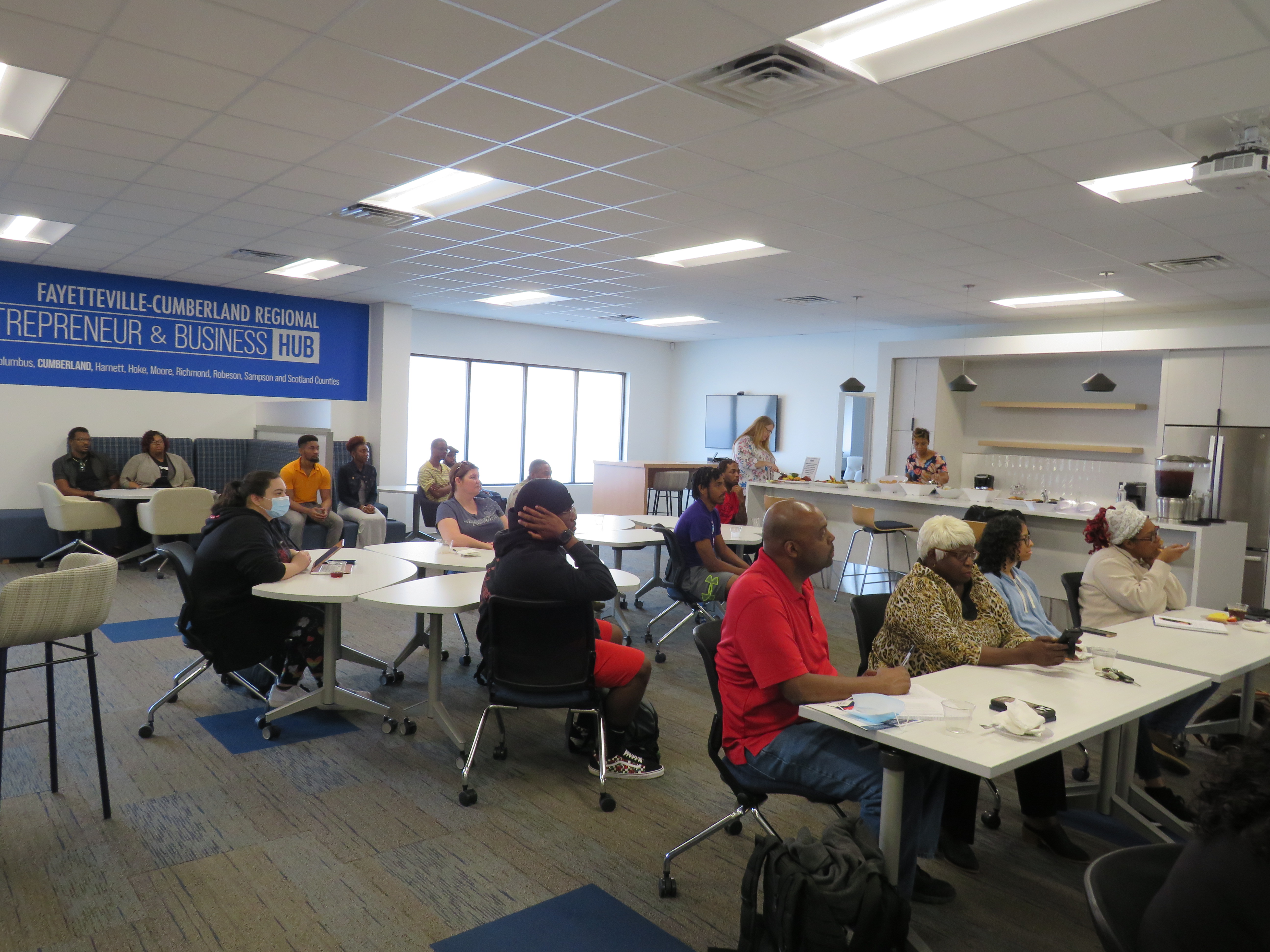 Fayetteville State University has a lot to celebrate following the one-year anniversary of the opening of the Fayetteville-Cumberland Regional Entrepreneur and Business HUB, which officially opened its doors to the community in September of 2022.
The facility is a "one stop" source of assistance for local entrepreneurs looking to start their own businesses.
The physical building is located at 1073 Murchison Road in Fayetteville in Bronco Midtown and provides meeting and training space with video conferencing capabilities, maker space with 3D printing and more. Resources provided include small business training, access capital, the ability to obtain certifications, bonding and information to help local businesses win government contracts.
Serving Bladen, Columbus, Cumberland, Harnett, Hoke, Moore, Richmond, Robeson, Sampson and Scotland Counties, the tools and resources are available completely free of charge.
Fayetteville-Cumberland Regional Entrepreneur and Business HUB Director Dr. Tamara Bryant has been at the head of operations since the HUB opened and is proud to be able to continue to adapt the HUB's offerings and meet its goals for helping the local community and economy.
"We were developing programming, we were developing resources and partnerships within that one year, creating and establishing partnerships with other regional partners and community partners who have the same mission and goal in mind and that is to provide these businesses, this underserved population, an opportunity to succeed in small business," shared Bryant.
Partnerships include joining forces under one roof with outside organizations such as the Small Business Technology Development Center. The SBTDC provides management counseling and educational services to small and mid-sized businesses. Most of their services are free of charge and all are confidential. Another in-house partner that can be found at the HUB is the Veterans Business Outreach Center at Fayetteville State University. The VBOC program provides entrepreneurial development services such as business training, counseling and resource partner referrals to transitioning service members, Veterans, National Guard & Reserve members and military spouses interested in starting or growing a small business.
The HUB also serves as an educational gold mine, providing free information sessions, certification workshops, 3D printing workshops and more. Bryant shared that the courses and sessions offered are the result of community needs, and leadership works with the SBTDC and the VBOC to collect feedback from their clients about which topics they should address and what knowledge gaps they would like to fill in the world of business.
"We will do a survey assessment of our existing clients. So we will ask those clients 'What are your needs? What are some needs that you have that can help you be more effective and efficient in your business to help you grow it?' And so, we identify topics that have been selected or have an 'other' for them to tell us. [And that's] one of our ways of creating programming," shared Bryant.
The HUB also serves as a gateway, hosting bidding events for contracted projects and connecting local businesses with those that need their services within its 10-county region.
"A big portion of what we do is assist with sub-contracting and helping our subcontractors from a local perspective. We were able to do that from the different programs that we have," shared Bryant. "That has come from our efforts of our programming that we have; from our National Procurement Week Program, to our Women In Construction program to our bid meetings and bid announcement meetings that our Fayetteville State University Facilities Division has held here in the HUB."
The HUB has been tracking the results of its efforts. As of Aug 31, 2023, the HUB has:
● Held over 69 events
● Hosted over 1600 attendees at HUB based events
● Helped seven local, minority, women-owned or Veteran-owned businesses win roughly $11.5 million in contracting opportunities from all levels of government
● Seen over 130 visitors utilizing the HUB's conference rooms and independent work stations
Bryant shared that a number of programs have gotten positive feedback in 2023 and are expected to return next year including the Contractors College, Women in Construction and National Procurement Week with a new Financial Literacy Program starting this fall on Oct. 16.
"That's where we will help those individuals that need some more assistance in helping them improve their credit score to either be able to get funding for startup, capital expansion in their business or more bonding capacity. So we will be working with those clients and helping them improve their credit score, also helping them assess their financial situation and where they are to help them be bankable. So the end goal of this financial literacy class is to help them understand and think like a lender, help them to improve their credit, help them to prepare their financial statements as well as their projections of where they see their business growing…" shared Bryant.
Moving past their one year anniversary, Bryant shared that goals for 2024 are to increase Historically Underutilized Businesses certified vendors in their service areas, continue to help their clients get access to capital and insurance, and help their clients create and retain jobs.
______________________________________
You can learn more about the Fayetteville-Cumberland Regional Entrepreneur and Business HUB at www.uncfsu.edu/hub.