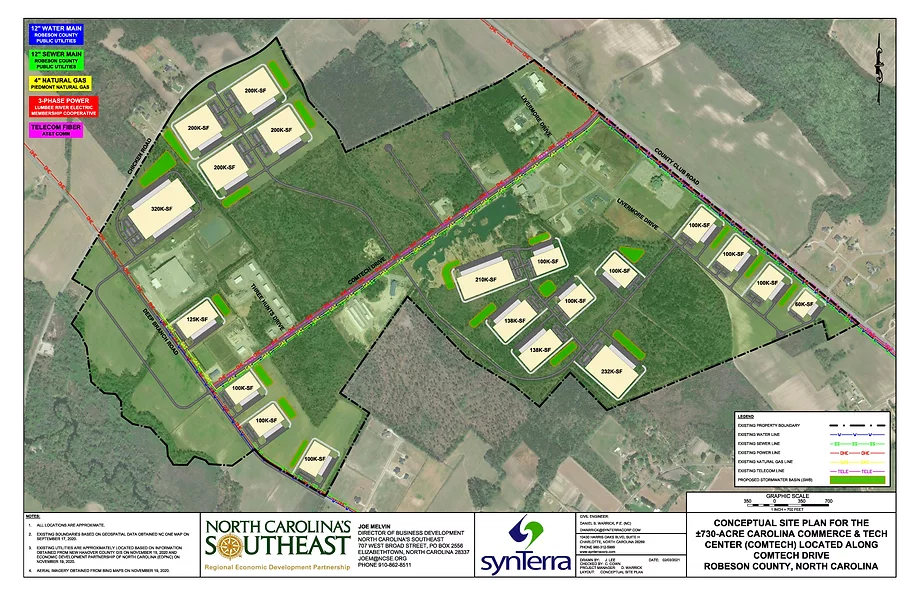 Robeson County is experiencing high levels of growth thanks to a number of factors such as new businesses, new investments in education, new residents and more.
COMtech Business Park is a 700 acre site within Robeson County that serves to attract people of various industries and gather them all in one centralized location. It's also a place where a lot of corporate headquarters find themselves growing or are centralized.
Alan Fowlkes is the Executive Director of COMtech who came on board in 2015. The initial inspiration for COMtech and first steps in purchasing the land occurred in around 2002. In addition to being located centrally within Robeson County, the site boasts easy access to both I-95 and I-74.
COMtech has seen a lot of growth in recent years, and now Fowlkes is reflecting on the developments thus far and reimagining where the future may lead. He shared that about a third of the 700 acres has been developed so far, primarily for service industry opportunities.
Fowlkes explained that recruiting these service businesses on site would mean that as COMtech grew, these resources would be convenient to the workforce within the area and the community itself. Some of the services operating on the business park include two primary care physicians, a five-star daycare facility, a drive through ATM and a dental facility.
"…What we're starting to work on now is a long range strategic plan for the remainder of the park and kind of where we need to go next as far as infrastructure and development," commented Fowlkes.
Some major partners within the park include Lumbee River Electric Membership Corporation, the University of North Carolina at Pembroke and Robeson Community College.
There are covenants and restrictions that businesses looking to occupy space within COMtech Business Park are expected to abide by. However, Fowlkes shared that just as the world is changing so must their restrictions and the COMtech board is "open to the concept of being able to adapt and adjust to opportunities that may come along the way."
"...When you come into COMtech, the land is owned by the County. And once somebody purchases the land, they own the land as long as they stay within the covenants and restrictions for what they're going to build and what kind of industry, they're going to have or business, they can pretty much do what they want to do, and market it the way they want to as long as they stay within the guidelines."
All the individuals or entities occupying land within the business park pay some fees on a quarterly basis that are based on the amount of acreage owned and square footage of any buildings put on the property. These fees go to pay for security and the common grounds maintenance.
Fowlkes shared that they've just started construction on what will be a career and technical education high school. This new school will also include a planetarium as the former Robeson County Planetarium was destroyed in Hurricane Matthew. Fowlkes remarked that institutions such as this are important for "industrial workforce development within Robeson County.
"There's still a lot of opportunity for growth…There's just a lot of different directions that we are looking to go in," stated Fowlkes.
UNCP recently purchased three acres and is leasing 12 others to create an agricultural innovation and research center. Fowlkes also shared that they are working alongside Robeson County's Economic Development Director Channing Jones to prepare a space for a large warehouse or industrial facility
onsite at COMtech.
Another exciting agreement in place that Fowlkes spoke about is with a group to possibly purchase a large number of acres to create another
education facility which would be a K-12 charter STEAM school. COMtech is one of the sites being considered for this new school.
"So we're kind of an education hub in a big way…which is good because we can help create a very, very sustainable workforce for the entire region," remarked Fowlkes.
Moving forward, Fowlkes shared that they are reevaluating their strategic plan and long term goals at COMtech to account for the growth they are seeing and the needs of the county as a whole.
"We're kind of trying to determine what our brand is…we're pretty open to just about anything as long as it creates jobs for people in the county. That was the original concept of COMtech was how can we help to create jobs and to create and improve the living standards of residents within Robeson County, that was the goal," shared Fowlkes.
_________________
More details about COMtech including the businesses located on the site and information on what space is available can be found on the company's website: www.comtechcenter.org