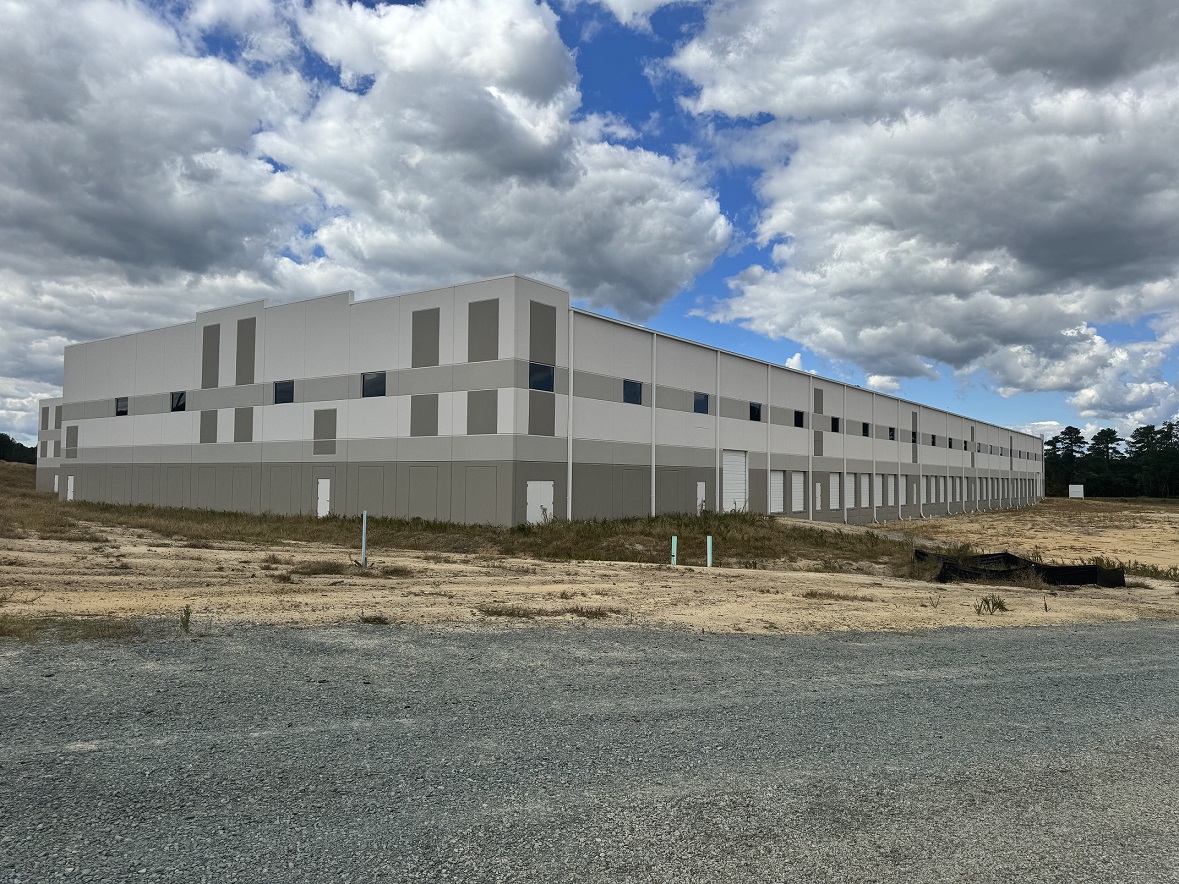 As the sixth largest city in the Carolinas, centrally located on I-95, Fayetteville, NC has a lot to offer businesses and residents alike.
Fayetteville Cumberland Economic Development Corporation (FCEDC) is a 501(c)(6) public-private partnership designed to enhance job growth and prosperity across the community by attracting new industry and expanding existing industry.
Robert Van Geons, President & CEO of the FCEDC, spoke with the Greater Fayetteville Business Journal about some of the exciting growth and development opportunities our community is experiencing.
NVR, Inc., a Virginia-based company that sells and constructs homes under three different brands across 15 states, has nearly completed construction of a 145,000-square-foot manufacturing operation on Dunn Road.
The project was initially announced in 2022 stirring up much excitement, and now the facility and its 189 new jobs are not just a promise but a product of sustained hard work. Van Geons shared that NVR is actively recruiting employees and that according to his understanding, the company will hopefully be able to occupy the new facility sometime between now and the start of the new year.
Van Geons also shared that the completion of the NVR facility will anchor and open up additional acreage for new development.
"There's a new industrial access road going in that we received a grant from NCDOT to do and so we hope to see that anchor a new industrial park for the community," remarked Van Geons.
Intentions and efforts to get more buildings developed in the area, including industrial sites and even a mega site, aim to boost recruitment of new businesses that can benefit from the talent pool we have here.
"You have to have the talent to do the work, which we have here in Fayetteville and Cumberland County, but even with the talent, if you don't have a facility, a site and a building for companies to occupy, then you can't be successful in recruitment…85 percent of or more projects start looking for an existing building. And that's why having the inventory down on Tom Starling and Corporation drive is so important to us."
In addition to the new NVR facility, which was built to suit the company's needs, additional buildings without established tenants have recently been constructed and added to the market.
"Having available buildings and available sites is, I would say, one of the most important [aspects], second only to workforce and talent. And in some ways without one, it doesn't matter if you have the other…many communities end up using public funds to build spec buildings, but we're very excited, we've been able to convince the private sector into investing in Fayetteville and Cumberland County to build these," shared Van Geons.
These new buildings are a 125,000-square-foot facility located on Tom Starling Road and a 140,000-square-foot facility located on Corporation
Drive.
"We are actively showing the buildings to projects, and we've actually had the busiest year that we've ever had as far as project interest. And we're looking to convert some of those into announcements, hopefully here in the near future. It's a matter of just the right tenant for the right space at the right price because we also have to work for the private sector building owner. So we actually were able to get them in front of a number of different deals, and hopefully we'll see something soon," commented Van Geons.
Van Geons shared that though these sites could be subdivided once, they are designed to be best used by one large tenant.
"That's what we were lacking in our inventory. We've got a number of smaller spaces around the county, but having modern, large buildings was something that a few years ago we did not have any available and now we've built some and filled them and now we have two more coming out of the ground, so it's really exciting for us here," remarked Van Geons.
As Van Geons and the rest of the FCEDC team work to recruit new businesses to the region, they consider what industries may be underrepresented in the area as well as what industries have the greatest potential to thrive within our community.
"It depends on the size, the larger ones, we're working with a number of advanced manufacturing companies, many of them in the energy storage or EV space, but not just that, food processing is another common client of ours. And then we have some folks looking at [space here] for logistics and distribution operations as well. And then I think in the medium-sized space, we have a number of defense contractors and defense industries we've been talking to," shared Van Geons.
In addition to recruiting businesses across various industries, Van Geons and his team aim to recruit businesses from different locations.
"Exciting for us, we've got either projects with or we're being evaluated by projects from at least eight countries right now, so we're really pushing to recruit international operations here as well," stated Van Geons.
While recruitment of new business is crucial to economic growth, Van Geons emphasized the importance of maintaining relationships with and support of already established businesses in the area.
"We try to have members of our team personally visit up to 100 businesses a year, industries a year. We have a manufacturers association, a transportation logistics group and a defense contractors group that we meet with a number of times throughout the year, and so I think that supporting and growing existing business is one of the best ways to improve your local economy" remarked Van Geons.
"Your relationship with the [existing] industry sets the stage for your success with people considering you. If we can't support the people that we have here, why would others want to come? They're actually our best marketing partner, existing industry. When existing industry is talking good about the community, that's the best way for us to recruit new investment," added Van Geons.
By this standard, Fayetteville's existing industry is painting the community in a positive light. Van Geons shared that they've had 108 new projects come in that are considering our community this year, as well as 45 companies visiting so far this calendar year.
Eager to see these expressions of interest translated into announcements, Van Geons shared that he is really optimistic that two or three of these projects will fall into place.
"We would love to see three or four announcements right around the holidays here," Van Geons said.
Most important to Van Geons and his team is creating jobs in the community. Van Geons acknowledges the support the FCEDC receives from the city and the county and the importance of their cooperation in achieving this goal.
"Over the last few years we've announced roughly 4500 jobs in the community, and…I really do want to thank our supporters from the city… the city council's support and the county commissioners and the private sector that supports what we do here…without them wanting economic development to happen we would never be able to accomplish anything…" stated Van Geons.
Future projects for the FCEDC include ensuring sites and buildings are equipped with proper utilities, establishing a mega site that could accommodate very large employers and conducting a next-generation workforce development study to help ensure the future economic prosperity of students and young professionals in our community.
Van Geons and the rest of the FCEDC team continue to promote Fayetteville and Cumberland County as a community where affordability, opportunity and accessibility permit businesses and residents to thrive.