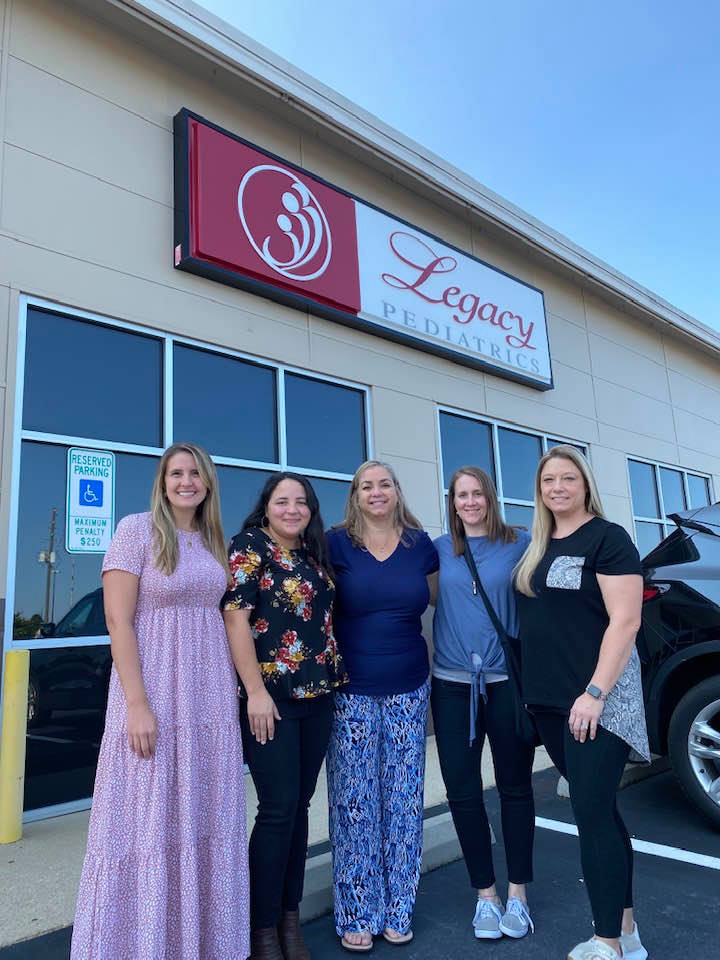 Leaving a legacy is a fundamental part of what drives Ana Hodges and what inspired the name of her pediatric clinic. Legacy Pediatrics opened its second location at 1095 North Bragg Blvd. in Spring Lake on September 13.
Hodges has spent her adult life serving, from her years as a military physician to her current role as owner and sole pediatrician at the clinics. The first location on Sandhurst Drive in Fayetteville opened in 2009 through a partnership between Hodges and veteran pediatrician Dr. Pierre LeMaster.
"We named Legacy together," says Hodges. "I wanted to build on his legacy and that's what we want to leave behind, too. To continue his work, and then mine, and then beyond."
Hodges also runs a pediatric after-hours clinic in the evenings every weeknight. These patients are often military dependents struggling to find primary care pediatricians. Hodges would have to turn them away because her Fayetteville location was packed.
Her mission to support military families and the unmet demand for care inspired the addition of the Spring Lake clinic. Hodges says she looked at several surrounding towns and counties before finally deciding Spring Lake was the best fit. It also helps serve her goal of helping military families because of its proximity to Fort Bragg.
"It feels like an area that has a health need," says Hodges. "There's not a lot of reach." Originally planning to begin opening a second location during the usually quiet summer, Hodges found herself slammed with patients this summer.
"The summer has been hectic with all the sick, not only COVID but winter-level sicknesses like RSV and hand, foot and mouth," says Hodges. She says the area saw all the illnesses they usually see in the winter because families were isolating less. There has been a 40 percent increase in mental health issues among children, and weight gain cases are above pre-pandemic levels.
"At the main campus, every single appointment is full," says Hodges. "It's been a blessing to have this location not quite full yet because we're giving people there an option to come here."
Hodges owns the building on Sandhurst Drive, but she chose to rent for the Spring Lake location with a five-year lease. The landlord recently renovated the 3,000 square foot clinic space, so except for adding computers, Hodges found it move-in ready. The location has high visibility on N.C. 87 and captures a lot of North Ramsey Street traffic as well.
Hodges says opening a business in Spring Lake has been a positive experience so far, despite Town Hall being closed.
Spring Lake's audit woes haven't helped its struggle to offer healthcare options for residents. There are gaps not only in pediatrics but in other areas as well. In July, the Town Hall was closed to foot traffic pending an investigation of its handling of the town's finances. A drive-up window and dropbox are available to residents and business owners like Hodges, who used the drive-up window service to get the clinic's water turned on.
"It was strange, but they were really great," says Hodges. Legacy Pediatrics has five providers across the two clinics. Hodges is the sole physician, along with two physician assistants and two administrative personnel. She's currently interviewing for one more staff member. Staff rotate so three providers cover at "Main" and two at "North," or the Spring Lake location.
Legacy Pediatrics North is a full-service clinic, just like the main campus. It offers primary care for children aged 0 to 18, or as Hodges says, "crib to college." Well care, chronic conditions, hospital visitations, and immunization services are available.
Legacy offers antigen testing for COVID-19 but is in the process of purchasing a machine to perform PCR tests as well. Both locations have a lab, and the Spring Lake site has six exam rooms with room for more.
Legacy Pediatrics has safety measures like separate sick and well times and reduced wait times in the waiting room. They take all insurance and her current patients are a third military insured and another third Medicaid.
Hodges, who earned her degree at the University of Miami, served eight years in the Army. When she and her fellow physician husband were both stationed at Fort Bragg, they became dually deployable. Hodges chose to end her Army career for a more stable career as a local provider.
The region hasn't disappointed. Legacy Pediatrics and its night clinic are often booked solid, and Hodges expects to make a profit in the first year of running the newest location.
"Labor Day we saw 50 patients in six hours," says Hodges. "I feel bad turning people away. We're trying to get more providers so I can double the schedule at the after-hours clinic."
Hiring has been difficult as the pandemic's health and economic impact has reverberated across the workforce. Hodges has struggled to find employees since many are expecting higher starting salaries.
However, Hodges thinks her positive, supportive workplace culture is a plus for anyone who desires a work/life balance.
"I think, as women, we're sold this whole bill of goods where you're supposed to give one hundred percent to everything, which is hard to do, especially in medicine," says Hodges. "Part of what I like to do is mentor other women. We take students from both Campbell and Methodist, not all women, but we like to give back to the community by having students rotate through the clinics."