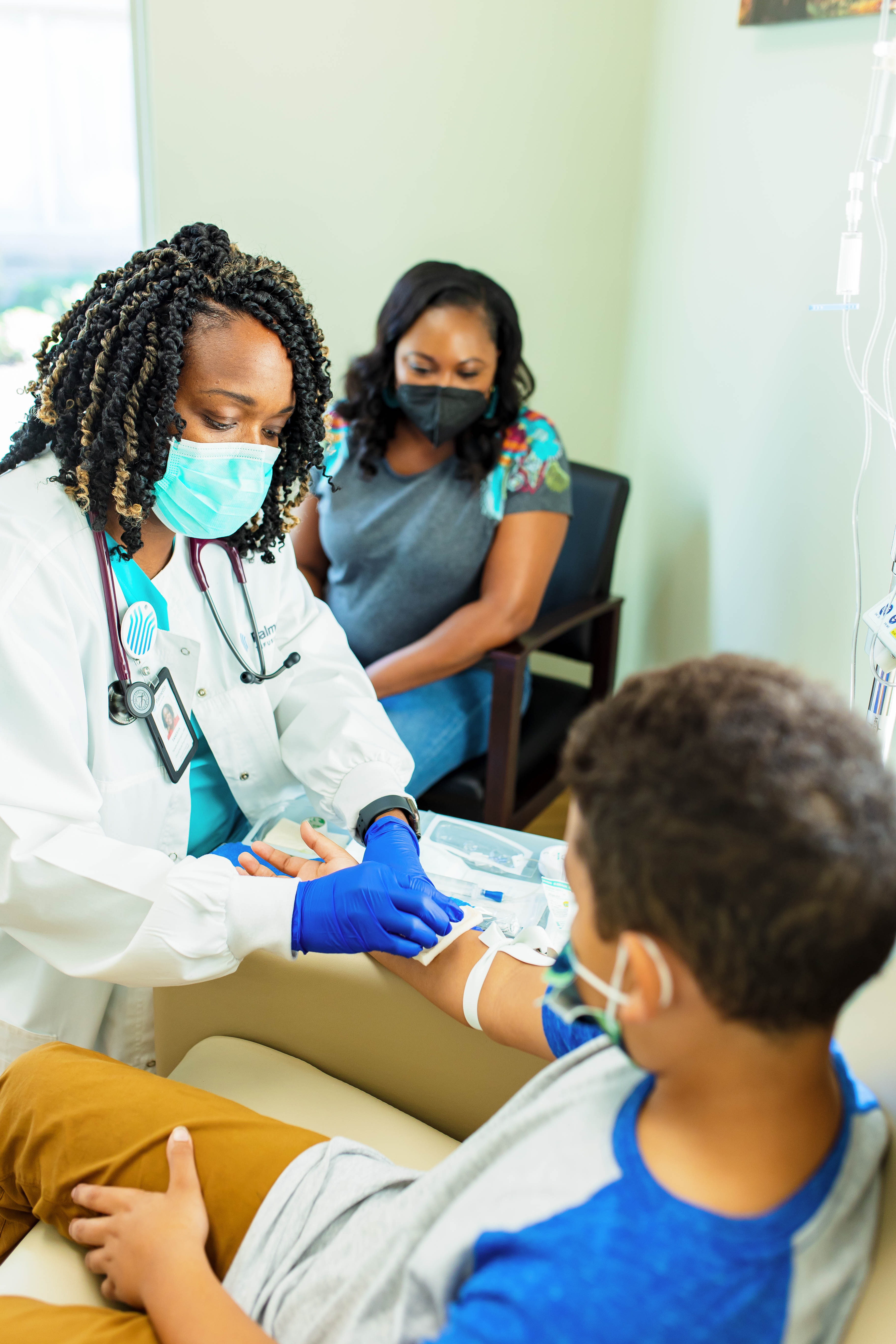 A new option for ambulatory infusion services is now available in Fayetteville.
Palmetto Infusion, alongside the Greater Fayetteville Chamber of Commerce, celebrated the opening of a new ambulatory infusion clinic located at 2301 Robeson Street, Suite 302, with a ribbon-cutting ceremony on Oct. 19. This clinic is the ninth Palmetto clinic to open in the state, and the first Palmetto location in the city.
Palmetto Infusion offers infusion therapy for patients with conditions such as multiple sclerosis, Crohn's disease and other chronic disorders. In addition to this, they offer some injectable therapies for various conditions.
Ava Thompson, a patient at the new Fayetteville facility, shared that her experience at Palmetto Infusion has been great. Ava has POTS syndrome, and prior to Palmetto Infusion coming to Fayetteville, she had to resort to going to the emergency room when she needed treatment. Now she is able to receive treatment regularly once a week in a more convenient way.
"They treat you like family here," shared Ava's mom, Shannon Thompson. "It keeps us out of the hospital and allows her to function better daily…she's a lot less sick."
The 2,733-square-foot infusion clinic adds 14 reclining chairs to accommodate the ever-increasing need for accessible ambulatory infusion services. The facility is strictly outpatient and only sees patients that have been referred to them by a physician. The staff at Palmetto Infusion prioritize the comfort of their patients.
Chief Operating Officer for Palmetto Infusion Matt Angel shared additional details about the company and the services it provides with Greater Fayetteville Business Journal.
"Each facility is either staffed with a MD or a nurse practitioner, and then in addition to that, they have nurses and all our nurses are trained to start IV access and administer, and are trained and educated on, the therapies that we provide. So, we truly are specialists in these types of therapies," remarked Angel. "We try to provide a lot of the convenient features such as free drive up parking and Wi-Fi at our facilities, comfortable infusion chairs, snacks and drinks. And we also have television monitors for our patients while they receive their treatment."
Palmetto Infusion not only works to provide great care, but also aims to provide affordable services to those that need them. "We are the most cost effective site to receive these type of therapies," said Angel. "You know, there's multiple places that you might be able to receive these types of therapies, there's the hospital [where] you can receive them. Some of the hospitals have their own ambulatory infusion centers. And then there's also a home infusion component, but a lot of the therapies that we administer, really aren't safe to be done in the home because they do have a very high side effect profile, so, this is really one of the most cost—is the most cost-effective and safest place to receive these type of treatments."
Palmetto Infusion's Marketing Coordinator Kaley Nevin shared a bit about the process for an individual to be seen at their facility.
"Patients come to us by referral only from their physician. For instance, if a patient has Crohn's disease and their gastroenterologist determines the next course of action in mitigating their symptoms is a biologic, the doctor will refer the patient to us to administer that treatment. We have 'plans of treatment' listed on our website that physicians can download to fill in and fax/upload to us. Once we get that referral, we'll make contact with the patient, welcome them to Palmetto Infusion, and start the onboarding process which includes everything from insurance verification to checking for any possible financial assistance programs."
Nevin shared that the company plans to continue expanding to areas where there is a need for their services.
"It's part of our company's mission is to create better access to these life changing therapies. And so, we're in several markets in North Carolina, Charlotte and Raleigh, but as we were in the Raleigh market, we started actually seeing patients travel all the way from Fayetteville up to our Raleigh Center, which you know, that's that's pretty good distance to travel to get your infusion therapy every other week or once a month. So, as we began to realize that we had a patient population that was underserved here in Fayetteville, North Carolina, it made sense for us to open a facility here," shared Angel. "We service over 11,000 patients across NC, SC, GA, and AL. In addition, we will soon be expanding into FL and VA to provide even more access to patients requiring these life-altering medications."