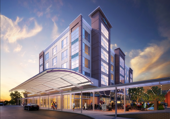 The community is invited to celebrate the opening of Cape Fear Valley Health's Center for Medical Education & Neuroscience Institute on Jan. 13, 2023 at 10:30 a.m. Attendees will have the opportunity to tour the building, meet some residents and see the impact the building and residency program will have in the Fayetteville community.
The new Center for Medical Education, which can accommodate up to 300 residents onsite each year is nearing completion. The $31 million project serves as a solution to the doctor shortage the community has been facing while also promoting the retention of students within the area.
Vice President at Cape Fear Valley Health Foundation Sabrina Brooks shared details about the grand opening. Attendees will be able to see the entire building, which includes a large auditorium space that can seat about 500 people. This way the entire residency program can meet together along with staff members.
Brooks confirmed that they will also be able to see the simulation lab on the third floor of the building. This lab will feature four separate simulation rooms that are set up to mimic an operating room, an emergency trauma bay room, an OBGYN labor delivery suite and a general ICU room. These spaces will allow residents to simulate various medical procedures during their training with the full team to include the attending physicians and the nurses, medical technologists that also would be a part of those procedures. Brooks anticipates that attendees will be able to see some simulation activities going on during the opening.
Another part of the building that they will be able to see is the Neuroscience Institute, which is on the fifth floor of the building.
There will also be an opportunity for attendees to see the residents' space that provides a place on the Medical Center campus, when they are not actually in a patient's room or doing some training activities. Brooks shared that there's a large computer bay, a place where they can do skills testing, an exercise room, etc.
Additionally, on Thursday, Jan. 12, the Center's Grand Opening Gala will be presented by Olde Fayetteville Insurance and Financial Services, Inc., to give campaign supporters and sponsors an exclusive first look at the new facility. This event is invitation only. A limited number of tickets will be available mid-December.