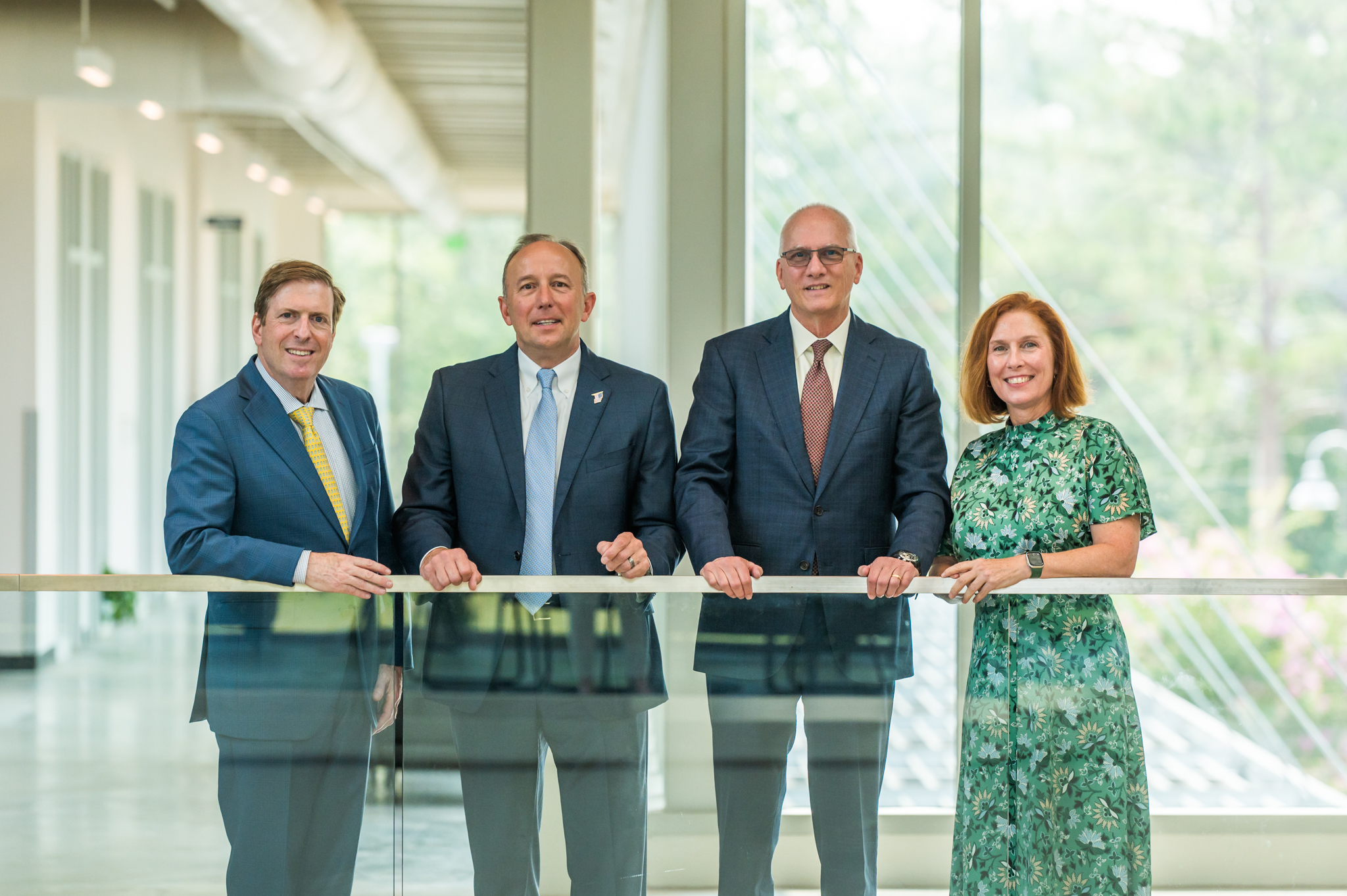 Announced in February 2023, the news of a new medical school rocked through the Fayetteville community. Now, leadership at the two institutions responsible are opening up about the Methodist University School of Medicine at Cape Fear Valley Medical Center (SOM), a state-of-the-art institution soon to be joining the Cape Fear Valley Health campus.
"We thought Methodist was the right partner for Cape Fear Valley because they already offer excellent health services and health sciences like their nationally recognized Physician's Assistant program, their tremendous programs in nursing and therapies," shared CFVH CEO Mike Nagowski. "That and our geography, Cape Fear Valley in this region has more than 80 different sites of care, eight hospitals, over 1,000 physicians who are ready to become
faculty, 2,000 nurses to assist, it really was the right combination between our organizations and we're very proud to be partnering with Methodist to do this medical school and to build it on the campus of Cape Fear Valley Medical Center."
The project, expected to cost around $120 million in total, has been in the works since 2019.
"It started with a series of conversations between Cape Fear and Methodist University until we got to the point where it was clear that this was viable, that it was clearly something good for both organizations and obviously tremendously good for the community as a whole," shared Methodist University President Dr. Stanley T. Wearden.
Dr. Wearden and Nagowski worked on a preliminary agreement together and approached the MU Board of Trustees, even pitching the
idea together which was unanimously approved.
After receiving the green light, Wearden shared the next step: informing the faculty and staff of this new addition to the University. According to Wearden, the MU staff were informed of the medical school on the same day it was announced to the rest of the community on Feb. 27.
"In a university, faculty are very much involved in the hiring of Deans and the hiring of new faculty and that sort of thing. We have a process where we have search committees and [while] all the faculty don't have the final vote, we really want and value their input," shared Wearden.
The University was able to form search committees and announced the Founding Dean, Dr. Hershey Bell in May of 2023.
Dr. Bell shared he was approached by Nagowski to head the new school as the two had worked together almost 20 years earlier in 2000. Pioneering this new position, Bell became a primary development leader in the planning and was tasked with not only overseeing that the school received proper accreditation, but also developing the curriculum.
"Our curriculum is going to be unique; it's going to be a socially accountable community engaged curriculum. And what that means is, our students will be learning medicine in the context of the needs of southeastern North Carolina," shared Bell. "We're going to do it through a socially accountable community engaged curriculum. We're going to work with our community partners to really address the needs of this region. Our students will have required community service as part of their medical education. They're going to learn about what the issues are facing the population in this region, and they're going to address them."
The development of the curriculum is crucial to moving forward with the project. Bell is currently overseeing the accreditation process of the SOM. Methodist University is currently an applicant program for the Liaison Commission on Medical Education (LCME) and will also submit a substantive
change prospectus to the Southern Association of Colleges and Schools Commission on Colleges (SACSCOC) for approval.
Methodist University Provost Dr. Suzanne Blum Malley has been involved in seeking accreditation and shared that while the process has begun for both regional and national approval, both will take a while to finalize.
"We've made ourselves very aware of the processes we have to go through. SACSCOC accredits the University, but when we bring on a new program that is more than 50 percent new, we have to go through a process called 'substantive change' and when the curriculum is approved by us, we send it to them," shared Blum Malley.
She also added that when the physical building is complete, the SACSCOC will send representatives to tour the facility to approve it as well since it will be located off of the MU campus.
"We're following all of the processes for that LCME accreditation of the medical education program that started in February when we announced this partnership and this plan. Prior to making that announcement, we had to submit a letter to the LCME declaring our intent to do this and they then gave
us what's called 'applicant status.' The LCME accreditation process will take us through 2031," added Blum Malley.
Methodist University plans to begin recruiting students in July 2025 and begin classes in July 2026 and graduate its first class from the SOM in spring of 2031, pending approval by the LCME and SACSCOC.
Nagowski shared that the physical building for the school will be located on the Cape Fear Valley Campus on Village and Owen Drive in Fayetteville. The SOM will be joining the campus which has the main hospital building and a Center for Medical Education and Neuroscience Institute which opened in
January 2023.
"That's very intentional. Having medical students have full and complete access from day one to one of the larger medical centers in the state, I think is a tremendous advantage as we look to recruit socially accountable students," shared Nagowski.
The building itself is expected to cost at least $60 million dollars but will generate more in economic impact. According to a July 2021 report from Walden Economic Consulting released by both MU and CFVH, regional spending will increase by $124 million, tax payments to all governments will rise by $14.2 million and 922 local jobs will be generated working on the project.
One of the primary goals for the school is to help find a solution for the lack of healthcare providers in the area, with studies showing that most health care students who study in an area stay and practice in that area. Methodist University has been working to expand their healthcare offerings for students both in person and online, adding on to their strong PA program, new therapy programs and nursing programs and now a SOM.
"We've been moving over the years more and more in the healthcare and health sciences direction educationally. This is the crown jewel of all that. This is the seam that will bring all of that together and strengthen all of it. For Methodist University, it's incredibly exciting. It's also exciting because we're
already seeing a halo effect of this just in terms of raising the status of Methodist University in the eyes of prospective students no matter what they're thinking of majoring [in] yet, because we're now a university that will be offering a medical school," concluded Wearden.
_____________________________
To learn more visit: www.methodist.edu/academics/medicine.