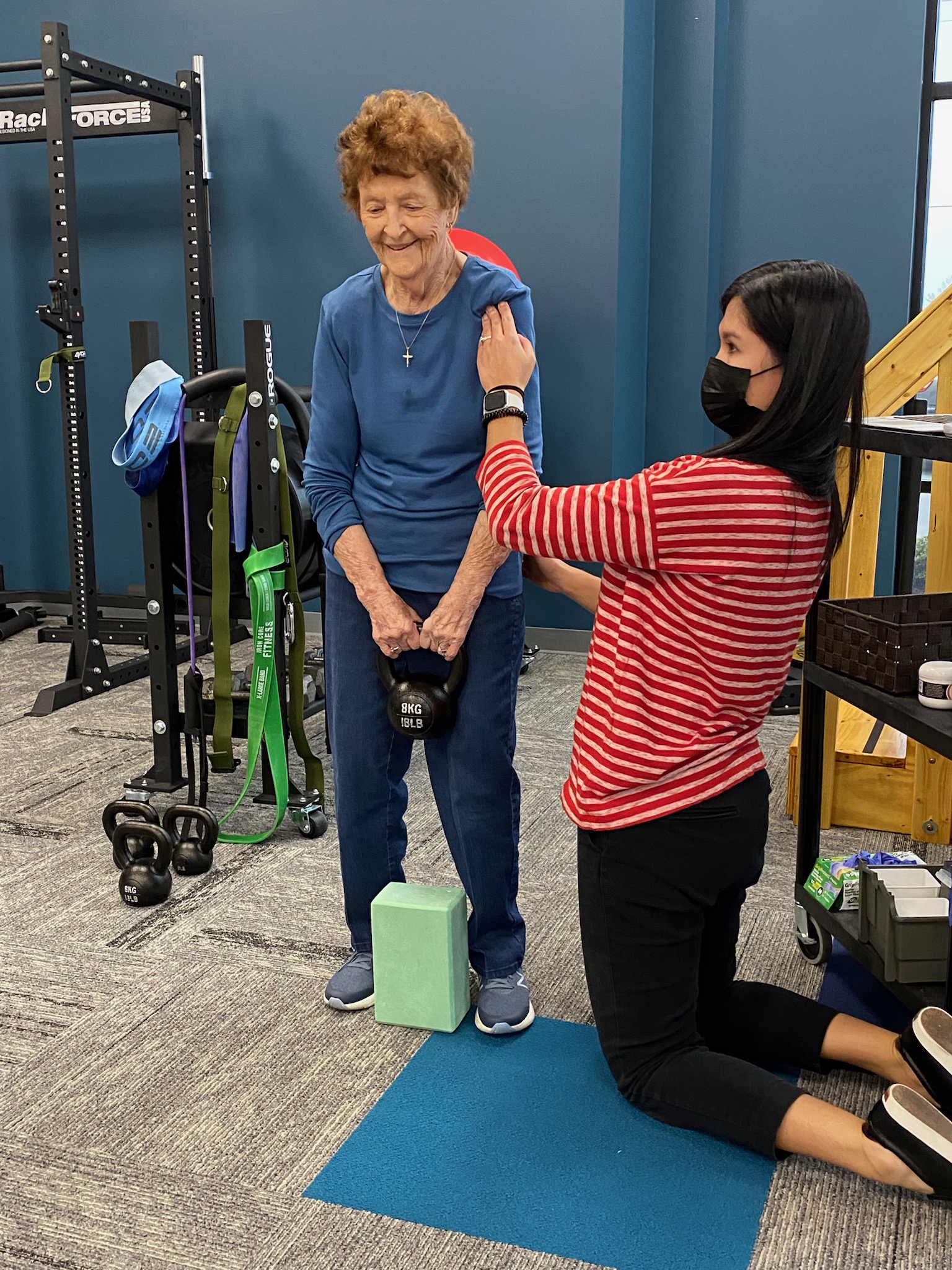 Advanced Physical Therapy Solutions is a private practice outpatient orthopedic physical therapy clinic. After 18 years of operating in Fayetteville, the company opened a second location in Hope Mills last May.
Laura Schindler founded APTS after working in the industry for a while and recognizing some changes she wanted to see. "[I] worked at a hospital for a period of time, worked for a physician owned practice for a period of time, and just kind of got a little bit antsy as I was turning 40 thinking with all of the things that I had seen and done that I thought I could maybe do them a little bit differently," remarked Schindler.
The business grew slowly. Schindler shared that by the end of the first year she'd hired a physical therapist, and by the end of the second year they were up to four total. This growth continued until eventually it became time to expand.
"That [second] location also came about as we looked at new people coming into the field and wanting growth opportunities. And when you're a small business, sometimes it feels like there can be a ceiling on growth, so opening a second clinic was a way for us to afford very capable and talented physical therapists the opportunity to be in charge out there. It also allowed us to bring physical therapy services closer to a demographic of people that are driving all the way across town and crossing the mayhem of Raeford Road to get to us, and so it was just kind of bringing services closer to people who are already coming to us and then being able to kind of expand our footprint out there," shared Schindler.
One of the things that sets APTS apart from other traditional outpatient orthopedics is their specialty programs. These include a breast oncology specialty program, lymphedema management program, vestibular rehab, TMJ program, COVID recovery program and a specialty program for individuals with Parkinson's disease.
Another thing that sets APTS apart from other services is their one-on-one care.
"When you're being treated as a patient, we are not bouncing between multiple patients at one time. You're with your clinician for the entire 40 minutes. [This] allows you to get the best customized care. That is kind of our thing is people connect to people, they don't connect to products" shared Advanced Physical Therapy Solutions' Practice Liaison Hanna Davis. "We want to be your physical therapist for life. So that doesn't just mean for the longevity of your life, but all the things that come into your life."
Davis offered a few examples of how stressors and events in life that aren't inherently related to health can have a significant impact on a person's wellness.
"So for example, it's very important for us to know that if you're a military spouse and your husband or your wife has just left on their first deployment, and you have two children at home and one is a newborn, that's going to affect your low back pain and how those psycho and social factors play into the healthcare continuum. So we want to know those things…And we think that our model allows us that opportunity to connect with our patients," said Davis.
The new location is a satellite clinic that currently houses three physical therapists and one physical therapist assistant (PTA), while the main office has 12 physical therapists and three PTAs. Davis shared that new location was so busy upon opening they never had the opportunity to celebrate. Now the staff are planning a long overdue celebration with a grand opening/one year anniversary event on May 12.
The one year anniversary/grand opening celebration will include catering and an opportunity to meet the staff of the clinic and tour the facility. Davis shared that they're also working to arrange a ribbon cutting with the area Chamber of Commerce where people will be welcome to network and catch up with fellow community members.
Davis also shared that they are trying to utilize other small business vendors for the event by working with other businesses in the area to assist with catering, flowers and decor.
"We've come really far in this first year, but we still have a lot of good things ahead of us, and so I'm excited to connect with the community a little bit more during this open house that we're having. We've invited medical providers and physicians that are in the area that refer us patients as well as coaches at the Jack Britt High School and former patients…this kind of area of Hope Mills is very community based, lots of small little subdivisions and things like that, so I'm excited to connect with the community and to reconnect with some of our old patients and then also kind of show some people in the community who haven't been here before, kind of show them what we have to offer and talk to them about how we could help them," remarked Michelle Goto, clinic director at the Traemoor location.
Going into this new clinic's second year of operation, Goto shared that one of her main goals is to become more involved in the community and to increase outreach efforts in the area.
Laura Schindler took on a business partner in the beginning of 2020 as she prepared to take a few steps back from the business. Her partner, Nisha Wetzel, had been a physical therapist working for the company for about five years and had gradually taken on more leadership responsibilities, Schindler said. Schindler shared that she and Wetzel have very complementary skills and make a good business team. The company continues to grow under their joint leadership.