This story is an article originally released on the Womack Army Medical Center website and is available to read here: https://womack.tricare.mil/News-Gallery/Articles/Article/3505234/interventional-radiology-at-wamc-saving-lives-with-a-minimal-invasive-treatment
One of the specializations that plays a critical role in the life saving services the Womack Army Medical Center (WAMC) trauma team provides to patients is Interventional Radiology (IR).
Interventional radiologist Col. Kirk Russell and his team are dedicated professionals who specialize in performing minimally invasive procedures to diagnose and treat various medical conditions.
The article states that according to Russell, IRs are closer to specialized surgeons than they are to radiologists, but they have all the necessary training that bridges both disciplines. Their expertise lies in using advanced imaging techniques, such as ultrasound, CT scans and fluoroscopy, to guide their procedures and deliver precise treatment directly to the affected area.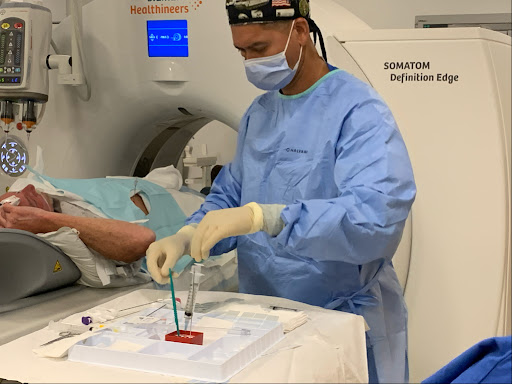 "If you had blood clots in your legs, for me to stop them from going to your lungs. I could insert a catheter, deploy it, take everything out and you wouldn't even know that I gained access," Russell said in the article. "We go through arteries and veins. It has several advantages; you don't have to make incisions like in the olden days when the surgeon had to open everything up, so the recovery is quicker. That's very crucial, we can use very small devices to get where we need to."
According to the article, Russell said the use of these small devices gives them the flexibility to take care of cases like urological problems. If people have kidney stones, they can gain access to the kidneys to place tubes and decompress the kidneys.
According to the article, one of the key factors contributing to their success is the positive environment they have cultivated within their team. Their team consists of an interventional radiologist, three IR technologists and three nurses. They foster a culture of collaboration, respect and open communication, allowing everyone to contribute their ideas and expertise to ensure the best possible outcomes for their patients.
"We have a blend of nurses and technologists," said Russell in the article. "The nurses are not only trained to take care of critical patients, but they also administer medications that allow us to perform conscious sedation to make the patients comfortable. They're extremely vital, they follow the patient from the beginning to the end of the procedure."
According to the article, Russell sees his staff and patients as part of a larger family. This perspective helps create a sense of trust and compassion, both within the team and with the patients they serve.
Russell expresses a special appreciation for serving service members. These individuals, who have dedicated their lives to serving their country, often require specialized medical care due to the unique challenges they face in the line of duty. Russell and his team take pride in providing top-quality care to these service members, helping them recover from injuries and get back to their important roles in the military.
Through their expertise, compassion, and commitment, Russell and his team save lives and improve the well-being of their patients, including those who have and continue to serve in the military.
Health Care Heroes such as Russell and his team often don't get the recognition they deserve. Here at the Greater Fayetteville Business Journal we hope to honor individuals and organizations that are making an impact on the quality of health care in Fayetteville and our surrounding areas. The first annual Health Care Heroes Awards will be held Nov. 2 and nominations are now open for the nine award categories. Whether they are companies, doctors, nurses, specialists or managers, join us in recognizing those who embody the word "hero" and demonstrate their excellence in helping others. Submissions can be made using this link.