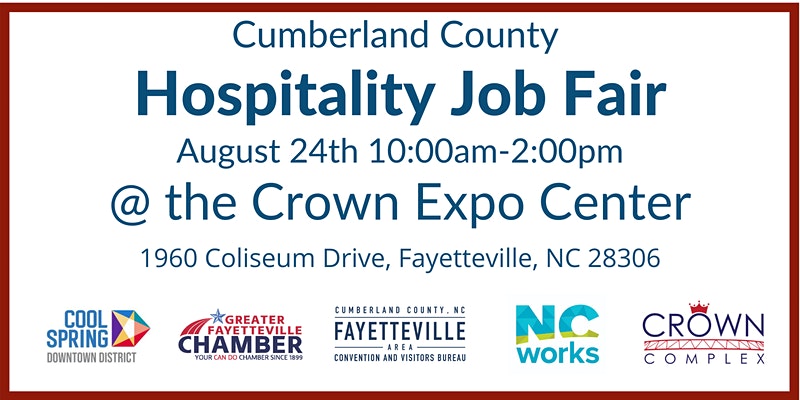 The Fayetteville Area Convention and Visitors Bureau will host its first-ever Hospitality Job Fair from 10 a.m.-2 p.m. on Aug. 24 at the Crown Expo Center.
Like many industries in the wake of COVID-19, the hospitality industry locally struggles with staffing. Roles at various lodging properties that need to be filled include everything from housekeeping to management. Similarly, food and beverage establishments are seeking to fill roles. As a result, current staff members at these businesses often have to wear many hats to be sure the work gets done.

Some businesses even have to cut down on hours of operation significantly for lack of manpower to serve their customers.

"Our Director of Sports Marketing, Amy Karpinski, came up with the idea for the job fair after hearing from lodging properties about their ongoing staffing challenges," said Melody Foote, Director of Communications at FACVB. "Randy Fiveash, our Interim President and CEO approved the initiative, and helped the team secure the location."

The event was made possible through the efforts of the FACVB and their partners for the event, NC Works, the Crown Complex, Greater Fayetteville Chamber and Cool Spring Downtown District.

Participation is not limited to Fayetteville -- the event is open to all of Cumberland County. Registered participants so far are located across the county, to include Fayetteville, Spring Lake, Hope Mills and Fort Bragg.

Although COVID-19 is an evolving issue, event officials are monitoring the situation and will follow the Crown's required safety measures on the day of the event.

Businesses who would like to participate in the job fair may apply online by August 20 at close of business. Participating is free. Registration information can be found here.