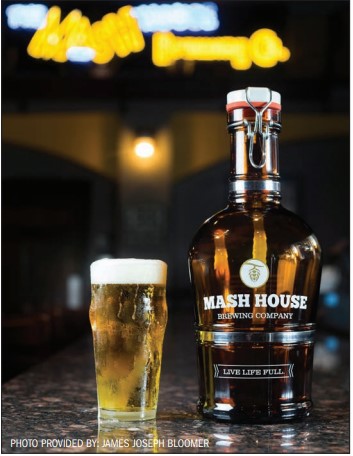 Locals in Fayetteville pass by it regularly, on the way to the mall, on the way home from work, and if you have ever tried to take a shortcut from Morganton Road to Highway 24 you may not have even noticed the building. However, for those familiar with the Fayetteville bar scene, nestled off to the side of the ever-busy Sycamore Dairy Road, in its own little green area, the Mash House Brewing Company is brewing up good times, good drinks and an ever-expanding restaurant service that puts local suppliers first.
The Mash House Brewing Company is one of the first microbreweries in the Fayetteville area, and has been in business since 2001, proudly serving the best in beef, gourmet fusion dishes and casual fare. The Mash House's signature beers are brewed on the premises using traditional methods of Old-World Brewers.
Managing Partner Steve Groveunder has been with the Mash House since 2014 and uses his 30 years of experience in the hospitality industry to oversee day-to-day operations. Using previous experience running two breweries for his past employers, he was able to take what he learned and bring it to Fayetteville.
"I've always been interested in craft beer," said Groveunder. "It just it was an immersion for me. I had to quickly learn how we take grain and yeast and water and turn it into beer. And that's basically what we do so, it was a great fit."
The Mash House Brewing Company has been through a number of developments throughout the years. Located in a facility originally built in 1998 by a group of 16 local doctors who wanted to take a chance in the brewing industry, the company was taken over and renamed Cross Creek Brewing by MHBC Managing Partner Jeff Shank. Since then, Shank has become an owner in the business and has seen the company grow and thrive into what is now known as the Mash House Brewing Company. Along with rebrands, remodeling projects, and utilizing vertical integration to keep meat and beef supplies local through their parent company, MHBC also exclusively serves their own brews in their taproom.
"We are a from scratch Chop House. We specialize in cutting our own meat, grinding our own hamburgers, cutting our own fish, we make our own salads, our own soups, our own desserts on the food side. On the brewery side, we make our own root beer, ginger beer, craft sodas, and all the beers that we serve, we make. We don't carry anybody else's beer but our own. We keep 10 to 11 taps going all the time and we also make our own cider," said Groveunder.
Categorized as a 15-barrel brew house by the JV Northwest System, The Mash House can produce between 2,000 to 2,500 barrels a year and are also considered a Regional Brewery, finding the middle ground between brewery size and being able to control production. Following COVID, MHBC has also worked to expand how people can get their beers to include growlers, kegs, and wholesaling to other facilities across North Carolina.
"Having your own brand allows you to market it, change containers, get a distribution point. We do have a partnership with Healy Wholesale, who was here in Fayetteville, and they represent most of the breweries in the city. Having that silo out front is not for show. It's full of two rows of American barley that we actually use to brew beer," said Groveunder.
"So, we get barley in 50,000 pounds at a time and store it in that large silo that actually gets brought into the building ground and turned into beer. So, our facility allows us to brew more beer, it allows us more capacity."
The Mash House Brewing Company not only works to utilize local suppliers in the main aspects of their business, but also remains environmentally conscious by making an active attempt to reduce, reuse and recycle.
"All of our grain that we use to make beer goes to the to the cattle farmers who supply us with beef. And so, our beer waste goes to the cattle, we buy the cattle, we butcher them, we sell them in our restaurants," said Groveunder. "We're all about that. Everything in my restaurant as far as to-go ware, it's all green. It's all compostable. It's all recyclable. We're one of the first restaurants in on the Eastern Seaboard to do that. We did it before Starbucks had sip cups, we had sip cups. That's our commitment to the environment, to not waste, to recycle and reuse as much as we possibly can. It's important to us."
Groveunder said he tries to prioritize working within the business community both on a city and state level and keeping a local focus when possible is a benefit overall.
"I think when you when you live somewhere where you spend your money in that community, it's very important to give back to that community and to utilize the partners that we have in the city and even in the surrounding area," said Groveunder. "When we say local, we mean North Carolina. A lot of our produce comes from North Carolina, we try to buy products that are associated with our brewery from North Carolina. But there's not a lot of farmers here growing barley, not a lot of forest farmers producing hops. So, we have to do what we can to sustain our supply chain and sometimes that means we have to go outside of the realm. But there are farmers in Asheville now who are growing hops, who are growing barley, and it's starting to come into the state more and more. But our food side is where the majority of our commitment is right now to our operation. Eventually the state will catch up and we'll be able to hopefully buy barley and buy hops here in North Carolina."
With six different ways to sample some of the brews at the Mash House, Groveunder said anyone and everyone willing to try something new is welcome to stop in for a beer.
"For someone like us, we're bringing something uniquely different in Fayetteville. We offer things that other breweries don't offer. Anybody can come into my restaurant or my bar and they can taste any beer we have. We offer things for our guests that none of our competitors can do," said Groveunder. "A majority of my staff I've had since I've been here and we don't have a lot of turnover, because my staff is happy. Happy content staff makes for a great experience. Whether it's two people or it's 200 people, we treat every group the same. Everybody gets a consistent service experience and great quality food and great quality beer."