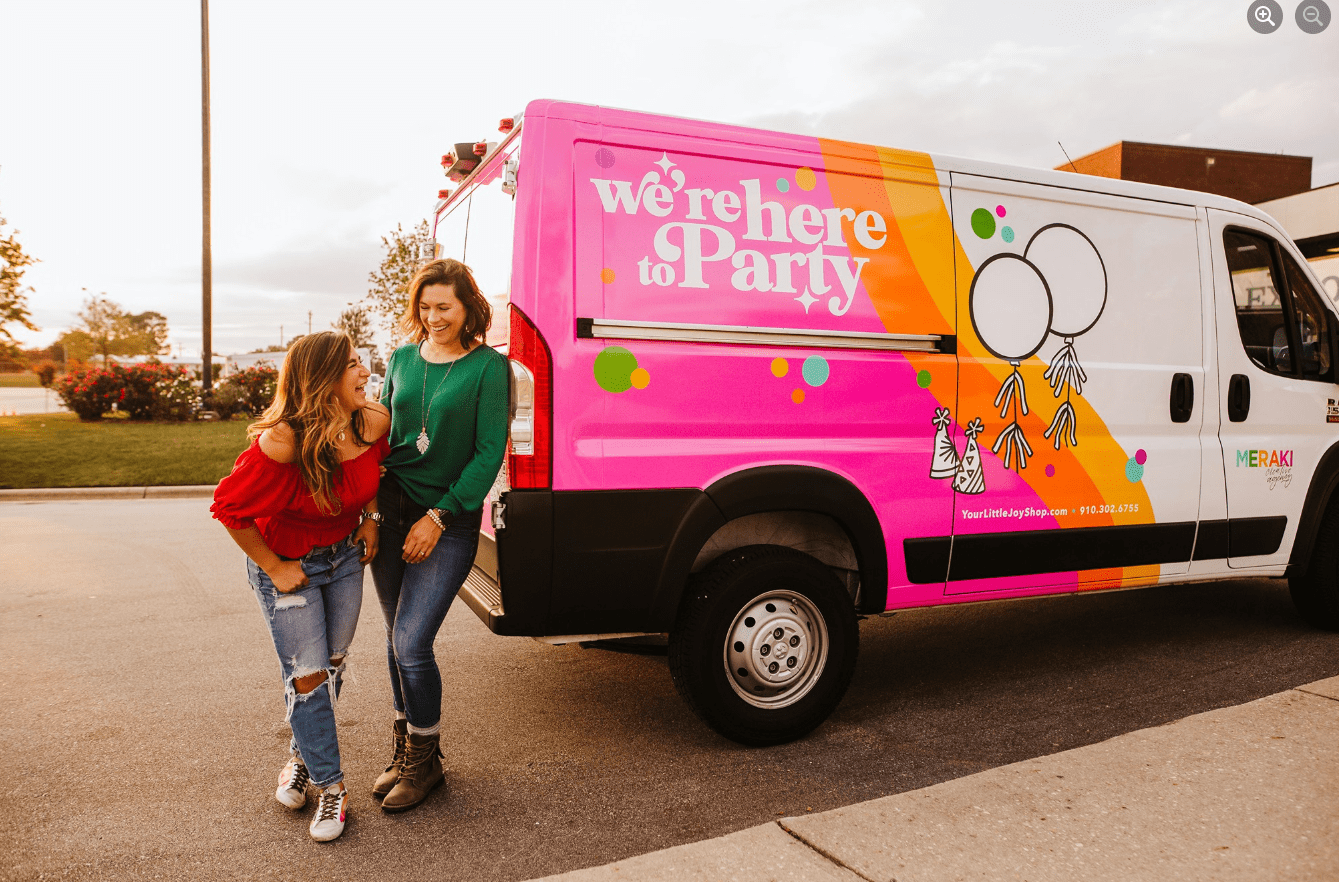 From umbrellas to balloons, joy and color combine to create beautiful designs that bring even more party to the party industry. A far cry from the helium machine at your local convenience store, Meraki Creative Agency works hard to add a special magic touch to events with ornate installments and fun, colorful decorations.
Founded by Army veteran Karoll Echeverri in 2018, Meraki's services extend above and beyond. From office parties, grand openings, baby showers, and more, the agency provides artistically crafted decorations, installments, and art pieces to make a special day more memorable.
An overarching theme of gratefulness and joy powered by passion shared between Echeverri and Graphic Designer Brittany Cobb made Meraki Creative Agency into the business it is today.
"I just hit a wall with what I wanted to focus on with creating my dissertation, and then I started diving into color," Echeverri stated. "I was trying to find different ways to create a bigger impact and a bigger impression than just the normal stuff."

The agency's glamorous balloon fixtures, ornate murals, party packages, tasteful large-scale installations, and unique artistic projects are all eye-catching and dazzling. It's hard to think that it all began in an alleyway just two years ago.
"We kinda did a test run, an experiment and it was that alley downtown, right next to the Taphouse. We cleaned it up and painted it and hung the umbrellas on the alley," Echeverri stated. "Everything's super colorful, everything's just a lot of a lot."
The owners say the company's creative repertoire is vast. "Our communications [are] pretty visible, so it exposes us a lot in that way," Echeverri said. "When you create something so unique, it's going to stay on people's minds. And, as a business, that's marketing." Clients can pick from the plethora of options listed on the agency's website. However, in addition, Echeverri and Cobb say they are more than happy to work with a client's vision. "We want to create joy. We want people to feel happy," Echeverri said. "We love it now, whenever people reach out to us, they can say, 'We want to do this. Just do your thing.'"
Assembly time varies from project to project, but ever since moving to their larger brick-and-mortar location on Marlborough Road, the company can cut preparation time by assembling their creations prior. Clients have the option of curbside pickup, or the agency will prep the installation on the site of their event. The installations are stable. "We always have to tell them [clients], 'You will have to pop them!'" Echeverri said.
Their artistry and engineering behind each and every project Meraki takes on is evident, but of course, none of them are complete without a hefty sprinkling of fun, and none of them possible without heart. "We pour ourselves into it. Thankfully, it shows, so it's nice that people feel that and get to see that. That's how that trust has been built with our clients," Echeverri said.
Everything at Meraki Creative Agency means something, from their creations right down to the agency's name. "A lot of people don't realize this but the name 'Meraki' is Greek for doing everything from the heart, leaving a little bit of you in everything that you do," Echeverri said. "And that's what we do – we pour ourselves in everything we do."
Echeverri and Cobb's creations have been seen at multiple notable events, including the Dogwood Festival's VIP tent, Campbell University's summer orientation setup, Methodist University, the Systel building, Habitat for Humanity, Fayetteville Academy, and the Holly Day Fair, just to name a few of their clients. Meraki Creative Agency brings something special to every event, making it unforgettable.
For Echeverri and Cobb, the party doesn't stop, not even in the face of a global pandemic. The outbreak of COVID-19 brought unexpected challenges for every business. Being a party business in the age of social distancing may seem counterintuitive. Meraki Creative Agency took every precaution into consideration to ensure people could still have their special days safely.
"It was an interesting time," Echeverri said. "Whenever they did virtual meetings, we would create something for the back corner, that way you still have your virtual meetings except it was a little more colorful, a little more vibrant."
Meraki has worked with clients creating special decorations for driveby parties, showers, and other events. The agency found plenty of opportunities with supplying decorations for outdoor events and no-contact assembly. "The people were still wanting to celebrate," Echeverri said. "People still wanted to do things for their people."
Evoking joy and making memories are some of the goals of Meraki Creative Agency. "People will remember if you created something – like, they'll remember that specific piece because it's going to evoke something in them. So, it really is up to anybody who wants to create a nice memory and just wants to have something joyful," Echeverri said.
Clients have options of choosing to have photo ops at their house for parties, bigger ones and smaller ones. The agency calls those 'Instagrammable art installations,' and it's all to promote making memories. There is something particularly endearing about a company that's not just selling a product, but a company that sets the stage for moments everyone will remember for their whole lives. "Creating memories, and joyful ones. Once you realize what it really is, it just brings something different to it," Echeverri said.
With the creative utilization of color coupled with the company's positive philosophy, Meraki Creative Industries makes great strides in spicing up today's business scene. "Everything is what you make of it," said Echeverri. "Anything that we do, we try to do it abundantly, and that's what brings the joy."