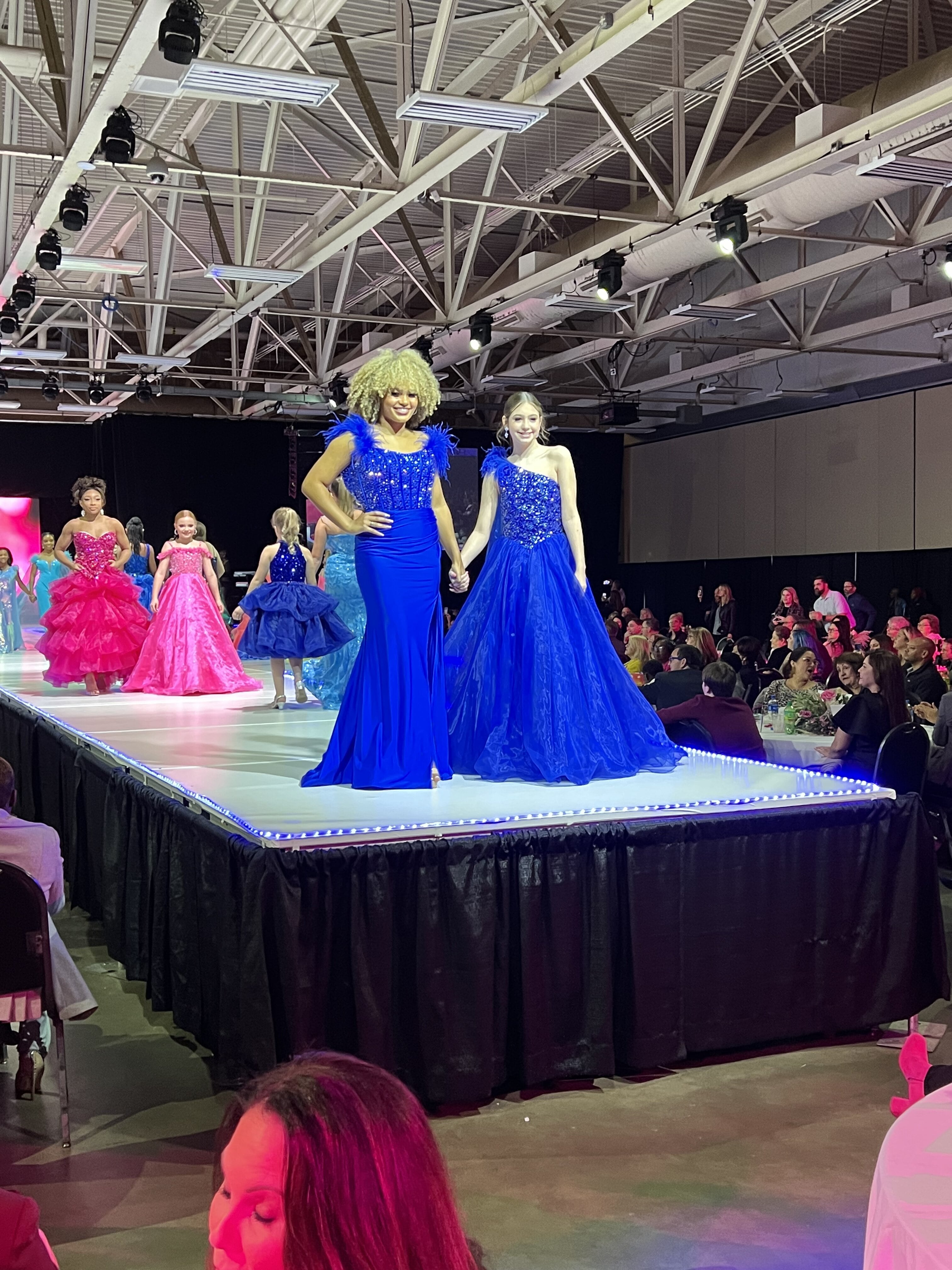 Women and girls from across the Fayetteville area and across all walks of life gathered together to walk the runway in an event focused on empowerment, beauty and showcasing local Women in Power.
The 13th annual Runway Extravaganza hosted by local formal wear store "An Affair to Remember" returned to the Crown Complex on Jan. 7 featuring women of all ages modeling the very latest in prom and formal wear. The event works to bring women together and help build confidence by giving young girls examples of women succeeding in their fields who live in their community.
"I think one of the most important things is having them in the setting and it's one of the reasons that I started it is because I have 100 models, they are 21 and under, they are trying to find a way," said AATR Owner Kathy Keefe Jensen. "And what better place for them to be, to see a woman that is empowered, that is making it and has it all. Some of them have it all, they have their families, they have their work, they have their health, and they are still beautiful, you know, they can still keep up."
This year's show featured special guests including Jovani Design Director Julie Durocher, Beauty Pageant Coach Bill Alverson and Runway Show Director Mariana Verkerk. Live music was also provided by the Raleigh based, 12-piece band "Sleeping Booty."
Along with being able to see the newest dresses, one lucky girl was also given the prom prep experience of a lifetime. Scarlett Morehouse was named the winner of the VIP Prom experience raffle which included a $500 dress credit, and a private shopping experience.
Jensen said one of the best things is seeing the connections being made between current Women of Power and the next generation.
"You know, it's interesting when these girls meet these women, and you know, there are girls that want to be doctors, we've had doctors, we've had lawyers, but there's girls that want to be business owners. There are girls that want to be homemakers. And you know what? It shows them that these women are doing it," said Jensen.
This year's event titled "You won't break my soul" was the result of continuing partnership between AATR, local nonprofit Women of Power and the Center for Economic Empowerment & Development.
Women of Power works to honor and celebrate women that have demonstrated leadership by contributing to the community through volunteerism, entrepreneurship, or public service. The brainchild of Jensen and CEED Executive Director Suzy Hrabovsky, the organization works to connect and find sponsorships for Women of Power who are also featured in the fashion show.
"We have women who are like, 'Oh, I'll never get on stage' and, 'I don't need to be seen' you know. A Woman of Power is somebody who's behind the scenes, and this is a celebration of those women who are doing those things," said Hrabovsky. "And I'll say this myself, I was one of those people. I was like, 'I don't need to do that,' and Kathy can tell you that there were people that forced me to do it, but I was glad they did because in the end, I was so excited, and so appreciative of it because it was empowering, and it was so celebratory, and we had such a great time."
To help support women in the business community, a portion of the proceeds were also donated to CEED, and will go towards business support events like HERWeek, and to help continuing to support small businesses in the community. In past years, up to $10,000 has been raised and donated to the women's business fund at CEED to support women starting or expanding their businesses.
Following another successful turnout, the event looks forward to returning to the community and continuing their mission in 2024.
___________________________________________________________
You can learn more and connect with Women of Power in your community online at www.womenofpowersociety.org.