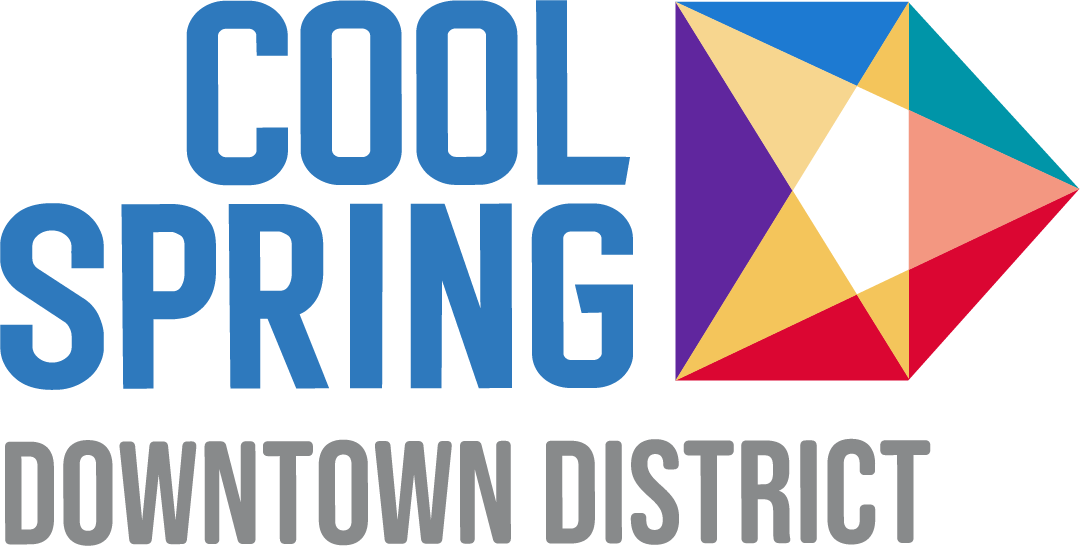 The Cool Spring Downtown District is expanding their services now available in Downtown Fayetteville following the launch of their Downtown Ambassador Program, a pilot program designed to "improve hospitality, wayfinding & cleanliness in the urban core."
Two new Ambassadors, Mark Dodd and Josh Bell have joined the CSDD staff and will be available as "an extra set of eyes and ears on the street." The two will work closely with the Downtown Fayetteville Police Department foot patrol, Cool Spring Downtown District,
downtown services providers, merchants, and residents to improve Downtown Fayetteville.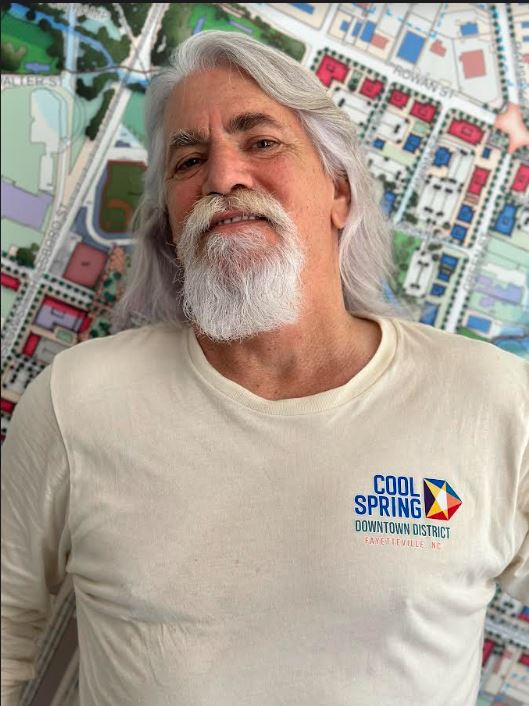 "Mr. Dodd brings to the table a vast amount of experience and a familiar face," shared the CSDD in a written statement.
Mark Dodd serves as the lead Ambassador. He spent 20 years in Construction and electrical work in Michigan where he was a proud member of the International Brotherhood of Electrical Workers. In 2010, Mr. Dodd, moved to be closer to family. Since then, he has been a fixture in Downtown Fayetteville, having worked at the former Music Venue "The Rock Shop" as head of security.
Afterwards, he served as a Sales Consultant with Back-Around-Records and then as the Milk Man with the Downtown Market of Fayetteville.
Mark is also an artist interested in abstract, expressive, emotive art forms. When Mark isn't making art and improving downtown's public realm, he's busy with his four kids, fourteen grandchildren and Savannah Belle – his girlfriend's English Mastiff.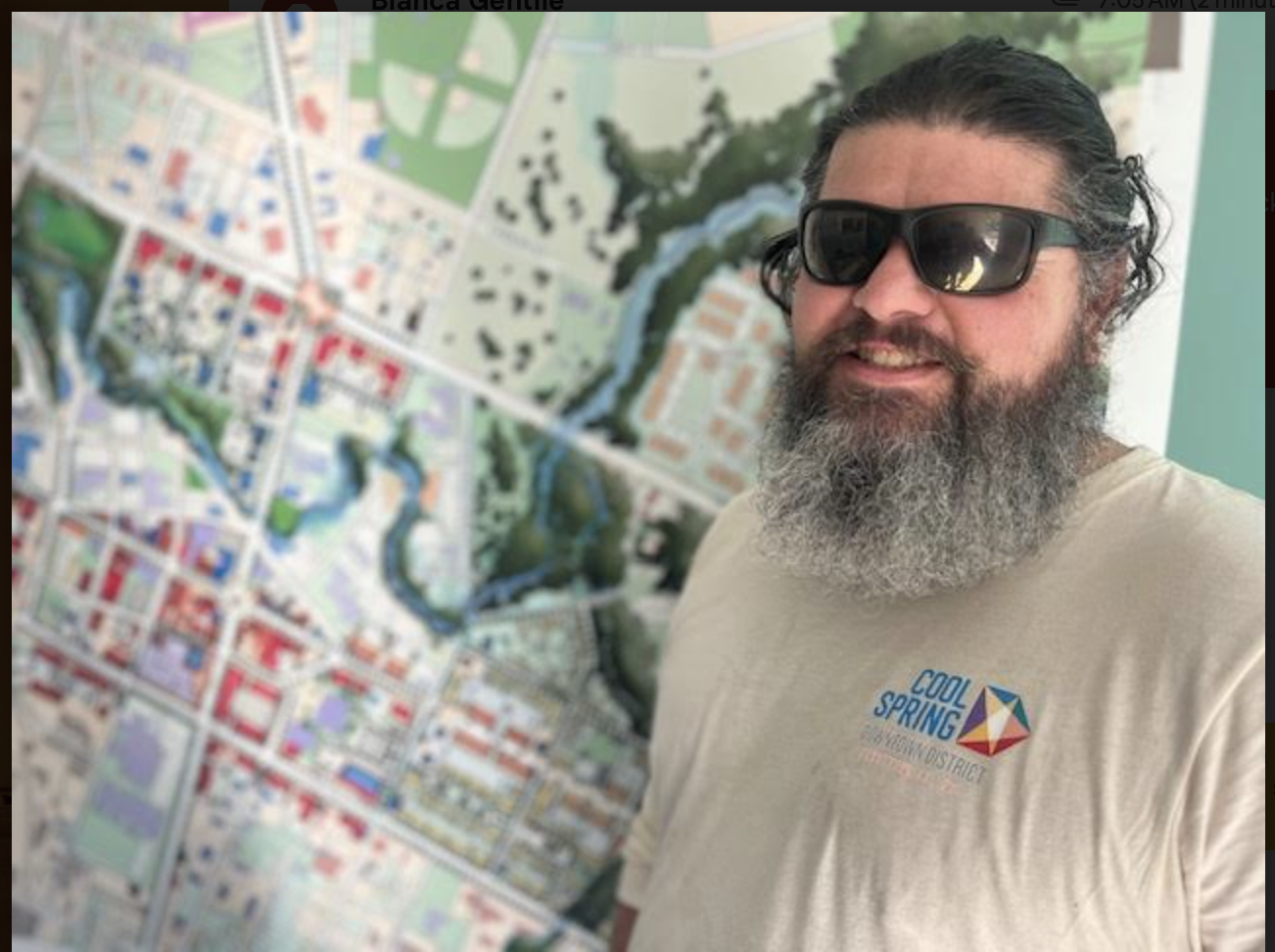 Josh Bell is a U.S. Army retiree and a five-time war veteran who served as a mechanic and a paratrooper in the renowned 82nd Airborne Division. After retiring from Ft. Bragg in 2018, this transplanted Texan put down permanent roots in Fayetteville. When Josh isn't spending time with his 18-year-old son, he enjoys working on his girlfriend's farm, tending to his own chickens, perfecting his BBQ techniques, and caring for his mother.
"We recently welcomed Joshua Bell to the Cool Spring Downtown District as our new ambassador, and he's already been hard at work beautifying our streetscapes and learning more about his unique role on the Cool Spring team. Even before Josh joined us, he'd proven
his worth by both volunteering and working at some of our biggest events, including New Year's Eve," shared the CSDD in a written statement. "We're proud to have this hardworking veteran on our team and hope you'll take the time to introduce yourself to him when you see him at work around the district, as he's here to serve all of you, as well."
Their ambassador duties include serving as a Cleaning Patrol Team, which includes general upkeep; debris and litter pickup, mobile cleaning, pressure washing, as well as taking on "Special Request Projects." Other daily services include providing information and directions to the public, being trained to provide hospitality services, observing, documenting and reporting any criminal activity to CSDD and Police Department and other duties.
The 12-month Ambassador Program will be managed with a number of key performance indicators (KPI's) to ensure that quality standards are met continuously.
These KPI's are monitored (reviewed) on a weekly, monthly and quarterly basis depending on the category.
The Ambassador Program is funded by the Municipal Service District tax, a special levy that is assessed on real property in downtown Fayetteville. Programs like this exist all across the ; world. Other NC Cities that have Ambassador programs are Downtown Raleigh, Downtown Durham, Downtown Greensboro, Downtown Winston Salem, Downtown Chapel Hill, and Uptown Charlotte.
Anyone located downtown that wishes to utilize the Ambassador services can contact the Cool Spring Downtown District Office, located at 222 Hay St, at 910-773-3322.