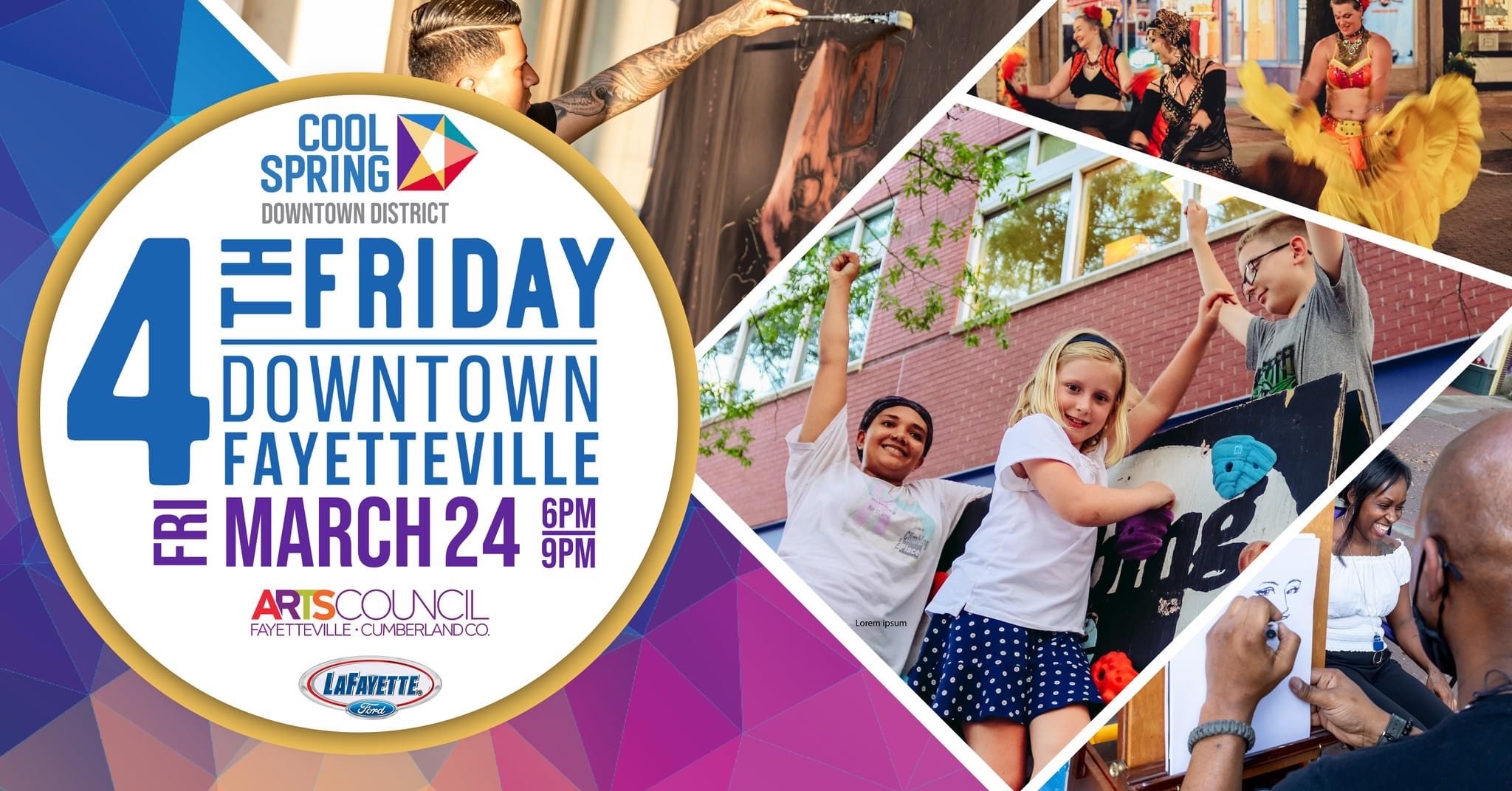 Join the 4th Friday fun in Downtown Fayetteville on March 24 from 6:00 to 9:00 pm. The first 4th Friday of 2023 will feature a game theme complete with a 30-foot gaming truck provided by Xfinity Games Mobile Video Game Theater. Offering complimentary games that are rated E for Everyone, the Xfinity Games truck will be parked in front of GameDay Kutz & Apparel located at 114 Hay Street.
GameDay Kutz & Apparel will also have a virtual sports gaming competition inside of their business and other Downtown Fayetteville businesses will be joining in on the festivities with board games and more. In addition, musical performers, including Hawaiian dancers and the Shadows of Fire performance group, will be entertaining pedestrians on downtown street corners.
On March 24, there will be two other events happening inside the 4th Friday footprint. The 12th Annual Walk Awhile in Their Shoes event will begin at 7:00 pm at the Capitol Encore Academy at 126 Hay Street and terminate at the steps of SEGRA Stadium. The Fayetteville Public Works Commission will also host the 9th Annual Power and Water Conservation Expo at the Skyview on Hay at 121 Hay Street.
The Cool Spring Downtown District plans a 4th Friday in Downtown Fayetteville each month from March through October, giving residents and visitors the chance to experience the best of Fayetteville entertainment, including visual and performing arts, live music, and street performers. While sampling Downtown Fayetteville's dynamic arts and entertainment district, visitors also can browse the offerings of dozens of vendors. In 2022, 4th Fridays welcomed 80 vendors with handmade crafts, local artwork, and other unique goods. Cool Spring Downtown District aims to expand participation this year.
Starting in July, Cool Spring Downtown District enhances the 4th Friday with a larger event called The District Vibe. They close a street downtown and set up a live performance stage, beer garden, and food truck rodeo, creating a perfect ambience for visitors to sample delicious food and drinks, dance, and soak in the vibrant nightlife!
In September, Cool Spring Downtown District hosts an International 4th Friday theme leading up to the Art Council of Fayetteville/Cumberland County's International Folk Festival. For the last 4th Friday of the year in October, they put on a Zombie Walk that fills our downtown with an array of frightful creatures.
If you would like to start the party early, please join us in Downtown Fayetteville this Friday, March 17 from 5:00 - 9:00 pm for the Irish You Would: Downtown Fayetteville Bar Crawl, and the Sassy Lassie Trolley from 6:00 - 9:00 pm. Each participating business during the bar crawl will have drink specials and offer customers free swag and goodies while supplies last. Gaston Brewing Company will have a D.J. starting at 8:00 pm and Bright Light Brewing Company will host food trucks.
We look forward to welcoming you to Downtown Fayetteville soon! Come out to support our local businesses, enjoy unique performances, and be part of a thriving arts and entertainment district. Learn more at https://visitdowntownfayetteville.com.
The Cool Spring Downtown District, Inc. is a charitable, nonprofit corporation formed in 2017 to create and sustain an arts and entertainment district located in downtown Fayetteville, North Carolina, as a vibrant center of artistic, cultural, civic and commercial activity. Learn more at visitdowntownfayetteville.com.