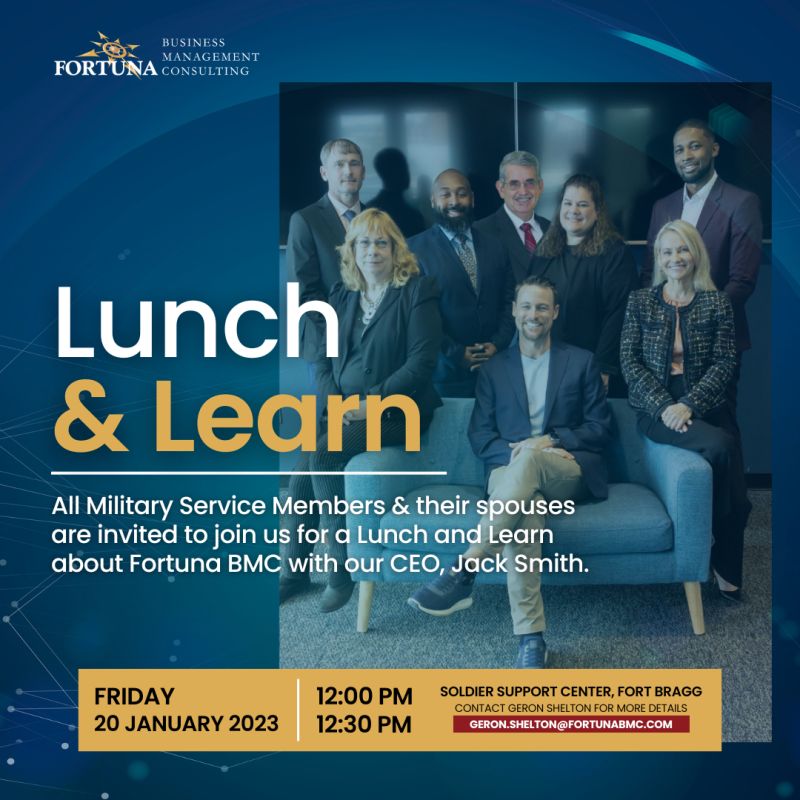 Military Service Members and their spouses are invited to Fortuna BMC's Lunch and Learn this Friday, Jan. 20 at 12 p.m at the Soldier Support Center on Fort Bragg. The event is free to attend and pizza and drinks will be served. Registration is not required.
Fortuna BMC is a disabled veteran-owned business founded in 2014 with a strong focus on IT consulting and staffing. They recently opened an office in Fayetteville and have proven their commitment to fostering growth within this community.
There will be a presentation to give attendees a general overview of the company. Attendees will also learn about positions open within the company both here in their Fayetteville office and in their home office in California.
Fortuna BMC's CEO Jack Smith has flown in and will be in attendance at the lunch. Smith is a Veteran himself, which contributes to his passion for employing service members and Veterans.
Following the presentation, attendees will be able to ask questions. Several other Fortuna BMC
employees will be present in addition to the CEO in order to field questions.
One of Fortuna BMC's goals is to "keep service members, Veterans, and their spouses gainfully employed while they are not actively deployed." They achieve this by recruiting transitioning service members to their company and also helping them to connect with other companies which might benefit from their expertise.
"Not only are we staffing the offices here, we also do staff augmentation for other businesses. So if we can't find you a place here with us at Fortuna BMC there are hundreds of other jobs that we outsource for… I just think there's an opportunity for any transitioning service members or people that have been out for a while and they want to look at a new career. I think this will be an opportunity that they don't want to miss…" shared Project Manager Geron Shelton.