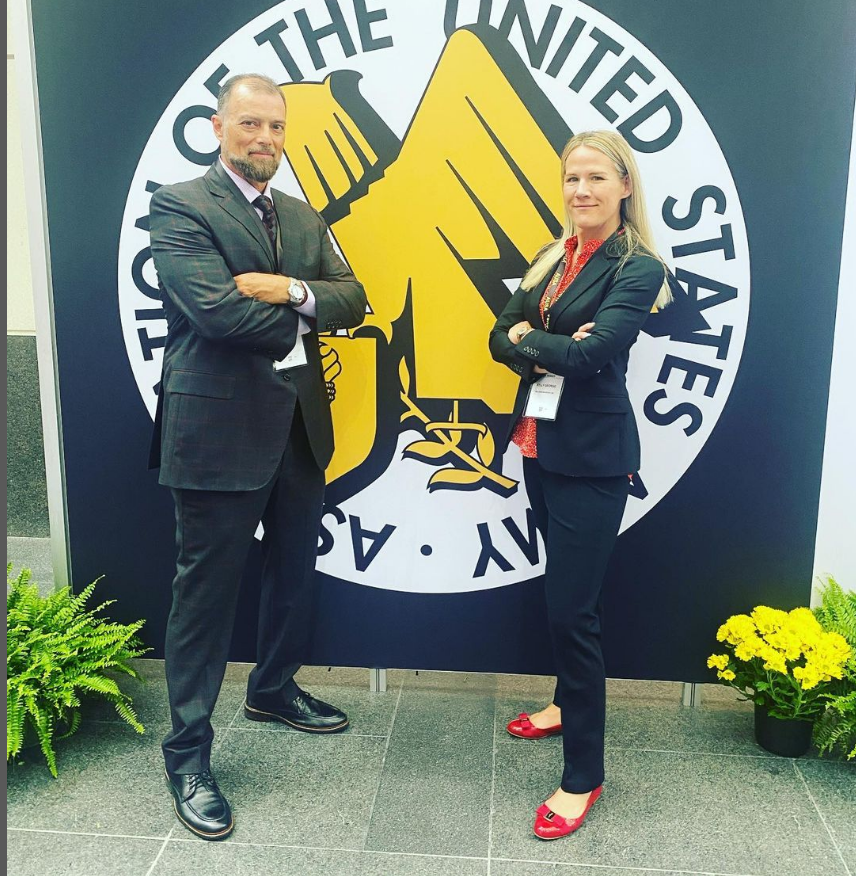 The City of Fayetteville has long since been the partner City to the Fort Liberty military installation. With a multimillion-dollar military contracting industry in North Carolina's 100 counties alone, local government contractors are working to serve their military community and stand out in their industries.
Walsingham Group is a federal contractor headquartered in Fayetteville, NC providing operations, maintenance and support for critical infrastructure and government-owned contractor-operated facilities. Founded in 2008, they recently celebrated their 15th year in business with a staff of a little under 300 employees including badged employees, subcontractors and vendors.
Though their operations span beyond the city and even the state, with a total of seven additional program-specific offices scattered throughout the country, leaders shared that Fayetteville is the best place for the company's home base.
"For us, in order to be ultra-responsive and move at the speed of special operations, we need to be here," remarked Walsingham Group CEO Ed Petkovich.
Walsingham Group handles contracts for a variety of projects including ones that support national critical infrastructure at various locations to include pipeline operations. Longer contracts such as 10-year contracts in particular help provide stability for the business.
One of the bigger projects Walsingham Group has going on at the moment is a 10-year contract with Sheppard Air Force Base, the Air Force's training wing. Walsingham's employees are responsible for the receipt and delivery of fuel to the base and directly into the fighter jets as well as quality control work.
"...It has been a challenge…We have a new union that we are working with and this is our first contract with IAM [International Association of Machinists and Aerospace Workers]…So [we're] working through the details of the collective bargaining agreement. Really, it's [about] relationship building, getting used to each other and getting to know each other. You always want to do that and have a positive attitude and open communication because it is going to be a long-term relationship," stated Petkovich.
One of their newer contracts is with the Ascent Program. This program is designed to help service members who are preparing to transition out of the military.
Walsingham Group considers community outreach to be one of the pillars of their organization. This outreach ranges from financial support to community service.
Shawn Stevens is the Director of Operations for Walsingham Group. Stevens formerly served in Special Operations and now he is happy to help transitioning military smoothly merge into the workforce.
"As a program manager I have to know the contract like the back of my hand. So I know all of the job descriptions, I know all of the positions that need filled and I'm also managing hours and the work, the workload and the quality of work. I'm responsible for the quality of work that everybody provides to the customer… My goal is to keep everything at 100 percent. The minute that somebody either resigns or they retire or the government says 'We want to add another position to this contract.' then I know my goal is to have it filled within two weeks. And I don't normally have a problem doing that. Most of the time, I'll have a name to them within 48 hours," shared Stevens.
The talent pool is another reason that being headquartered in Fayetteville is best for Walsingham Group.
"...I think here in Fayetteville, we're sitting in one of the biggest talent pools that a company could have," added Stevens.
Sarah Anderson has been the director of the Ascent Program with Walsingham Group for a year now and she meets one on one with airmen in her direct unit prior to their departure from the military so she can assist them in weighing their options for what's next.
"I help them just personalize their plan to separate or retire. We also go over some nuances [involved with] going from the military to civilian life and looking at things like life insurance and the VA disability process, finances, some things that are sort of glossed over from a big Air Force and big Army perspective when service members are leaving," shared Anderson.
In addition to meeting with people one on one, Anderson also runs three to four workshops a year for the Ascent Program. The workshops are four days long and Anderson teaches alongside subject matter experts to speak on topics relevant to separating from the military and working in the civilian force.
Petkovich shared about the pride he feels in the culture he and Vice President of Walsingham Group Kelly George have created.
"Many people can be successful. Right? Few are significant. And for us, that's part of our culture. The thing that Kelly and I have done is we get to control our culture and that's the most important thing for us and it's to be significant, to give back to the communities," stated Petkovich when asked to refect on the company's progress over the years.
The company's good work is even being noticed on a national stage.
In 2022 Walsingham Group received the Cogswell Award. The Cogswell Award is the most prestigious honor the Defense Counterintelligence and Security Agency (DCSA) can bestow to cleared industry. Of the more than 13,000 cleared contractors in the National Industrial Security Program (NISP), less than 1 percent are annually selected to receive this award.
______________
To learn more about Walsingham group visit their website www.wgrp.com.