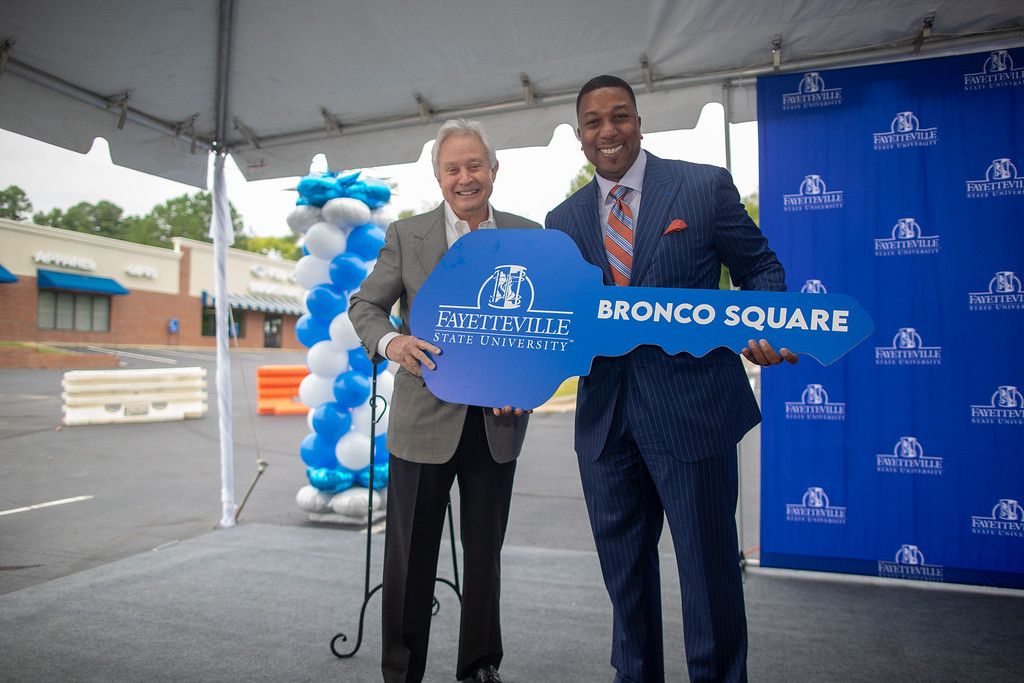 Fayetteville State University announced at a press conference this morning that the institution would fully acquire Bronco Square Shopping Mall, a strip mall located near the campus, debt-free.
"Fayetteville State University is at the heart of one of the fastest growing regions in the state, the Sandhills region. We are excited to share this special announcement as our university practically connects the business community and enterprise to learning communities and future leaders. FSU is a hub for innovation and Bronco Square will continue to grow and support the greater Cumberland County community," said Darrell T. Allison, the chancellor of the school.
Bronco Square, which is currently home to businesses like McAllister's Deli, a beauty salon and the FSU bookstore, will also soon welcome a new, freestanding Chick-fil-A.
The school also plans to build a freestanding Starbucks on its campus. The Chick-fil-A and the Starbucks together will total approximately five million dollars in debt-free assets for the school.
In addition to the new changes coming to campus, Gary Ciccone, who serves as the chairman of the Select Bancorp, Inc. and Select Bank & Trust Boards of Directors generously invested $150,000 in the school at the announcement.
Fayetteville State University has made great strides to be a community partner, and announced today that the current bookstore location will be transformed into an entrepreneurial innovation hub.
This is a developing story. To read more as the story evolves, subscribe to our Daily Emails and print edition at BizFayetteville.com/subscribe.