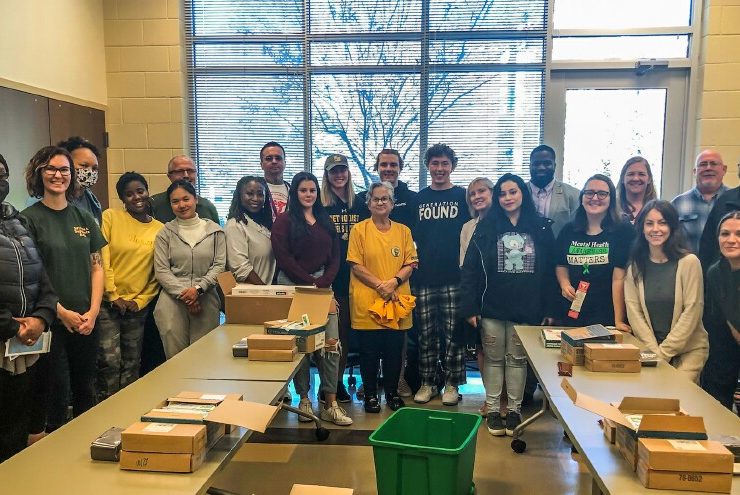 Methodist University has been selected for a new $514,093 grant that supports college students through recovery programs. As primary grantee, MU is one of nine colleges and universities in the state that recently received a total of $3.2 million in collegiate recovery funding from the North Carolina Department of Health and Human Services.
MU will use the funding across two years to develop the collegiate recovery programs at both Methodist University and at Fayetteville Technical Community College, employing two full-time North Carolina Certified Peer Support Specialists and four student ambassadors starting this spring.
"With this grant, we are preparing to create diverse, positive, and inclusive collegiate recovery programs by providing education on substance abuse, addiction, and recovery while providing safe spaces and social activities that are alcohol- and drug-free for students, faculty, and staff," said Cynthia Lally, director of Campus Recreation and Wellness at MU, in a press release. Lally will direct the collegiate recovery program. "Ultimately, our goal is to create a recovery-ready community at Methodist University and FTCC and in the surrounding areas."
MU's new collegiate recovery program will be called "Roaring4Recovery."
In 2020, Mitzi Averette, assistant professor of Nursing, collaborated with undergraduate students to create Cumberland County's first collegiate recovery gathering called "Roaring4Recovery." The all-volunteer group hosted many gatherings and special events on MU's campus, but remained open to the greater Fayetteville area – welcoming students from MU, FTCC, and Fayetteville State University. In 2021, it became an official student organization at MU.
Averette will play an important role in the new "Roaring4Recovery" program. Under her expert and volunteer guidance, Averette will ensure a smooth collaboration between MU, FTCC, and important community partners.
The partnership between MU and FTCC continues a strong relationship between the two institutions, which already developed a transfer agreement in 2021. Methodist University will administer the grant while hiring, supervising, and providing training for the collegiate recovery program's new staff. However, both institutions will ensure the following outcomes under "Roaring4Recovery":
Deliver weekly alcohol/drug-free social activities on both campuses throughout the year

Train for institutional leadership on the importance of and methods for supporting students in recovery

Creating alcohol/drug-free places on campus for students to live, study and socialize

Evaluate the impact of collegiate recovery support on students' academic performance
The program is expected to be available to more than 20,000 MU and FTCC students across Fayetteville – representative of six percent of Cumberland County's total residents.
Methodist University's new Director of Counseling Services, Mark Gronski, will help provide mental health and counseling support for the new program.
"This program supports MU's mission of helping improve our students' overall well-being by focusing on our support of students in their journey of recovery from substance use," Gronski said in a press release. "This program will create a healthy sense of belonging for students in recovery, which is correlated to positive mental health outcomes. This shows another way that MU is making commitments to improving the well-being of students."
The other colleges and universities that received funding under the grant are Appalachian State University, Elizabeth City State University, Elon University, Fayetteville State University, High Point University, Mars Hill University, University of North Carolina at Chapel Hill, and University of North Carolina at Greensboro.