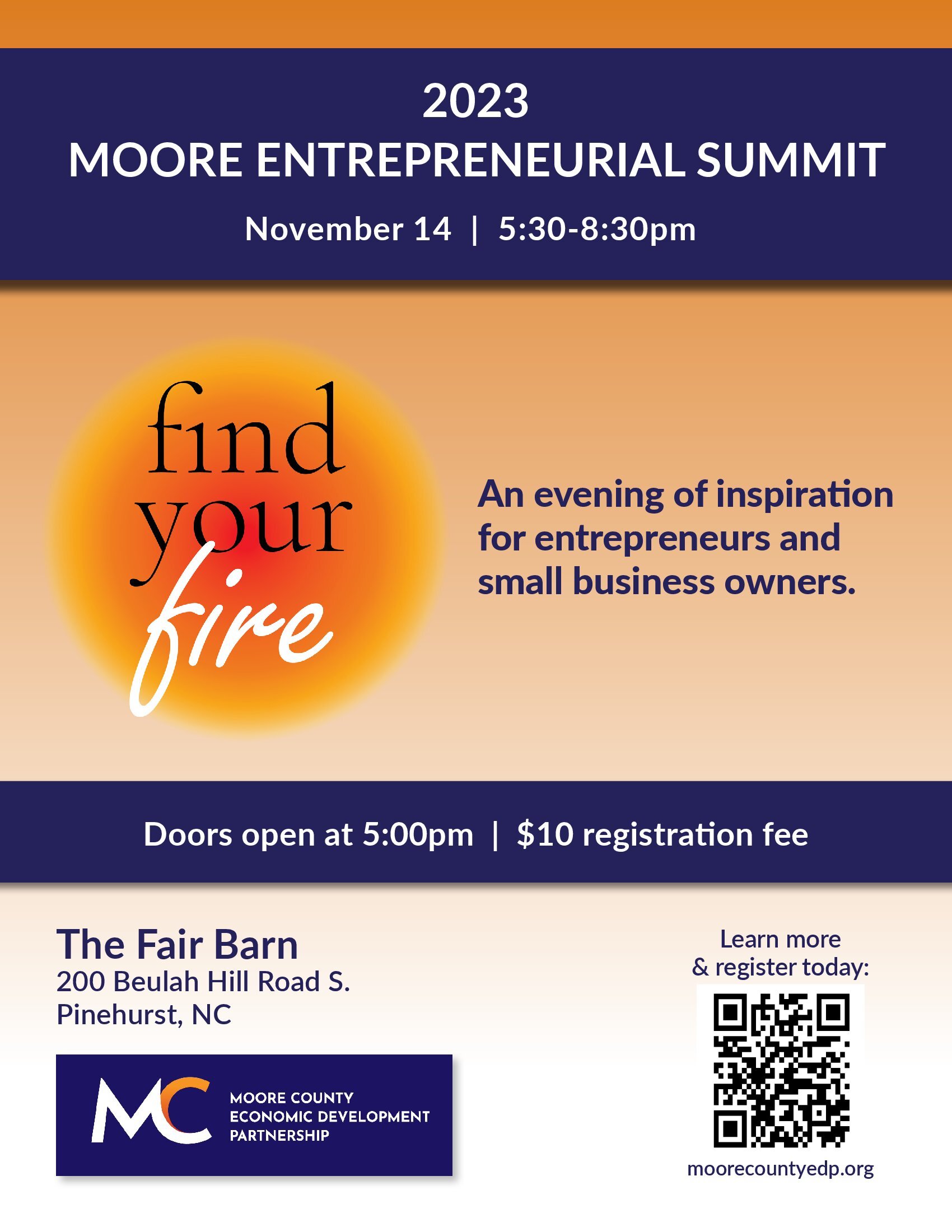 The Moore County Economic Development Partnership (MCEDP) is hosting the 2023 Moore Entrepreneurial Summit on Nov. 14. This event is designed to bring together aspiring and seasoned entrepreneurs, small business owners, thought leaders, and industry experts for an evening of inspiration and education.
The 2023 Moore Entrepreneurial Summit aims to celebrate, elevate and ignite this spirit of innovation in Moore County. Attendees will have the opportunity to engage with and learn from successful entrepreneurs, gain valuable insights, and connect with like-minded individuals who share their passion for creating new business opportunities.
Forth Heffner, founder and owner of The Faculty Resource, will share strategies and insights to inspire and empower attendees in a keynote address. Forth has bought and sold multiple businesses and helps business leaders avoid the same pitfalls he faced in his family business.
Successful entrepreneurs in various industries and locales in Moore County will engage in thought-provoking discussions on various aspects of entrepreneurship, share their lessons learned and provide insights for business startup success.
The panelists include:
1. Zane Vogel, co-founder and CEO of Spiritus Systems,
2. Darell Yates, owner of HomeGrown,
3. Angela Robb, owner of Karma Spa Lounge & Beauty Bar,
4. Tyler Cook, owner of Latitude Builders, and
5. Ryan Olufs, owner of Misty Morning Ranch.
Attendees will have a chance to pitch their business in 60 seconds or less. There will also be 13 organizations that support emerging startups and small businesses on-hand to connect with and provide resources to attendees in a dynamic "Speed Networking" event.
"Small businesses don't just drive innovation, but they're the foundation of a healthy and resilient economy. At MCEDP, we're committed to supporting the formation and expansion of small businesses in our community and we're proud to host the 2023 Moore Entrepreneurial Summit. Whether you're looking to start your own venture, seeking guidance on scaling your business, or simply want to expand your network, this summit is sure to inform and motivate attendees to take on the world of entrepreneurship," said Natalie Hawkins, MCEDP President, in a press release.
Pre-registration is required, and seating is limited to the first 200 registrants. Registration fees are $10 and the registration deadline is Friday, Nov. 10. To register and learn more about the 2023 Moore Entrepreneurial Summit, please visit www.moorecountyedp.org/ent-summit.
"We invite anyone who dreams of starting their own business or wants to expand their existing small business to join us on November 14th at The Fair Barn for this informative and insightful event where we've assembled the resources and information needed for small business success in one place," said Hawkins in a press release.