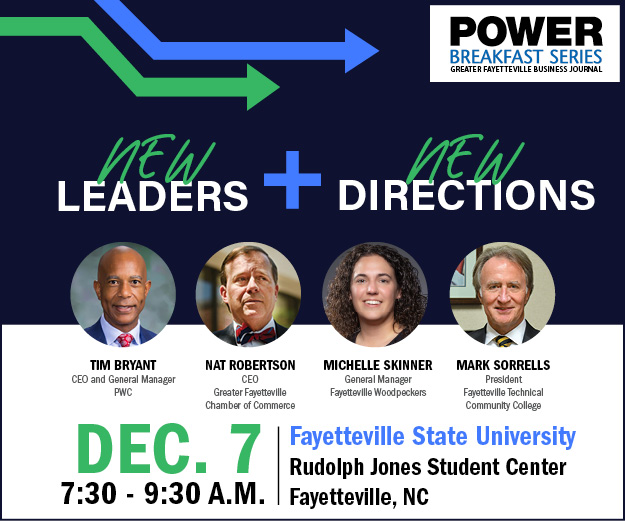 The Greater Fayetteville Business Journal is excited to welcome the business community to join us at our final Power Breakfast of 2023!
Everyone is invited to join us at the Rudolph Jones Student Center in the heart of Fayetteville State University's campus on Dec. 7 from 7:30 a.m. to 9:30 a.m.
Titled New Leaders + New Directions, this Power Breakfast will help to introduce the community to the fresh faces now leading some of the area's most notable organizations who took on their leadership positions throughout 2023.
"We are excited to be back at Fayetteville State University for our last Power Breakfast of 2023 and we're looking forward to the conversation with our panelists as well," shared GFBJ Publisher Marty Cayton. "From power generation to technical education with business and baseball in between, it ought to be an interesting discussion with all these new leaders in our community. We'll hear about their vision, new plans and how their organizations will touch the business community in 2024 and beyond."
THE FOUR PANELISTS FOR THE DEC. 7 POWER BREAKFAST ARE:
TIM BRYANT, CEO AND GENERAL MANAGER OF FAYETTEVILLE PWC
Bryant joined the Fayetteville Public Works Commission team on Aug. 14, 2023 filling the position that had been open for nearly a year following the departure of the last CEO and General Manager in September of 2022. Bryant came to PWC from Florida Power and Light Company (FPL) where he has held numerous leadership roles since 2008.
Bryant brought over 25 years of utility experience as PWC's 10th CEO/General Manager.
"PWC plays such a vital role in so many aspects of our community and it's an honor to have the opportunity to share the great work we are doing and to talk about our collaborations that will move Fayetteville forward," shared Bryant.
NAT ROBERTSON, PRESIDENT AND CEO OF THE GREATER FAYETTEVILLE CHAMBER OF COMMERCE
Robertson returned to lead the Chamber in early March of 2023. Before returning to his current position, Robertson served as the Mayor of the City of Fayetteville from 2013- 2017 and has been active in Chamber activities since the 1990s. He has a history of pro-business accomplishments to include owning his own business, working closely with state and local economic development agencies, sitting on the White House roundtable on infrastructure and creating the Mayor's Small Business Award specifically with the Greater Fayetteville Chamber.
"On behalf of your Greater Fayetteville Chamber, I'm excited to share some of the great things we are doing to celebrate the Chamber's 125th anniversary in 2024. We have a new sense of purpose at the Chamber and our team is excited to bring relevance back to the organization that represents our local business community. Through advocacy, education and networking, the Chamber is not only a watchdog for business-friendly public policy, but an outlet for learning and collaborating with like-minded professionals," said Robertson.
MICHELLE SKINNER, GENERAL MANAGER OF THE FAYETTEVILLE WOODPECKERS
Skinner became a leading member of the Fayetteville Woodpeckers in early March just in time for the 2023 baseball season. Skinner was one of two current female general managers in the Carolina League when she started her new role.
Before joining the Fayetteville Woodpeckers, Skinner had 13 seasons with the Tri-City ValleyCats of the Frontier League, formerly the MiLB Short Season Affiliate of the Houston Astros, under her belt. Skinner is a two-time recipient of the New York-Penn League JoAnn Weber Female Executive/Staff Member of the Year Award (2014, 2018), was named to the Albany Business Review's 40 Under 40 list in 2019, was a 2020 United Way Capital Region Philanthropist of the Year finalist, and is a graduate of the Rensselaer County Regional Chamber of Commerce's Leadership Institute.
"I'm excited to be able to connect with the business community and share what the Woodpeckers have planned moving into our fifth season. It's an honor to be included on a panel with such influential business leaders," shared Skinner.
MARK SORRELLS, PRESIDENT OF FAYETTEVILLE TECHNICAL COMMUNITY COLLEGE
Dr. Mark A. Sorrells started 2023 with a bang, officially taking over as the President of Fayetteville Technical Community College on Jan. 1, 2023. Sorrells was selected after a nationwide search that began in March of 2022. Sorrells served as the College's Senior Vice President for Academic and Student Services from 2019-2022 before serving as FTCC's fifth president. He has over 35 years of experience in higher education and economic development, and has worked with FTCC administration, faculty and staff to grow programs that align with the workforce needs of the employers in the county and the region.
"I am excited to be asked by GFBJ to engage in conversation with area business and community leaders to discuss innovative initiatives and the impact that FTCC is having in the local, regional and state economic landscape," said Sorrells.
_______________________________________
Tickets are on sale now at fayettevillepowerbreakfast.com.
Join us as we get to know these new leaders and learn what is in store for 2024.