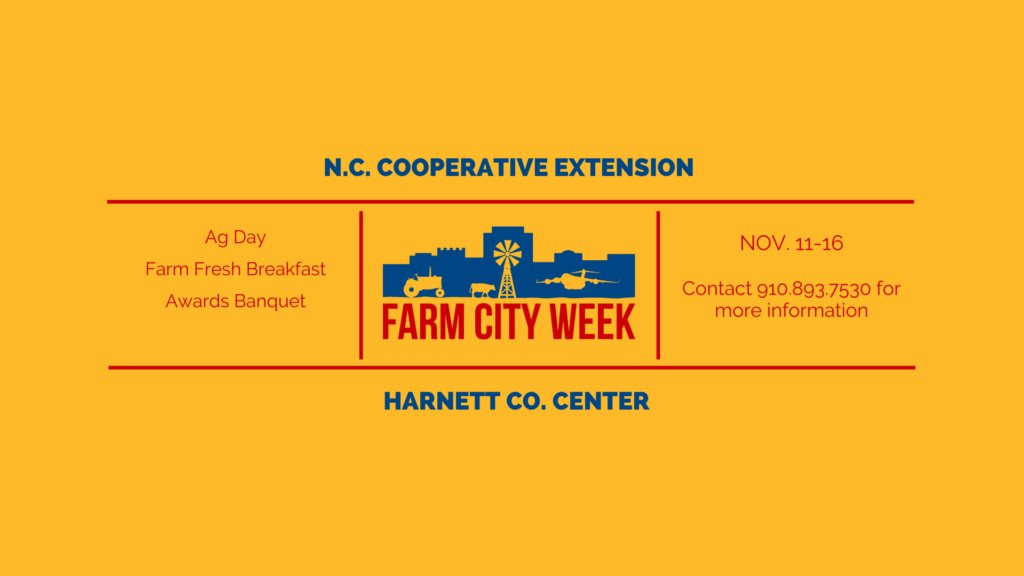 Harnett County Cooperative Extension will kick off Farm City Week Saturday, Nov. 11, with Ag Day from 10 a.m. until 2 p.m.
Farm City Week has been celebrated for over 25 years and aims to celebrate the importance of agriculture to the economy, quality of life and foodways. This year's celebration will take place from Nov. 11 – 16.
Each year, Harnett County Cooperative Extension, and the Kiwanis clubs in the county work together to draw attention to the agricultural community through several public events to bring together farmers and the community.
Tim Mathews, County Extension Director, says even with the unprecedented growth in the county, agriculture continues to be the number one industry in Harnett County.
"Food, fiber and forestry together contribute to Harnett County's ranking of 14th out of 100 counties in North Carolina's total agriculture cash receipts. Even so, many people, especially children, don't know where their food comes from," said Mathews in a press release. "We want to recognize and thank our farmers for the essential role they play in the prosperity and quality of life we enjoy here in Harnett County."
Ag Day will offer a farmers' market with produce and meat, a petting farm with the Pint-sized Pasture, baking competitions, kid-friendly activities and more.
The community is invited to the Government Complex at 455 McKinney Parkway in Lillington to participate in this free family fun day to celebrate agriculture in Harnett County.
Farm City Week will also include a Farm-Fresh breakfast on Wednesday, Nov. 15, from 7 – 10 a.m. in the Resource Center and Library. The Angier Kiwanis Club will cook sweet potato pancakes, NC 4-H Egg-cellent Egg Contest will fix scrambled eggs and fresh sausage will be provided from R+B Farms in Angier. The Farm-Fresh Breakfast is a first come, first served event and is free to attendees.
Farm City Week will conclude with a Farm-City Banquet on Thursday, Nov. 16, at 6:30 p.m. to recognize the farming community with awards and scholarships. The banquet will take place at Mary-Islan Pavilion, 7181 Old Stage Road in Angier, and tickets cost $15.00.
Dr. Antoine Alston from North Carolina A&T will be the guest speaker, and local musician Erick Hawk will perform.
For more information visit https://harnett.ces.ncsu.edu/farm-city-week-main/ To register for the banquet, call 910-893-7530.