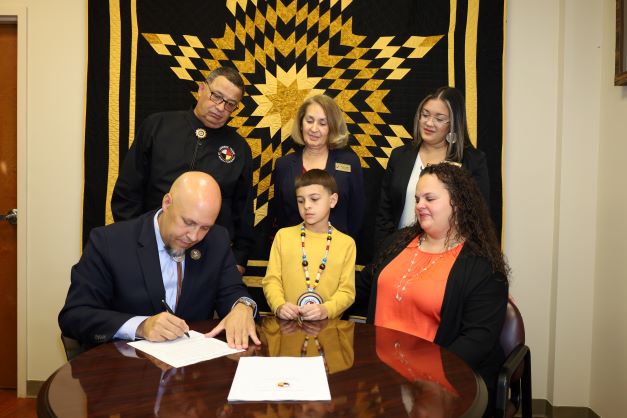 On Thursday, March 16, Lumbee Tribal Chairman John L. Lowery amended the Lumbee Tribe of North Carolina's Down Payment Assistance Policy. The change increased the down payment assistance amount to first-time home buyers.
Recipients previously received a range between $5,000 to $12,000 through the Down Payment Assistance program. Now if approved through the program, Lumbee Tribal members may receive from $10,000 to a maximum of $20,000.
Chairman Lowery said he is proud to announce the change because inflation is contributing to higher interest rates and rising cost of construction. "We are increasing access to the American Dream of owning a home," said Lowery in a press release. "By providing a higher benefit of down payment assistance, we are helping Lumbee families not only overcome the hurdle of paying their closing costs, but also gaining positive equity on their home before they ever move in."
The first family to benefit from the change is Stephanie Stewart and her 8-year-old son Jakoby. While holding back the tears, Stewart described her surprise as she found out the amount she would receive was increased by double.
"To me it means a first chance for me and my son to finally have something to call our own," said Stewart in a press release. "I'm 37 years old and I have lived paycheck to paycheck for most of my life, like a lot of individuals in Robeson County, but to receive a gift like this down payment assistance from the Lumbee Tribe is life-changing". Stewart said she hopes to move into a new home in the Clyborn Pines community within the next month. She said the difference in money will cover the closing cost and a portion of the down payment.
Kathy Locklear, the Housing and Financial Education Manager for the Lumbee Tribe, is working
with families who are applying for down payment assistance.
"Our hope is instead of just being able to pay loan closing fees, that these additional funds will reduce the principal amount, which in turn reduces the payment to the home buyer and makes homeownership more affordable for our Lumbee families," said Locklear in a press release.
Chairman Lowery said he knows the increase will change lives, sharing the following sentiment in a press release.
"As tribal people, we talk about the "home place", where our families live for generations," said Lowery. "We strive to make sure that this type of legacy will continue on, where Lumbee families can not only own their land, but a home to raise a family, to gather and live for the next seven generations and beyond."
The Down Payment Assistance Program requirements remain the same. Interested applicants
may apply at the Lumbee Tribe Housing Complex from 8 am - 4:30 pm, Monday through
Friday.