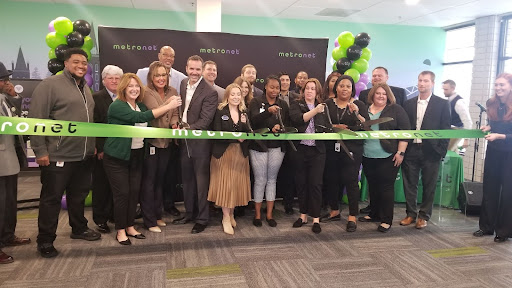 Metronet leaders and staff celebrated the official grand opening of its Fayetteville storefront on Tuesday, Dec. 6. The $70 million construction project to bring multi-gigabit service to the area was fully funded by Metronet and has progressed quickly to provide residents and businesses with access to its services.
Metronet's Director of Government Affairs Telly Whitfield shared that "The initial design for the build out will be 55,000 passes in the city of Fayetteville, which would be residential households, as well as businesses and institutions. In the Sandhills region, we're building a little bit in Spring Lake and Raeford as well as in Hope Mills and parts of the county will be about 90,000 once completed."
Metronet Market Manager John Autry confirmed that they have built over 300 miles of fiber in the area.
Metronet's Fayetteville storefront, located at 399 Westwood Shopping Center, provides customers with the opportunity to learn more about Metronet's multi-gigabit, 100 percent fiber optic speeds and service offerings. Customers may now visit the newly opened storefront at 399 Westwood Shopping Center to sign up for service plans and speak with Customer Care Associates face-to-face.
"...for Fayetteville and Cumberland County [it] comes back around to closing the digital divide is a top priority for us. So I believe that will soon have roughly 80 percent of our county, largely in part due to companies like metro net covered with broadband services, so we need to make sure we get that to every student, every citizen and that it's not just available, but also affordable," remarked FCEDC President & CEO Robert Van Geons said.
"This is how you transform a community. You transform a community looking at; how do we increase quality of life? People want to have technology, that broadband internet, fast upload and download opportunities, but also from an economic development perspective, having that fiber infrastructure in the ground will stem economic development. And then of course, you look at what we can do for education and the digital divide, and helping to look at that equity piece in providing high speed to communities all across the city," concluded Whitfield.
City officials interested in adding their community to Metronet's growing list of "Certified Gigabit Cities Powered by Metronet" may visit metronet.com/gigabit-city or contact Eddie Massengale, Metronet Sr. Director of Business & Government Affairs at Eddie.Massengale@metronet.com or call 423-280-9031.