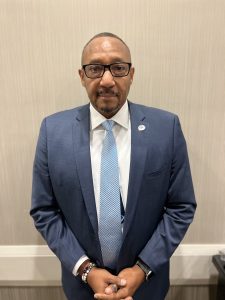 The Defense Alliance of North Carolina Management Council has a new President with John Bellamy starting the position at the start of October. Bellamy will remain the lead executor until September 31, 2023 in a key capacity overseeing the monthly meetings and activities led by the Advising Council to the Executive Board.
Before taking on the new role, Bellamy served as executive assistant for the BRAC Regional Task Force/Fort Bragg Regional Alliance, where he helped an 11-county region surrounding Fort Bragg prepare for economic growth and infrastructure development resulting from the relocation of Army Reserve Command and Army Forces Command Headquarters from Fort McPherson, GA to Fort Bragg, NC. This relocation effort also helped to establish what is today known as the DANC.
Currently, Bellamy serves as Assistant Director and Operations Manager for the Center for Defense and Homeland Security at Fayetteville State University, which he also helped establish in 2014.
Connected in the Fayetteville military community, John is a retired Navy Veteran who served as Navy Personnel Officer at Joint Special Operations Command Fort Bragg, and he also served as Chief Administrator at the Navy Recruiting Headquarters in Indianapolis.
Executive Board Chair MajGen Mark Brilakis, Marine Corp (Ret) stated in a press release that "Bellamy is no stranger to North Carolina, the military, academia and defense business and will bring a great deal of knowledge to the table."
Past President of the DANC Management Council BG William J. Gothard USA (Ret.), who served from 2021-2022, said he plans to remain an active member of the Council, and plans to help Bellamy transition into his new role.