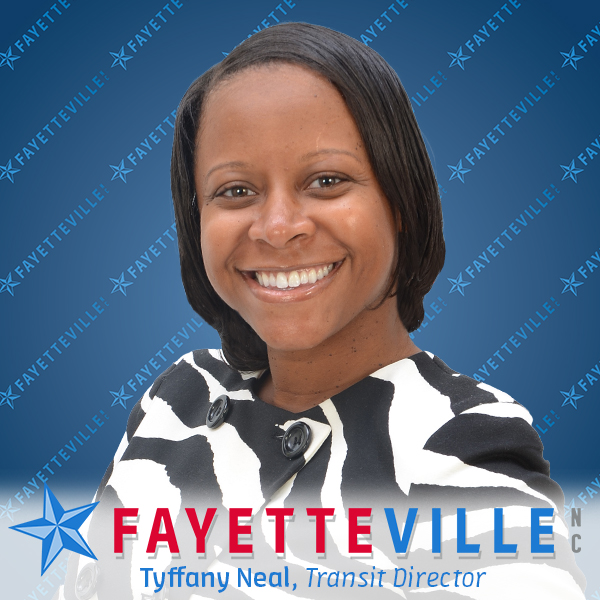 TYFFANY NEAL has been named as the new Fayetteville Area System of Transit Director by the City of Fayetteville. Starting in August, Neal will become the first ever woman to direct the system following the retirement of current director, Randy Hume, who is retiring this September.
Along with taking over management of FAST's $13 million annual budget, Neal will also oversee the Transit Development Plan which will work to make FAST a system of choice, and begin transitioning to electric buses by 2024, both projects she began working on during her time as assistant director.

The FAST system continues to serve community transportation needs by providing more than 1.6 passenger trips per year through regular bus routes, FASTTRAC! ADA services and is an essential part of the City's emergency responses.
In the past few years, FAST has received more than $20 million in federal and state grants, CARES Act and American Rescue Plan funds to expand services to more residents. Neal will be taking over at a time for more growth potential for the system.

"Fayetteville is experiencing exciting levels of development and growth and I realize this is a great opportunity for FAST to transition from a need-based transit system to a CHOICE mode of transportation for every resident within our community," Neal said in a press release. "I am excited for the opportunity to continue working towards ensuring the value of FAST permeates throughout our community."

Neal has served in positions in transit systems in Charleston, South Carolina, Greensboro, Chapel Hill and Washington, D.C. and has been serving in Fayetteville since 2017.

"During her career with the City, Tyffany has proven to be a smart, attentive and passionate leader who will have the ability to continue our success in Transit," City Manager Doug Hewett said in a press release. "She brings innovative solutions daily and has earned the respect of her peers. I am excited for the future of FAST under her capable leadership as we transition to electric buses and cashless payment options that better serve our riders."
Neal is a graduate of Strayer University, where she earned her Masters of Public Administration Degree and also has a bachelor of arts degree from South Carolina University. Neal is also a member of the North Carolina Public Transit Association (NCPTA) Board of Directors and the Conference of Minority Transportation Officials.