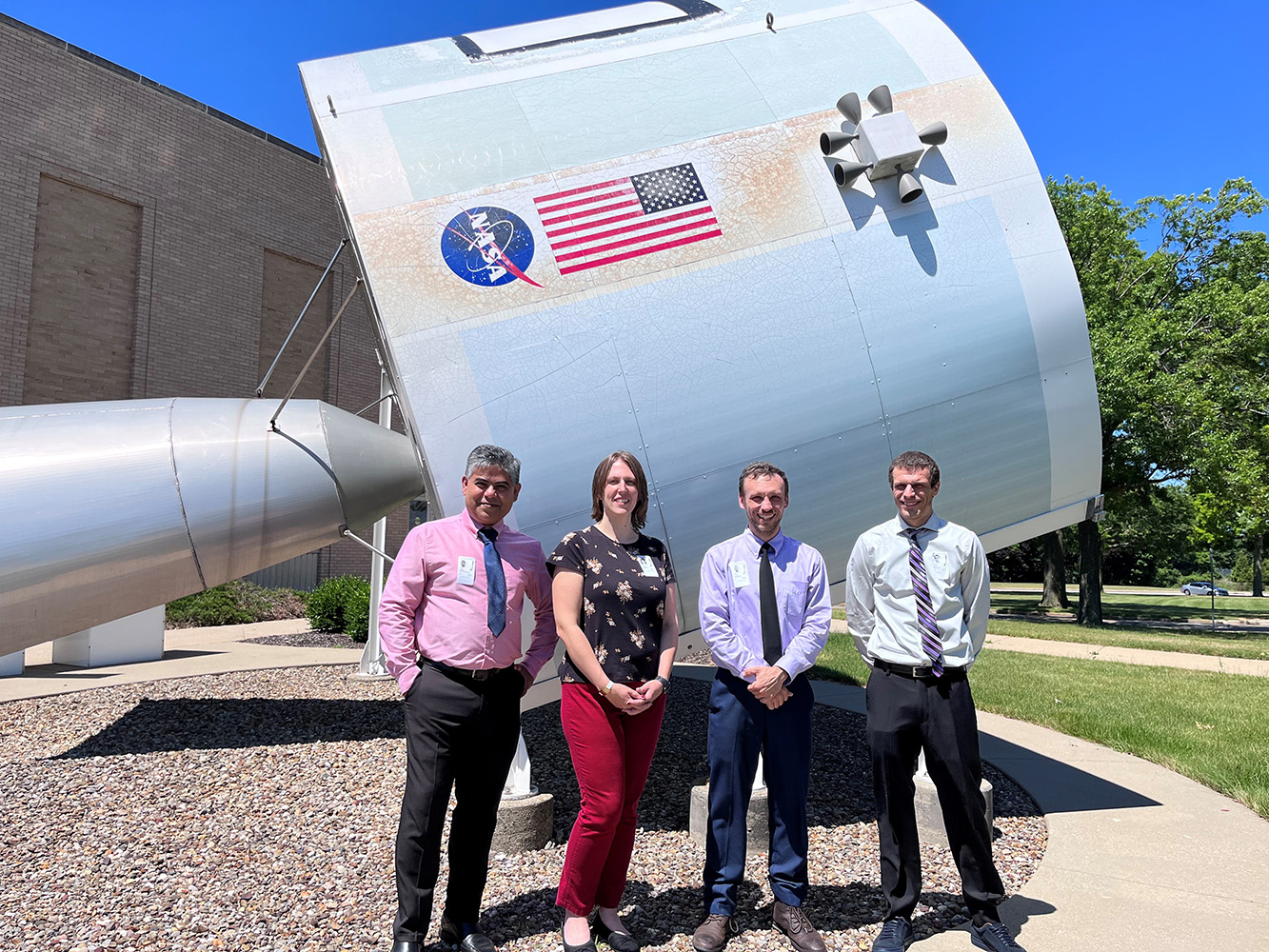 A research team of two Fayetteville State University Students, Laura DeSantis and Kyle Schultz, one student from North Carolina State University, Chris Arsenault, and their FSU faculty advisor, Sambit Bhattacharya, PhD traveled to NASA's Glenn Research Center in Cleveland, Ohio to present their winning project: "Improving the Design of Heat Exchangers with Artificial Intelligence."
The team developed an artificial intelligence (AI) driven, multifunctional, lightweight and more efficient heat management systems for NASA's University Student Design Challenge 2021-2022. The competition works with universities from around the country to find designs that will help NASA meet its mission needs.
After having their project accepted, they partnered with NASA scientist Dr. Ezra McNichols spent the next few months collecting data, developing and testing software and collaborating with their NASA connection preparing to present their work.
NASA announced the winners of the competition in April of 2022, and winning teams were invited to the NASA Glenn Research Center (GRC) for an event in June.
Teams made presentations on their winning designs for GRC senior leadership, personnel, subject matter experts, and interns and faculty.
"It's been extremely rewarding and exciting to mentor this team throughout this process and see them engage with NASA scientists and engineers creatively and innovatively to help address genuine, specific challenges facing NASA," Bhattacharya said in a press release. "Their curiosity, drive, tenacity, and intellectual agility in this challenge have been inspiring, and they have earned and deserve this honor. I am so pleased to have served as their faculty advisor, and I look forward to opening these research opportunities to more students."